Why Wasn't Justin Timberlake With the Rest of *NSYNC for Ariana Grande's Set at Coachella?
Coachella proved to be a star-studded event, as just as many big-name celebrities were enjoying the show as they were performing. Fans couldn't wait to see Childish Gambino, Chvrches, and Kid Cudi hit the stage — but out of all the headliners we expected to give incredible performances, Ariana Grande was certainly one of them. She didn't disappoint, either. Though she's recently been vocal about her PTSD she developed after the bombing of her own concert, she hit the stage and totally owned her performance. And while Ariana was magical, she made the festival even more special by reuniting *NSYNC and bringing them on stage with her.
The most famous member of *NSYNC was missing, however — and that's Justin Timberlake. Where was Justin, and why wasn't he in attendance? Here's what we know.
*NSYNC joined Ariana Grande on stage for an exciting Coachella moment
Ariana Grande hit it out of the park with her incredible vocals, but it was her choice to reunite *NSYNC for her sit that really had fans going wild. NME notes after her performance of "break up with your girlfriend, i'm bored," she was joined on stage by JC Chasez, Joey Fatone, Lance Bass, and Chris Kirkpatrick, the original members of *NSYNC. Before the band came up on the stage, Ariana also excitedly shouted, "I've been rehearsing my whole motherf****ing life for this." From there, *NSYNC and Ariana sang the '90s boy band's hit, "Tearin' Up My Heart." Even more impressive were Ariana's dance moves, which were identical to the original dance the band created for the song.
Fans should've known that this collaboration was coming, as Ariana had been sprinkling clues on social media that this was going to occur. Recently, she posted this video of her lip-synching "Tearin' Up My Heart." And JC also gave away a huge clue with a tweet that said, "Mic check, mic check one… two… is this thing on?!?"
Justin Timberlake was noticeably absent
If there's one member of *NSYNC we all know and love, it's Justin Timberlake. The other four members certainly did an amazing job of carrying the classic tunes — and Ariana stepped in when necessary — but even so, where was Justin? According to The Sun, the pop star was wrapping up a tour of his own. His Man of the Woods tour, which was 115 shows long, just finished, and it seems he needed some down time after it was over.
If Justin could have been there, it seems he would've, however. AOL notes the star was allegedly supposed to headline the 2019 Coachella Festival, but due to scheduling conflicts, it didn't happen. This also comes after his vocal chord injury that required him to postpone multiple tour dates, too. Due to the recent injury, we wouldn't be surprised if he wanted to rest up following his 115-show tour.
Could *NSYNC ever completely reunite? There might be hope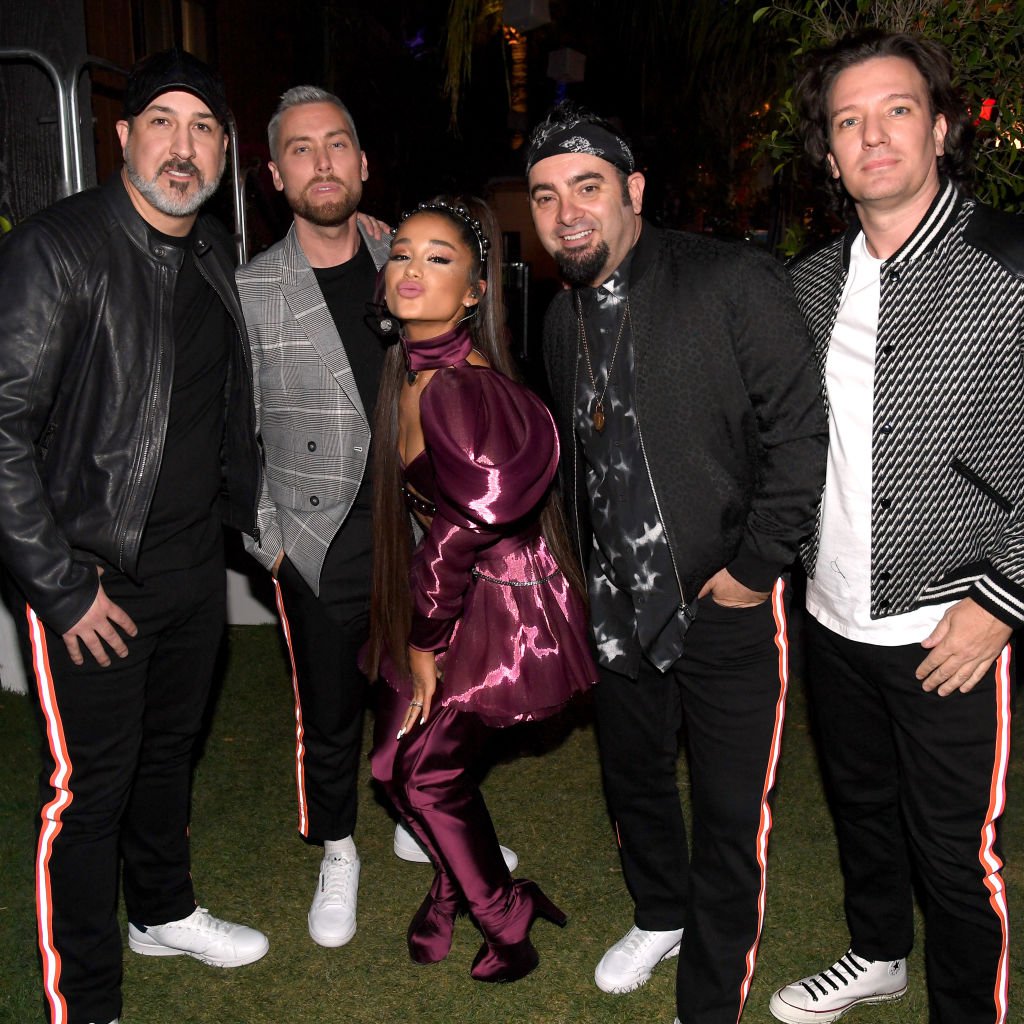 Now that fans have gotten a taste of what an *NSYNC reunion would look like, will the band ever get back together? Considering how well they worked together on stage (and their fellow boy band, Backstreet Boys, are also on tour), we wouldn't be too surprised if we see them together in the future. Life & Style also reports that in 2018, *NSYNC accepted a star on the Hollywood Walk of Fame together and came out with a vinyl edition of their classic Christmas album
It seems Justin Timberlake may be totally over the boy band phase of his life, however. The publication notes he told The Hollywood Reporter that the reason he left *NSYNC in the first place was because he was "growing out of it," as it "started as a fun snowball fight that was becoming an avalanche." Justin also mentioned that he had his own music he wanted to make and felt as if he "cared more about the music than some of the other people in the group" at the time.
Check out The Cheat Sheet on Facebook!