Why Winona Ryder Seemingly Vanished From Hollywood Until 'Stranger Things' Came Along
Throughout the late '80s and early '90s, Stranger Things star Winona Ryder was one of the biggest names in Hollywood. Appearing in Heathers and Beetlejuice in 1988 before working across from Johnny Depp in 1990's Edward Scissorhands, Ryder used to jump from leading role to leading role as swiftly as Jennifer Lawrence does today.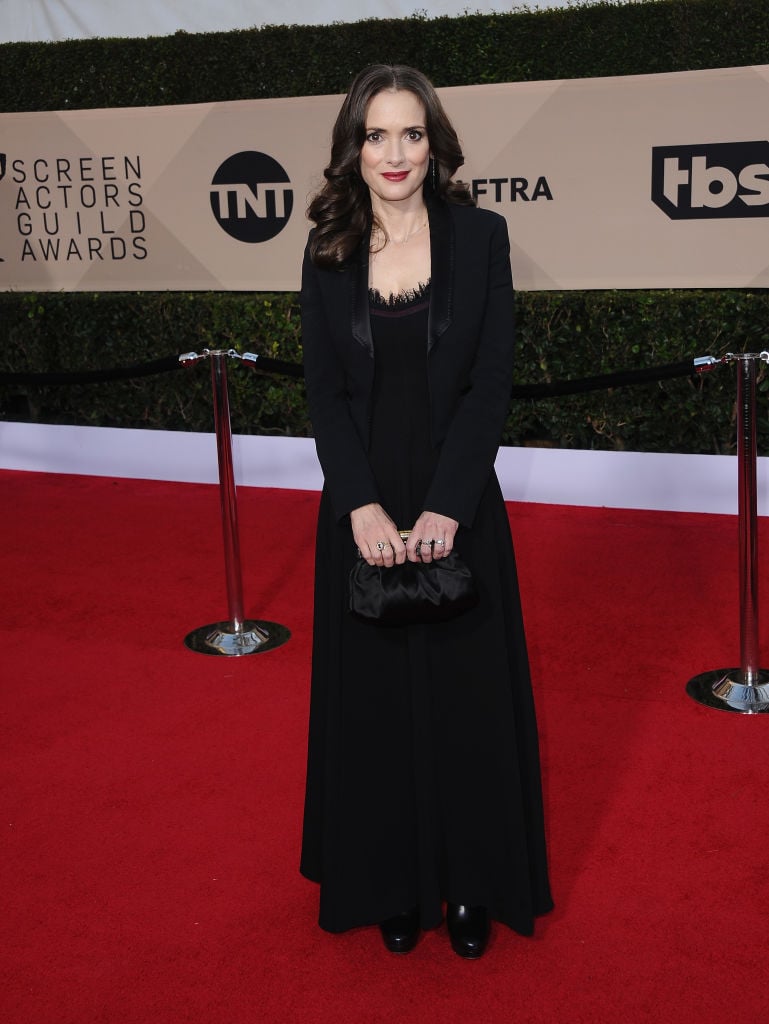 Winona Ryder was nominated for an Oscar twice – once in 1994 and again in 1995 – for her performances in The Age of Innocence and Little Women respectively. However, following Little Women, she seemed to vanish from the public eye. Ryder went from a household name to a "remember her?!" virtually overnight. 
With Stranger Things, Winona Ryder is back in the spotlight; however, what happened during the twenty-something years she appeared to vanish? If you look at Winona Ryder's IMDb page, you will notice that she hasn't struggled to find work. Rather, she's been quite busy with smaller, lesser-known roles. Yet, this isn't the full story. 
When analyzing Winona Ryder's personal life and career trajectory, her "disappearance" makes sense. From a shoplifting incident (that likely received way too much credit for her career drop) to the actress's own desire to step away from fame, Ryder managed to disappear from Hollywood, without ever truly leaving the biz. Here's what happened.
Inside Winona Ryder's shoplifting incident 
In 2002, Winona Ryder was found guilty of grand theft and vandalism for stealing over $5000 worth in designer goods from a Beverly Hills Department store, according to the NY Times. 
Winona Ryder endured a six-day trial that received national attention. Every tabloid had Ryder's face plastered across the cover, and if a Tabloid wasn't covering Ryder, that tabloid wasn't flying off the shelves. 
While many cite Winona Ryder's shoplifting scandal as the source of her downfall, such an incident – though major – does not seem scandalous enough to ruin a person's career. The Stranger Things star was still young, and we all make mistakes. Rather, it's more likely that her subsequent hiatus from Hollywood (in combination with her personal feelings regarding fame) led to her disappearance.
Post-hiatus, Winona Ryder was too young for this and too old for that
Following her arrest, Winona Ryder took a personal hiatus from Hollywood. The problem with this decision: when she came back, she wasn't exactly right for the '80s roles she used to land with ease, and she wasn't quite old enough to play an adult figure. 
Forbes magazine quite poignantly explains: 
"By the time Ryder returned, she had "aged out" as a potential love interest. She turned 35 in 2006…When the 25-year-old (or younger) actress gets cast as a love interest to the 45-year-old actor (or as a muse to the 73-year- old dude), 35 is near the expiration date"
Following her hiatus, Ryder appeared in several smaller, independent movies that fit her current place in Hollywood. For, as we all know, Hollywood has a tendency to cast men opposite much younger woman. Just look at Brad Pitt and Marion Cotillard from Allied; Cotillard is twelve years younger than her co-star. In Sleepy Hollow, a 19-year-old Cristina Ricci starred across from a then 37-year-old Johnny Depp.
Winona Ryder was too old to play the love interest and too young to play the mother. When Stranger Things came along, she was ready to play the latter. Not to mention, she had gotten the huge break from fame that she likely needed. Starring in several independent roles throughout the 2000s, Ryder has explained, "I don't have any interest in being a movie star." Thus, it should come as no surprise that her big return to Hollywood has been on on the small screen.
When taking into account Ryder's hiatus, Hollywood's tendencies regarding female actors, and the Ryder's own desires, the shoplifting incident was likely not the major cause of her pre-Stranger Things disappearance.