Why You Can't Blame Meghan Markle and Kate Middleton for Not Being Best Friends
At first glance, Meghan Markle and Kate Middleton seem like they have a lot in common. They are around the same age and are commoners who married into the royal family. This is why many were surprised when the two of them ended not being very close after Markle joined the family. In fact, a lot of news reports even said that Markle and Middleton were feuding with each other.
However, the truth is that fate probably never meant for Markle to be best friends with Middleton anyway. Here's why.
Meghan Markle and Kate Middleton have different personalities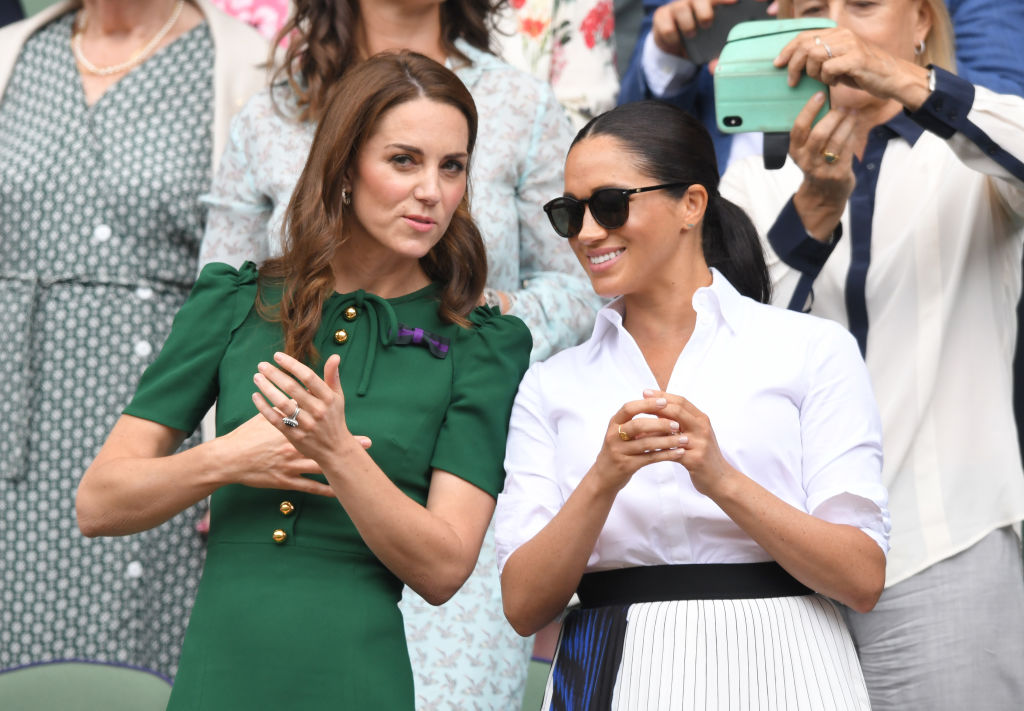 Anyone who knows how Markle and Middleton interact with other people can see that the two of them are quite different from each other. Markle is very bubbly and outgoing. She most likely was born this way, but there's no doubt that she also gained a lot of people skills from her time in Hollywood.
Meanwhile, Middleton is noticeably more reserved and introverted. Unlike Markle, who enjoys press attention, Middleton seems to go out of her way to avoid them when she is not working. Of course, opposites do attract sometimes, but it's clear that this was not the case when it comes to these two duchesses.
Meghan Markle and Kate Middleton were at different points in their lives
Another reason why Markle and Middleton did not become close is that when Markle joined the family, both ladies were at different points in their lives. They might have been close in age, but that did not mean much if their lives were drastically different.
Markle was a newlywed trying to find her footing as a duchess. However, Middleton had been in the royal family for many years at that point and already a busy mother with three young children. Naturally, they both had different priorities in life and different people they wanted to hang out with.
Everyone else telling them they should be friends also really did not help.
"There was undue pressure where the whole world wanted them to be best friends," an insider revealed People.
Meghan Markle and Kate Middleton have been bonding recently
But fortunately for royal fans, it seems that these days, the relationship between Markle and Middleton could be looking up.
Markle and Prince Harry used to live in Kensington Palace alongside Middleton and Prince William. However, the Duke and Duchess of Sussex did not stay at Kensington Palace long before they decided to move outside of London to Frogmore Cottage.
Additionally, Markle and Prince Harry also left the Royal Foundation to start their own charity.
While people were convinced that the two were trying to get away from Middleton and Prince William, a source close to the royal family said that living far apart and having different work projects have helped Markle and Middleton get along better. The source told People that this distance is "allowing them more time to be like family" instead of being colleagues like before.
They're also bonding over motherhood, according to many insiders. Markle recently gave birth to her first child, Archie Harrison, and now has a big commonality with Middleton.
The two women were seen together at Wimbledon and they seemed to be on very good terms. It was even reported that when Serena Williams — a close friend of Markle's — lost the match, Middleton was seen trying to console her sister-in-law.
Royal expert Victoria Arbiter noted: "Babies are a great leveler… The minute you're bonding over your stories and sleepless nights, suddenly all the stuff that mattered before doesn't matter anymore."