Why You Should Be Watching 'The Spanish Princess'
The Spanish Princess takes viewers on a journey to 16th century England at the Tudor court. Although historical fiction, it's loosely based in some historical fact. The show did so well that it will be back with a part two soon enough. But just what makes The Spanish Princess a must-see?
The story follows Princess Catherine of Aragon
The Starz series follows Princess Catherine of Aragon (Charlotte Hope), the Infanta of Spain. The eight-part series does an excellent job of showing the Moorish influence on Spain during this time and how Catherine brought her influence along with her to the English court.
Catherine clashes with the English ladies of the court and fights for her rightful place as queen. She was raised all her life to believe she would one day be queen of England. Betrothed for almost her entire life to Prince Arthur, Catherine doesn't give up her claim so easily when he dies suddenly. She moves along to the second brother, Prince Harry, as is her determined nature.
The show is the latest Philippa Gregory adaptation
The Spanish Princess is the latest in the anthology series adapted from Philippa Gregory's celebrated novels. It follows The White Queen and The White Princess. The stories follow royal women during and after the tumultuous time of the War of the Roses.
The White Queen follows Elizabeth Woodville and her marriage to Edward IV. The White Princess follows her daughter's story, Elizabeth, as wife to Henry VII. In chronological order, Princess Catherine finally gets her side of the story told in The Spanish Princess. The stories are unique, in that they tell women's side of the story, and how they dealt with what was thrust upon them. With little to no rights, they were forced to take what was given to them, and this group of women certainly made the best of their situations.
'The Spanish Princess' shows a different side to Catherine of Aragon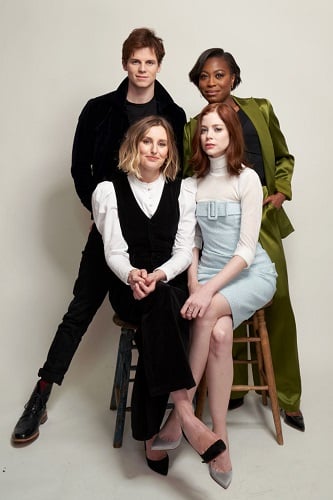 History has a tendency to forget that King Henry VIII and Queen Catherine were in love for decades, and tried for a long time to have a son and heir. They did however, produce a daughter, Mary, who would later be known to history as Bloody Mary. Henry would toss Catherine aside eventually, for a younger wife, Anne Boleyn. He would go on to change the course of religion in England forever.
The Spanish Princess shows Catherine as a teenager keen on power and everything her mother promised would be hers. We see culture shock on both sides of the spectrum, and get a feel for what life was like for people at this time coming together for the first time.
Charlotte Hope steals the show in her portrayal of Catherine
Charlotte Hope totally nails the role of Catherine. She told Entertainment Weekly that the moment when Catherine gets what she craves is bittersweet for her. "There's no denying that she really, really loves him, and she's wanted this and fought for this for the whole series, but it's that thing you get the thing you've been dreaming about forever, and suddenly, you're like, 'Oh, is this actually what I want? And is this the thing that I thought it was going to be? And is this person that I thought it was?' And maybe it's not. But my favorite moment in the finale is the last scene. That was such a f–king joy to shoot. Both Ruairi and I got to play with this unease. There's a really deep connection between them, but they're becoming adults now and it's not a teenage crush. A lot of their relationship has been very fueled by desire and energy and connection and now they're looking at each other as two adults, two monarchs, and going, 'I don't know what I'm signing up for here.'"