Will '80s Nostalgia Be Enough to Make a 'Tetris' Movie Work?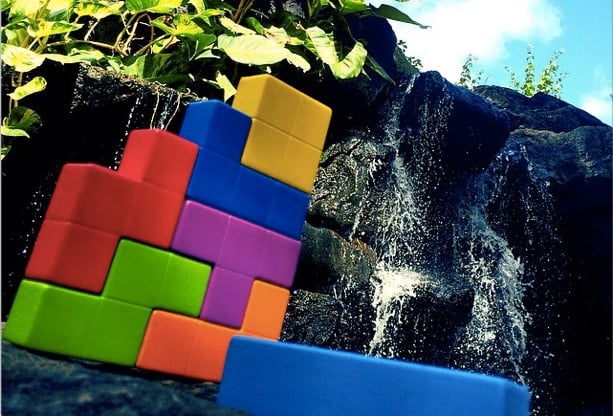 Movie studio desperation has reached such critical levels that the classic '80s video game Tetris, which has no storyline and only involves mindlessly stacking blocks, is being adapted for the big screen. Threshold Entertainment, the company responsible for making the Mortal Kombat video game into two successful films, has cut a deal with the Tetris Company for a live-action movie based on the video game, according to The Wall Street Journal's Speakeasy blog.
No director or cast members have yet become attached to the project. What's also uncertain is what exactly is going to happen in the movie.
The Journal got the inside scoop on the grandiose plans Threshold has for the Tetris brand. "It's a very big, epic sci-fi movie," Threshold CEO Larry Kasanoff told Speakeasy. He also assured the publication that the film would not be a two-hour Tetris game onscreen. "This isn't a movie with a bunch of lines running around the page. We're not giving feet to the geometric shapes."
Kasanoff pointed out that a strong brand can be even better for a film than landing a big-name star or director, and has the potential for even more money-making elsewhere. "Brands are the new stars of Hollywood. We have a story behind Tetris which makes it a much more imaginative thing," Kasanoff said.
"What started as a simple, computer puzzle game 30 years ago, today is part of our global consciousness, connecting people of all ages and backgrounds and feeding our innate desire to create order out of chaos," said Henk Rogers, managing director of the Tetris Company, in an announcement. "We look forward to partnering with Threshold Entertainment to re-imagine that common experience and bring a spectacular new Tetris universe to the big screen for the first time. In this new universe, as you'll soon find out, there's much more to Tetris than simply clearing lines."
Tetris was invented by the Soviet developer Alexey Pajitnov in 1984 and became a global phenomenon when it was included as a part of Ninetendo's Game Boy in 1989. Capitalizing on '80s nostalgia is a smart move that worked well for Michael Bay this summer with Teenage Mutant Ninja Turtles. That was one of the summer's biggest hits at the box office, making over $65 million during its opening weekend and going on to become one of the best-performing films of an otherwise lackluster summer at the movies, according to figures from Box Office Mojo.
Bay's Transformers is another example of an uber-successful franchise created almost completely to capitalize on the '80s nostalgia of parents who would probably be taking their kids to go see the movie. Appealing to as broad a swath of generations as possible is a great way to pack more people into the theaters. But the key aspects Turtles and Transformers have that Tetris doesn't is simple: characters and a plot.
Kasanoff doesn't seem too worried about that little detail, and by the sounds of it the company is already working on a script. Threshold is so optimistic about the movie that the company is already tentatively planning other projects for the brand. "We certainly have the canvas for location-based entertainment based on the epicness," Kasanoff said. He didn't explain what "location-based" entertainment is, but a Tetris theme park sounds like something along those lines.
"What you [will] see in Tetris is the teeny tip of an iceberg that has intergalactic significance," Kasanoff said, perhaps overestimating the importance of a Tetris movie just slightly.
Follow Jacqueline on Twitter @Jacqui_WSCS
More from Entertainment Cheat Sheet:
Want more great content like this? Sign up here to receive the best of Cheat Sheet delivered daily. No spam; just tailored content straight to your inbox.