Will Alex and Jo Break Up in 'Grey's Anatomy' Season 16? Fans Hope the Couple Will Stay Together
Alex Karev (Justin Chambers) and Jo Karev (Camilla Luddington) have been through the wringer since they first got together in Grey's Anatomy. But after a series of trials, JoLex got married and fans thought the couple would finally receive their happy ending. However, in the 15th season, Jo began to spiral. And now, it looks like the pair is headed for divorce. So will Alex and Jo break up in Grey's Anatomy Season 16? JoLex fans — like executive producer Krista Vernoff — have hope the couple will stay together for a long time.
Jo gives Alex an "out" in the 'Grey's Anatomy' Season 16 promo
On Sept. 20, ABC released the Grey's Anatomy Season 16 trailer for the Sept. 26 premiere. As with most beginnings on the Shonaland drama, things start to get a little dicey — especially with Jo and Alex.
In the promo, Alex checks Jo into a treatment center. Per usual, he seems supportive of his wife's needs. However, as Alex drops Jo off at the treatment center gates, the two don't exactly share a romantic farewell.
"Alex, we're not even legally married," Jo says. "You have an out, and I understand if you want to take it."
The first statement may come as a surprise to fans who didn't notice a throwaway line in the eighth episode of season 15, titled "Blowin' In The Wind." During the episode, Jo finds out Alex didn't mail in their marriage license paperwork. Of course, this means they aren't legally married. Yikes.
Back to the season 16 preview, Jo gives Alex the option of leaving her. But will he take it? While it's possible, he simply wouldn't be Alex if he took the easy way out.
Jo deals with trauma in season 16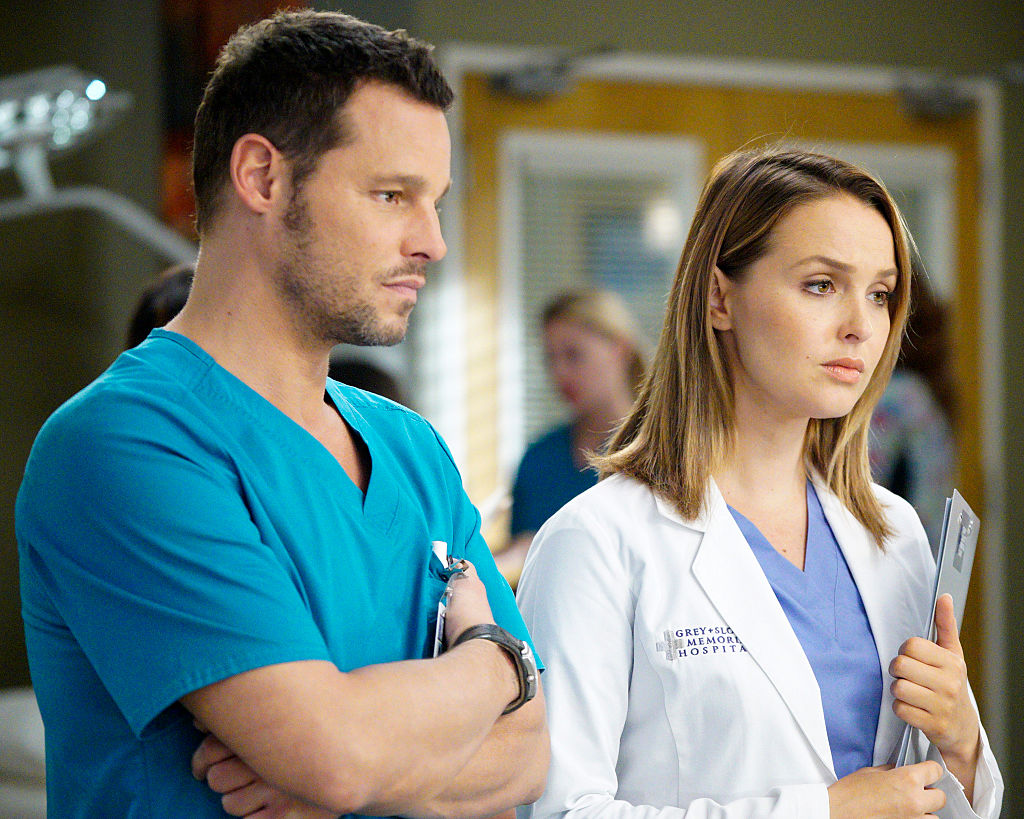 During ABC's Summer Stars party, TV Guide spoke with Vernoff about Jo's trauma, depression, and anxiety throughout the 15th season. " I was really proud of the character of Jo for being strong enough to ask for the help she needed," the Grey's Anatomy executive producer said. "I was really proud of Bailey and Alex for stepping up to help her get that help."
Vernoff also revealed the storyline will be shown in the season 16 premiere. "We're playing that through in the premiere as well," she explained. "Jo had a severely depressed episode in reaction to intense trauma. That was a real trauma for her to meet her mother, to learn that she was a product of rape, to understand her father. It would have triggered all of her childhood stuff around abandonment and it sent her into a spiral."
Meanwhile, Vernoff teased Jo's future on Grey's. "It was very hard for fans to see her without Alex, her inability to receive the love that he was offering," Vernoff said. "That is so often true of depression and we wanted to depict it honestly."
"Now, we want to honestly depict the fact that you can recover," she continued. "People can put in the work and heal and recover. I'm really excited for everyone to see that."
Therapy could bring Alex and Jo back together in 'Grey's Anatomy'
Prior to writing Grey's Anatomy Season 16, Vernoff shared her hopes for JoLex moving forward. So it's possible fans already have an idea of how Jo and Alex will rebuild their relationship.
"I hope therapy brings her back to herself and Alex," Vernoff told TV Line. "He gets to heal that wound that keeps repeating, where he chooses women who go into mental-health crises. I'd like to see that story complete for him, with Jo returning to him in a way that's beautiful."
With the Grey's Anatomy executive producer at their side, a breakup between Alex and Jo seems unlikely, and it seems their relationship will mend throughout the 16th season. Now, all fans have to do it watch it all unfold — no matter how painful it may be to start.