'Will & Grace' Cast Pay Tribute to 'Rosario' Actress, Shelley Morrison
Will & Grace is in its final season, but the cast of the hit show just had to say a real-life goodbye. Shelley Morrison, who played the iconic Rosario, has passed away at age 83. Morrison was a talented actress who bought an uncanny amount of humor and heart to the beloved sitcom. Though the character of Rosario was introduced merely as Karen Walker's maid, it became quite clear early on that she was much more than that.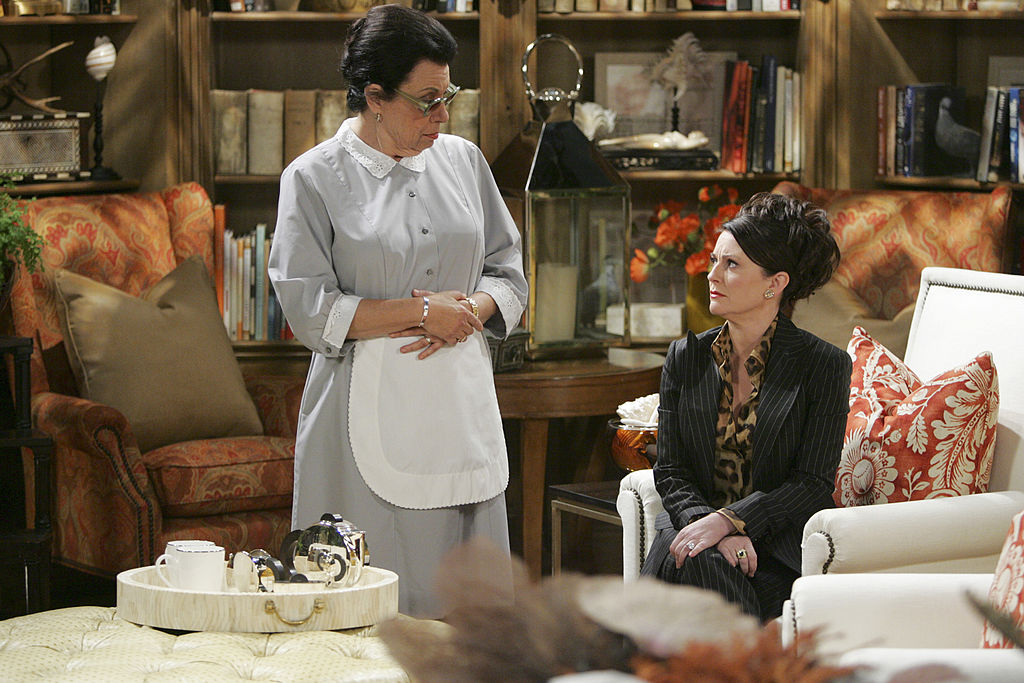 Rosario was more than a maid
Rosario did more than just clean up after Karen's infinite messes, she also served as Karen's best friend and the only person who could go toe to toe with the multimillionaire and come out on top. The hilarious maid also as served as a wife to Jack for a brief period of time. While Morrison's Rosario was a recurring character in the series' first eight-season run, she opted not to come back for the reboot as she, understandably, didn't want to come out of retirement. Despite this choice, the Will & Grace cast and crew still found a way to honor the character's memory by giving her a funeral. She also made a spookier reappearance through Jack during last season's Halloween episode.
Shelley Morrison dies at 83 due to heart failure
On Sunday, December 1, 2019, Morrison passed away due to heart failure. CNN received the news through the late actress's publicist. When the Will & Grace cast learned of her passing, they each took to their social media pages to pay tribute to the incredible actress. Expressing their appreciation for both her talent and her character, they all shared memories about the unique entertainer. "Shelley was a beautiful soul & a wonderful actor. Her work as Rosario, season after season, was as nuanced and real as it was hysterical. She will be missed by everyone at #WillandGrace, she's a huge part of it. Sending so much love to Walter and Shelley's whole family. #Rosario," Erick McCormack, who plays Will, tweeted out.
The Will & Grace cast pay their respects
Debra Messing (Grace) also paid her respects. Taking to her Instagram page, she shared a hilarious video of Morrison as Rosario and penned a sweet message. "Oh, Shelley… what a loss. Our dear Rosario has passed on. Shelley had a career that spanned decades, but she will always be our dear Rosie. She was a kind soul with a huge heart and always had a smile on her face. All my love to Walter and the entire family. #shelleymorrison," the actress wrote.
A tribute to the actress and the character
"Such sad news. Our beloved Shelley Morrison passed away today. She was absolutely hilarious and had the biggest heart. She was a part of our Will and Grace family and will be greatly missed. My heart goes out to her entire family," Sean Hayes, Jack, shared to his Instagram page alongside a picture of Morrison in character. Finally, Megan Mullally, who plays Karen and had the most scenes with Morrison, shared multiple tributes for her. However, the one she posted to her Instagram page honors both the actress and the character Rosario. She even used the iconic catchphrase "te amo, mami" from the show.
"Shelley Morrison has passed. she was such an integral and important part of my experience at Will & Grace, and became a friend in the intervening years. she was loving, strong, supportive, and kind. she and her husband Walter Dominguez had a wonderful, loving, and inspiring 46-year marriage. he was always by her side. please put him and their children and grandchildren in your thoughts. I will miss you, Shelley. Thank you for the years of partnership and for your friendship and support. Te amo, mami," Mullally penned. Morrison's passing is truly a loss to the Will & Grace cast and the viewers who loved Rosario. We hope the show finds a way to honor her memory before it ends.