Will Arya Stark Die Before 'Game of Thrones' Ends?
Arya Stark (Maisie Williams) is small but she is mighty. Her diminutive figure has towered over most everyone else in the final season of Game of Thrones, with all kinds of buzz about her.
She lost her virginity, prompting untold numbers of awkward searches on the internet wondering how old Maisie Williams, the actress who portrays Arya, was. (For the record, she's 22). She struck the killing blow to the hated Night King. Having ruled the watercooler chat with just those two moments, some have wondered if not-as little Arya just might end up winning the whole show in the end.
Not so fast, though. Some believe Arya could die in the last few episodes. Could she end up on the show's lengthy and internet-breaking death list, with only two episodes to go?
Arya Stark dropped hints of death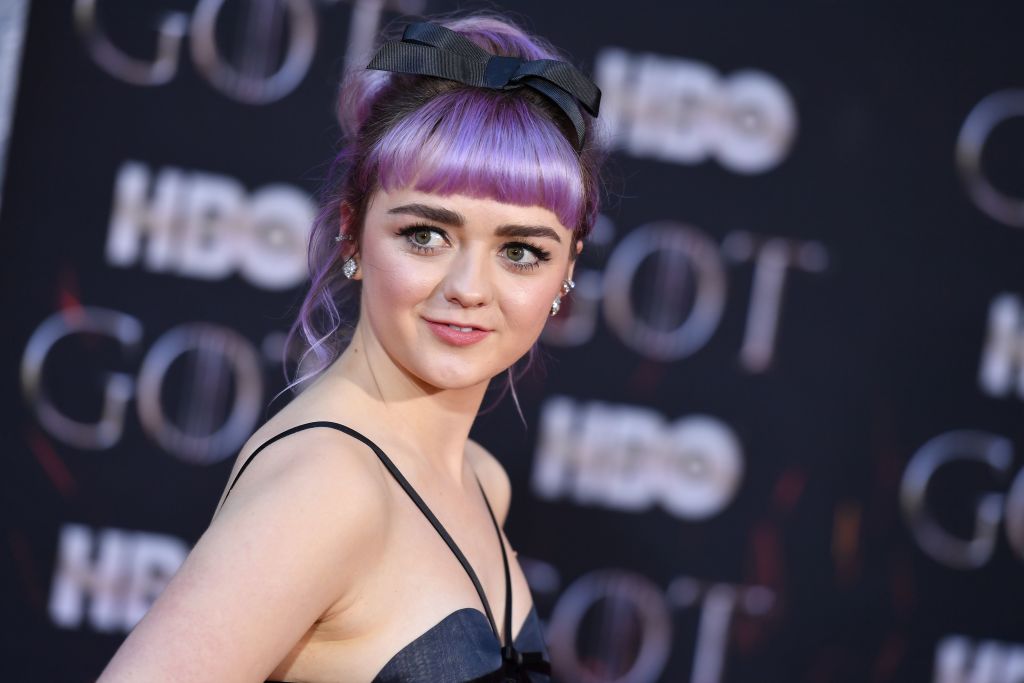 Arya surprisingly said in episode 4, while leaving Winterfell, that she didn't plan to return to the North. Arya met up with The Hound, who told her, "I don't plan on coming back." Arya responded, "Neither do I." That declaration caught many by surprise, as they think it doesn't make sense for her never to return to Winterfell.
On top of all that, despite her milestone with Gendry, she turned down his marriage proposal, telling him, "You'll be a wonderful lord and any lady will be lucky to have you. But I'm not a lady. I never have been. That's not me."
That's definitely in keeping with Arya, but did she also turn Gendry down because she feels she won't be around to see a marriage through? And is her comment about the North symbolic of her self awareness that she won't make it out of the next battle alive?
Why Arya Stark might die
Arya might die, because Game of Thrones wouldn't be Game of Thrones if it didn't break everyone's hearts.
The Hollywood Reporter points out that even though the Night King is gone, that doesn't mean Game of Thrones is suddenly without deadly villains, and one of those would be Cersei, who isn't going to give up the Iron Throne without a fight. Even if Cersei doesn't kill Arya herself, one of her minions may do it for her.
"With (Arya's) stock at an all-time high, there's no easier way for Thrones to gut the audience and express its great statement on the nature of power in Westeros than by having the most selfish and cruel character in the series blindside the deadliest hero still standing," THR predicts.
What Maisie Williams thinks about Arya Stark's arch
The actress seems to be taking all this attention in stride, whether she's enduring Sophie Turner's naughty ribbing, or having to deal with her parents' reaction to her sex scene. Compared to all that, shooting the scene itself was nothing.
She said: "We were [directed by] David Nutter, who has a habit of speaking fast anyway. By the end we're rushing to finish the scene and David is going, 'Okay, you're going to come in and do this and do that and, great, take your top off'—and then walked off. And I'm like…'Okay. Let's do it.'
And she had fun with the Night King scene as well, telling EW: "When we did the whole bit with Melisandre, I realized the whole scene with [the Red Woman] brings it back to everything I've been working for over these past six seasons — four if you think about it since [Arya] got to the House of Black and White," Williams said. "It all comes down to this one very moment. It's also unexpected and that's what this show does."
No doubt fans will erupt if Arya doesn't make it, but did we just reverse-jinx it by theorizing she'll die, so now she won't have to? We don't have long to find out.