Will Bill Hader Appear on 'Documentary Now!' Season 3?
Documentary Now! has firmly established itself as a groundbreaking series that artfully pokes fun at the endless slew of serious documentaries. From out of the gate, creators Bill Hader, Seth Myers, Rhys Thomas, and Fred Armisen used their toned comedic skills to create an hour of gut-busting laughs.
Season 1 of the series began with Hader and Armisen playing most of the characters. The IFC show's opener, Sandy Passage wet viewers' comedy palate as they buckled in for a season filled with the comedians' version of a number of noteworthy documentaries.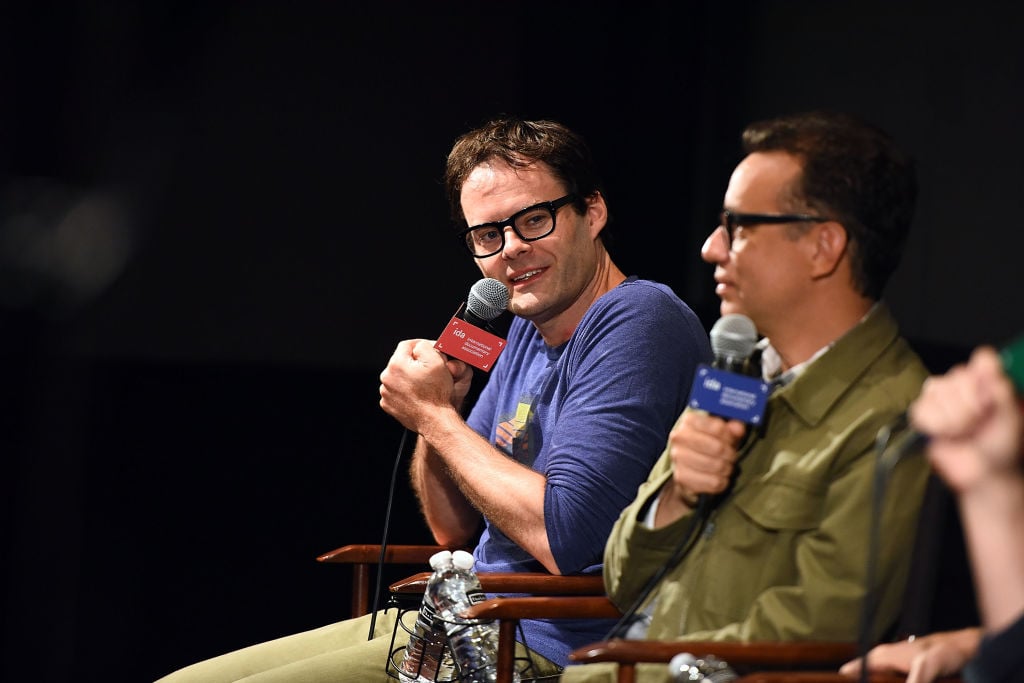 As the series grew, more writers and comics joined the team. Famed stand-up comedian John Mulaney wrote The Eye Doesn't Lie during season 1 and has since been writing many of the episodes. Mulaney appeared on the series too, along with a growing number of comedians and actors. And of course, Helen Mirren continues to introduce each episode. Her presence lends grace but also hilarity to each show's opener. Season 3 seems to be star-studded but viewers have yet to see Hader. Will he return?
Hader was a huge part of the series
Season 1 was all Hader and Armisen in pretty much every episode. Hader famously portrayed Vivienne 'Little Vivvy' Van Kimpton in Sandy Passage. The episode was based on the acclaimed documentary Grey Gardens, which was about the eccentric relatives of Jackie Kennedy Onassis. A mother and daughter lived in an overgrown, unruly mansion on Long Island, which became a spectacle for the family. Of course Armisen and Hader's version turned into a bloodbath murder. Which was extremely funny.
Hader's comedic writing genius was also woven throughout not only season 1 in 2015 but season 2 in 2016. And although season 2 heavily featured Hader, the show began to integrate a number of famous guest stars. This includes Anne Hathaway, Mia Farrow, and Maya Rudolph, according to IFC.
Season 3 features even more guest stars, plus Armisen, who is a constant. Mulaney already appeared, along with Taran Killam, Owen Wilson, and Cate Blanchett who is almost unrecognizable in Waiting for the Artist.
Hader's touch is still woven into the material
Thus far, Hader has not acted in season 3 of Documentary Now! According to Screen Rant, Hader is focusing on his hit series Barry on HBO. Hader recently won an Emmy Award for his work on the series as well.
However, Hader continues to be part of the series, even if it is behind the scenes and, most importantly on the creation side. Currently, Hader is listed as both a creator of the show. Plus as a writer. This is great news, considering his humor greatly influences the show's tone and scope. Plus writing consistency continues as Thomas, Armisen, Mulaney, and Meyers continue to collaborate too. Thomas continues to direct each episode.
Hader is also sharing the comedic love. He recently made two cameo appearances on Saturday Night Live and hit a home run with each sketch. Hader is also in post-production for The Angry Birds Movie 2 and It: Chapter Two.
Check out The Cheat Sheet on Facebook!