Will Brad Pitt Get to Spend Christmas With His Kids?
Brad Pitt is looking forward to spending time with his children — at least half of them. Inside sources claim that the Ad Astra star will celebrate his birthday (December 18th) and Christmas Eve with only three of his kiddos this year. It is unclear why his other three children cannot make the holiday festivities, but they are all spending Christmas Day with their mom, Angelina Jolie.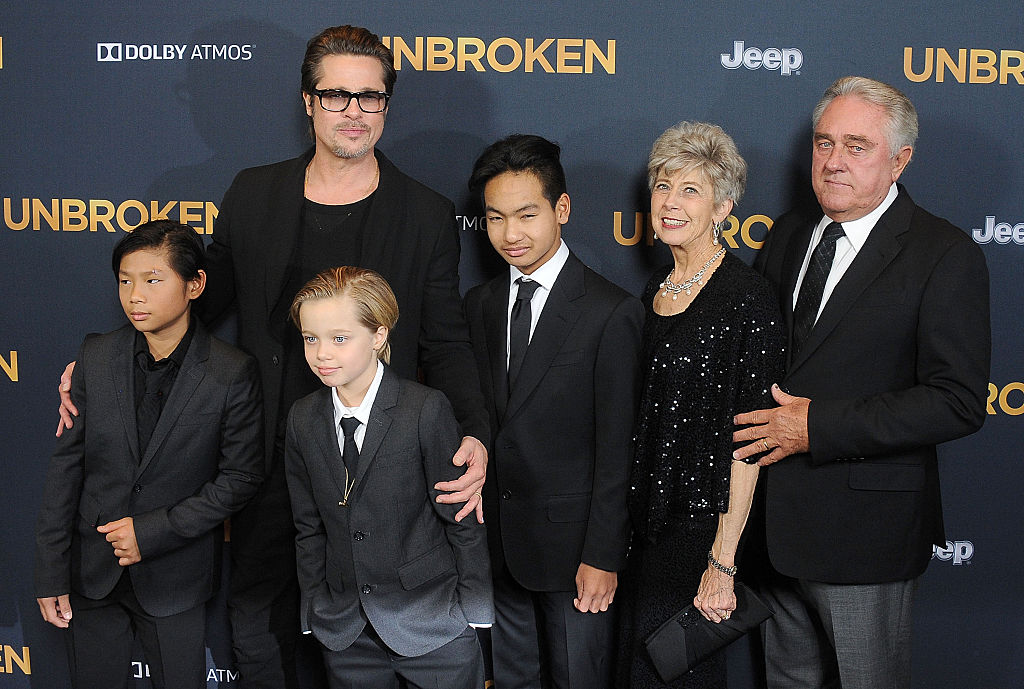 Inside Pitt's holiday plans
Pitt is reportedly spending his birthday and Christmas Eve with all three of his biological kids —Shiloh, Vivienne, and Knox — at his estate in Los Angeles.
According to Marie Claire, a source claims that Brad Pitt's three adopted children, Maddox, Pax, and Zahara, will not be joining him over the holidays. The insider did note, however, that all six of the kids were invited over and are welcome at Pitt's home whenever they like.
The source added that all of Pitt's children will be on hand to celebrate Christmas Day with Jolie. The insider did not say why some of the kids could not make his birthday party or Christmas Eve, but the actor's relationship with his oldest son, Maddox, has been strained for several years.
Jolie filed for divorce from Pitt in the fall of 2016. The actress reportedly decided to pull the plug on the marriage following an altercation between Pitt and Maddox on board a private plane.
Brad Pitt and Maddox still not on speaking terms
It has been over three years since Jolie filed for divorce, yet the two still have not finalized their divorce. Pitt and Jolie have been unable to iron out the financial details of their divorce as well as a long-term custody arrangement.
We also do not know exactly what went down between Pitt and Maddox in 2016. Early reports suggested that things got physical between the two, though Pitt was later cleared of child abuse.
Whatever happened, Maddox and Brad Pitt have not talked to each other for quite some time. Maddox is currently attending classes at a university in South Korea, and Pitt has yet to stop by for a visit.
The actor recently toured Asia to help promote his latest movies, Ad Astra and Once Upon a Time in Hollywood, and many people expected him to drop by and see Maddox at Yonsei University. That, of course, did not happen.
"Brad didn't try to see Maddox," an insider shared. "There's been no contact between them."
Will Pitt and Maddox ever reconcile?
Although Brad Pitt and Maddox are not speaking to each other, he is hopeful that things will eventually work out.
The source noted that Pitt wants to make amends with Maddox but does not feel like the timing is right. The actor is giving the 18-year-old some space, which might be the best move for both parties.
Pitt hopes that Maddox will forgive him as he gets older and believes they can reconnect then. In the meantime, it sounds like their relationship will remain very distant.
This could explain why Maddox is not planning on attending Brad Pitt's birthday day or Christmas Eve, but it does not reveal why his other two children are skipping out as well.
Pax reportedly has a grudge against Pitt, but we have no idea why Zahara will not be going either. She was with Pitt over the holidays last year, so we know their relationship is still pretty solid.
What does Pitt think of his holiday snubs?
While we cannot say for sure why three of Brad Pitt's children decided to ditch him over the holidays, an inside source says that Pitt did not push the issue.
The actor is apparently very aware of how his children really feel about him and did not push for Maddox, Pax, and Zahara to join him for the holidays. The actor knows that they have all been through a lot of drama in the past few years and does not want to make anyone uncomfortable.
"Last year, Zahara spent a few hours with him, but he's not expecting her this year. Brad no longer pushes for Maddox, Pax or Zahara to come. He knows it makes everyone uncomfortable. He's decided not to force it because they've already been through so much," a source revealed.
Jolie has not said anything about the rumors surrounding Pitt and their children. A few months ago, Maddox was asked about his relationship with Brad Pitt and revealed that he has no idea if his dad ever plans to visit him in South Korea.