Cardi B, whose real name is Belcalis Almanzar, has been in the news a lot recently, and it hasn't always been for good reasons. The rapper, who shares a daughter with rapper Offset, was indicted in Queens, New York on Friday for allegedly assaulting a bartender last year at the Angels Strip Club. However, celebrities tend to be treated differently in the legal system than ordinary people, which has fans wondering — will Cardi B go to jail?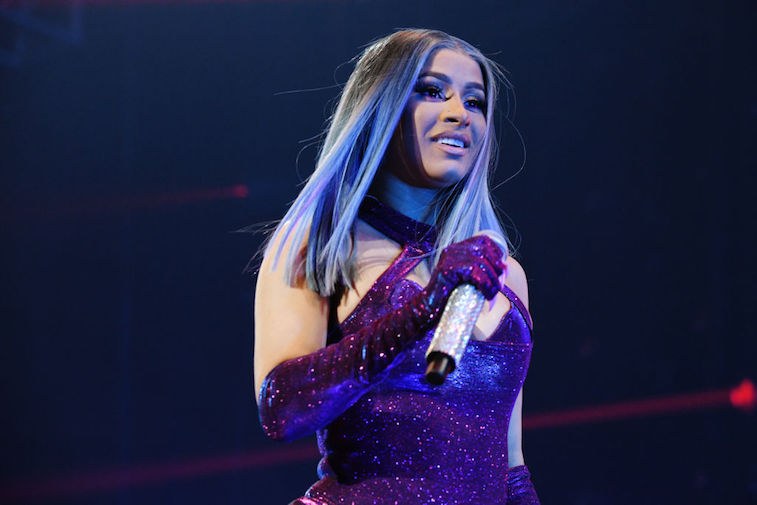 Cardi B allegedly attacked a bartender last year for having an affair with her husband
If Cardi B's current drama sounds a lot like something you heard last year, that's because it is. The rapper was indicted by a grand jury last week after new evidence surfaced in the case of her allegedly assaulting two female bartenders at a New York strip club in 2018. It's been reported that Cardi B's husband, Offset, was having an affair with one of the bartenders. Cardi B is accused of throwing bottles, chairs, and hookah pipes at the bartenders, and both of them reportedly sustained injuries.
The rapper reportedly faces two felony charges
The charges Cardi B faces aren't as easy breezy as one might think. We're not talking misdemeanors here — we're talking felony assault. The rapper was reportedly charged with two counts of felony assault, along with a slew of other misdemeanors. According to Entertainment Tonight, the rapper's lawyer claimed there were no injuries in the incident, and Cardi B did not take a proposed plea deal back in April that would have helped her avoid jail time. However, new evidence supposedly came to light, which is why the rapper is now facing two counts of felony assault. The misdemeanors include harassment, criminal solicitation, and conspiracy, according to The New York Times.
Cardi B claims she isn't going to jail
Despite the charges the rapper is facing, she claims she will not be going to jail. Cardi B attended the celebrations for the BET Awards this past weekend, and she gave fans no reason to worry about whether she would spend time behind bars. "I ain't going to jail, I got a daughter!" Cardi B told the crowd at her Los Angeles concert, according to Page Six. Entertainment Tonight also caught up with her husband, Offset, and his group, Migos, and Offset claimed "everything's good" and said he and his wife are "blessed."
In New York, a felony assault charge could mean several years in prison  
Despite Cardi B's confidence, a grand jury might not agree that everything is fine. In New York, felonies can come with some serious jail time. It's unclear which class of assault Cardi B is facing, but there are two felony assault classes: Class B, which could result in up to seven years in prison, and class D, which could mean 14 years in prison. Since it doesn't appear that the bartenders sustained serious or critical injuries, Cardi B is likely facing a class B assault charge. It's possible another plea deal will be offered, and Cardi B will walk away from the crime with little punishment, but that is yet to be determined.
Check out Showbiz Cheat Sheet on Facebook!