Will Fans Get a 'Sons of Anarchy' Prequel After Final Season?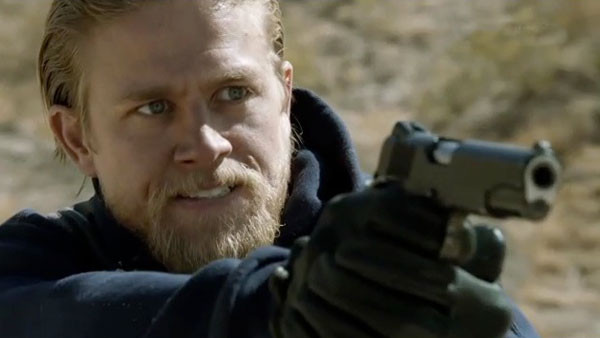 Sons of Anarchy isn't kicking off its final season until this fall, but fans are already getting some insight as to what they can expect to see in future episodes. During his appearance at Comic-Con this past weekend alongside most of the cast, creator Kurt Sutter dropped hints about the upcoming season of the hit FX show and — much to many viewers' delight — even confirmed the possibility of a prequel series.
Sutter was joined at the panel Katey Sagal, Kim Coates, Mark Boone Junior, Tommy Flanagan, and most of the rest of the cast. While the show's lead, Charlie Hunman, was unable to attend the panel due to a previously scheduled photo shoot with Vogue, he did make a brief appearance over video, in which he poked fun at himself and also thanked fans for their support. "This is the seventh season of the show. For a show to stay on the air that long requires the massive support of our fans," he said, per Deadline.
Sons of Anarchy is the highest rated series in FX's history and fans are eagerly awaiting the show's return on September 9. The upcoming seventh season is set to kick off with an almost two hour-long episode, which picks up right after Jax (Hunman) discovers his wife Tara and Sheriff Eli Roosevelt murdered in their home. The leader of the SAMCRO crew is then determined to seek revenge on the assailants, unaware that his mother and fellow crew member are the ones responsible for the murders.
Though production isn't yet finished on the final season, fans still got to see a preview of what's to come with a brief clip that showed Jax getting involved in a violent fight in prison and Gemma raising his children in the meantime. "Rather than being the reactor to chaos, [Jax] is the inciter of chaos," said Sutter of Jax's transformation in the upcoming story arc.
Viewers can also expect to see a familiar face making a cameo during the show's final season. On Monday, just a day after Sutter discussed season seven with fans at Comic-Con, Glee star Lea Michele took to Twitter, first to announce that she'll be appearing in an episode this fall and later, to share a photo of herself and director Paris Barclay on the Sons set. According to TVLine, Michele will play a single mom and truck stop waitress who makes a connection with Gemma. Her episode will reportedly air October 14.
Considering Michele's musical background, it's an unexpected casting choice for many. Still, it'll be interesting to see her take on a grittier role for the drama series. Not to mention, she's not the only singer to make an appearance in Son's final season. Courtney Love and Marilyn Manson will also reportedly be appear in some of the show's last episodes.
But perhaps the most exciting news for fans? Those who were dreading the loss of the Sons world after this season will be happy to learn that a prequel could be in the works. "We are having serious conversations about our prequel," Sutter confirmed at Comic-Con, although he later went on to clarify that any future projects would not be considered a spinoff. "I think spinoffs work well on procedural dramas, which this clearly is not," he explained. The series is also getting memorialized in an upcoming novel adaptation that picks up sometime after season 4 and is called Bravta.
Given the anticipation surrounding the final season, it's clear that an audience will be eagerly waiting if a prequel does ever move forward. Either way though, the show — which has seen continuously increasing ratings over the past few years — is sure to see another hugely successful season in the coming months.
More From Entertainment Cheat Sheet:
Want more great content like this? Sign up here to receive the best of Cheat Sheet delivered daily. No spam; just tailored content straight to your inbox.