Will George Clooney Be a Godfather to the Forthcoming Royal Baby?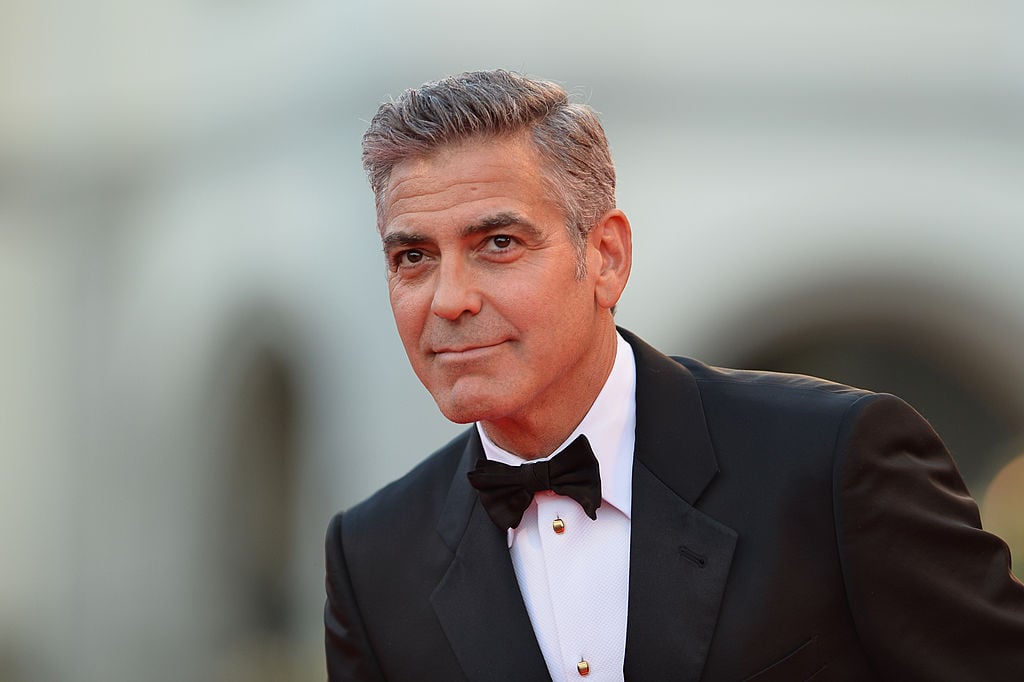 George Clooney may be getting even closer to Prince Harry and Meghan Markle. Already close friends with the couple — we're talking close enough to fly the couple in his private jet and put them up in his Lake Como home — George may receive an additional moniker beyond "close friend" very soon. George Clooney may be godfather to Prince Harry and Meghan Markle's baby. Continue reading to learn what he has to say about being godfather to a royal.
How Royal Godparents Differ From Typical Godparents

Traditionally, godparents may offer advice when needed or give you a great birthday and high school graduation gift. But as far as British royalty goes, the role is slightly different.
"Godparents are supposed to provide the spiritual guidance to their godchildren, at least for regular folk," Marlene Koenig, a royal expert, told Town & Country.
"But royal godparents have a different role –sometimes at a distance — sending a lovely present for their godchild's birthday until adulthood – and a nice wedding present."
Will George Clooney Be a Godfather to the Royal Baby?
Known for pulling pranks on fellow cast members and having a great sense of humor, George Clooney is no stranger to making jokes. He recently sat down with WHO while promoting his new Hulu miniseries, Catch-22, and the topic of Meghan Markle and Prince Harry's baby came up. The couple is expecting to meet their firstborn child this spring.
While being interviewed, George, being the jokester that he is, said, "Oh yes, I'll be the godfather of the royals apparently." Laughing, he quickly added "No!" effectively letting down the entire world. It's more likely Meghan Markle's close friend, Jessica Mulroney, will be named a godparent to the baby.
Who are Prince George, Princess Charlotte, and Prince Louis's Godparents?
Prince William and Kate Middleton's children, George, Charlotte, and Louis, have no shortage of godparents. While commoners may traditionally only have two godparents per child, the children have a whopping 18 godparents in total, according to PopSugar and Town & Country.
Princess Charlotte has five godparents, ranging from family friends, such as Thomas van Straubenzee, to Kate's cousin, Adam Middleton. Meanwhile, Prince George has seven godparents. They include Jamie Lowther-Pinkerton, who used to be Prince William and Kate Middleton's private secretary, along with other family members and close friends. Finally, the youngest of the three, Prince Louis, has six godparents.
Why the Royal Family Taps Multiple Godparents
Having multiple godparents is typical among the royal family, according to Town & Country.
"There's a feeling that because of their role as members of the royal family that they need as many confidants as they can get apart from their parents," Robert Jobson, the royal editor of the Evening Standard, told ABC News.

How the Royal Family Picks Godparents
Prior to Prince William and Kate Middleton, royal couples picked family members to be godparents or those who were practically like family.
Princess Diana and Prince Charles named people closer to Queen Elizabeth II and Prince Philip than themselves, according to Good Housekeeping. Kate Middleton and Prince William broke tradition in that sense with all three of their children by naming friends and only one family member as godparents.

Why Prince Harry and Meghan Markle aren't Prince Louis' godparents
Don't be surprised if Meghan Markle and Prince Harry don't tap Prince William or Kate Middleton to be godparents. Prince Harry isn't a godparent to his niece or nephews. And, William and Kate will be the baby's aunt and uncle, thus already playing a significant role in the child's life.