Will 'Gravity' Break Out in a Normally Slow October?
With Warner Bros.'s (NYSE:TWX) sci-fi epic Gravity set to be released next week, one question remains: How well will the film perform at the box office? According to a new report from The Hollywood Reporter, the $80 million film could end up being a formidable box office hit on top of the early Oscar buzz the film is already attracting.
In pre-release tracking overseen by THR, Alfonso Cuarón's 3-D space film is poised to gross between $35 million and $40 million domestically when it is released October 4. Those numbers would place the opening weekend box office take above Warner Bros.'s expectations of being happy with anything more than $30 million.
Gravity stars Sandra Bullock and George Clooney as two astronauts forced to rely on one another to survive after debris from a satellite crashes into their shuttle. Filled with special effects and long, extended takes in real time, Gravity is set to be a technical marvel. The critical reception the film has received has been the icing on the cake for Warner Bros., which took a sizable gamble on an original sci-fi film at a time when studios are increasingly looking to sequels and established franchises to mitigate financial risk.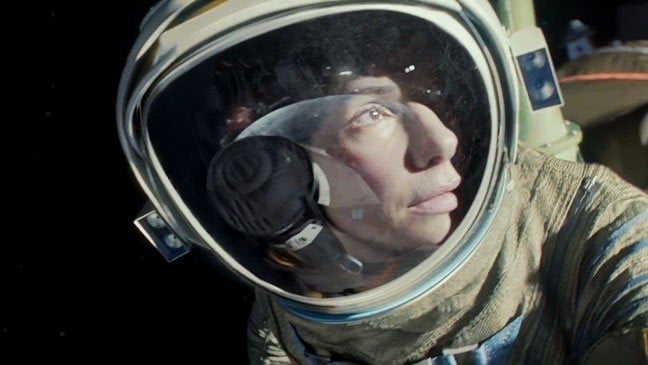 Gravity has drawn rave reviews from three of the fall's most illustrious film festivals — Venice, Telluride, and Toronto — while making a fan out of one of the most famous names in the sci-fi genre: James Cameron. After Cuarón treated Cameron to a private screening of the film in early August, the Avatar director did not hold back in his praise for the film. "I was stunned, absolutely floored," he told Variety. "I think it's the best space photography ever done, I think it's the best space film ever done, and it's the movie I've been hungry to see for an awful long time."
For Cameron, who is no stranger to revolutionary film technology, it isn't necessarily Gravity's incredible technique that positions the film for success. "What is interesting is the human dimension," Cameron explained to Variety. "Alfonso and Sandra working together to create an absolutely seamless portrayal of a woman fighting for her life in zero gravity."
Although Gravity seems poised to break out at the box office, with sizable buzz that only seems to grow stronger as the release date nears, Warner Bros.'s conservative box office estimate comes from the fact that October releases do not usually generate huge numbers, especially for adult-oriented dramas. As THR points out, David Fincher's The Social Network (2010) and Martin Scorsese's The Departed (2006), both released in October, ended up making $22.4 million and $26.9 million at the box office, respectively.
But Gravity has some important factors working to its advantage. One is the additional fees associated with a 3-D ticket — something Gravity is sure to benefit from, given the film's immense praise revolving around its 3-D effects. The film is also set to be released in IMAX, which would further increase the film's overall box office take. And, finally, the film appears poised to bring in younger-than-usual viewers for an adult-skewed drama.
THR reports that pre-release tracking for Gravity shows the film is pacing well across all age groups, with males older than 25 expressing the most interest in the film. Females younger than 25 and females older than 25 are tracking at equal levels, while males younger than 25 come in after.
So far, the critical response to Gravity has been nothing short of astounding. Owen Gleiberman of Entertainment Weekly writes, "What's astonishing about the film is its hypnotic seamlessness – the way that the director, Alfonso Cuarón, using special effects (and 3D) with a nearly poetic simplicity and command, places us right up there in space along with the people on screen." Jon Frosch of The Atlantic called the film, "A master class in fluid camerawork, bold, unfussy imagery and special effects that put most recent Hollywood blockbusters to shame." And Stephanie Zacharek of the Village Voice wrote at the time of this writing, "I haven't yet fully recovered."
With such acclaim as well as fierce buzz from movie fans, it appears Warner Bros. has one of the breakout hits of the year on its hands. Now, we just have to wait one more week to finally see what everyone is raving about.
Check out the trailer below.
Don't Miss:
5 Hollywood Remakes Aiming to Crush Their Originals.