Will HBO's 'Westworld' Ensemble Cast Make It a Hit?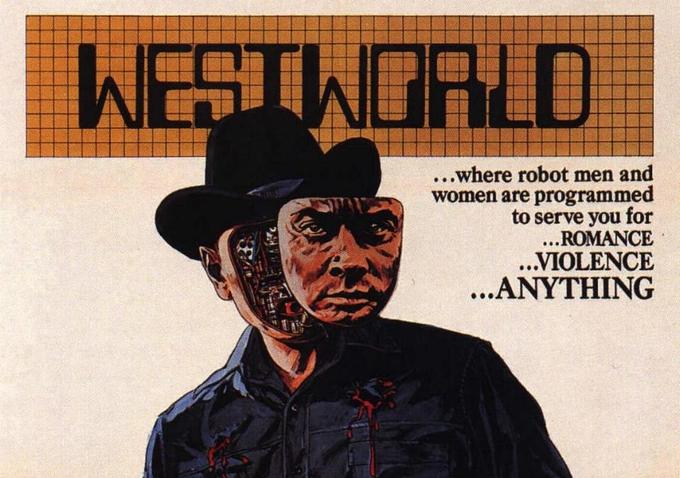 HBO's upcoming ambitious sci-fi series Westworld seems determined to make a splash by recruiting a huge ensemble cast with as many A-list stars as possible. As announced last year, the premium cable network is currently developing a pilot based on Michael Crichton's 1973 cult classic of the same name. The story is set in an adult amusement park populated by lifelike robots. That may not seem like the type of fare that draws some of Hollywood's top talent, but surprisingly, that's exactly what it's doing.
News of the adaptation has already gotten a fair amount of media and public attention. Written by Jonathan Nolan and Lisa Joy and produced by J.J. Abrams, Jerry Weintraub, and Bryan Burk, the show first spurred interest last year by describing the series as "a dark odyssey about the dawn of artificial consciousness and the future of sin" last year. But its generated even more buzz as the brains behind the show continue to round out its cast, which is quickly shaping up to be one of the best and most exciting TV ensembles in recent history.
Earlier this year, it was revealed that the pilot stars Anthony Hopkins in his first main role on the small screen as Dr. Robert Ford, the amusement park's inventor. Hopkins is joined by equally impressive leads Evan Rachel Wood, who plays Dolores Abernathy, an innocent woman who visits the park at the wrong time, and James Marsden, who plays Teddy Flood, Dolores's love interest. Since then, the show has added a slew of other highly lauded actors.
In addition to the three leads, Thandie Newton, Jeffrey Wright, Miranda Otto, Rodrigo Santoro, Shannon Woodward, and Ed Harris have all reportedly signed on to star. Warner Bros. Television, the producing studio that HBO bought the series from, provided character descriptions for the growing cast. Wright and Woodward both play employees of the park's programming division, while Otto plays the head of its quality assurance department. Santoro plays Harlan Bell, the HBO version of the film's Yul Brynner cyborg antagonist. Newtown stars as Maeve Millay, a beautiful and intelligent woman "with a genius for reading people and a knack for survival." Harris is set to play the main villain, known only as "The Man in Black."
The show will also reportedly feature Ingrid Bolso Berdal, Angela Sarafyan, and Simon Quarterman. Berdal will play Armistice, a savage fighter and brutal bandit, Sarafyan will play the beguiling Clementine Pennyfeather, one of Westworld's most popular attractions; and Quarterman will play Lee Sizemore, the narrative director of Westworld, whose storylines consistently delight or terrify the guests.
So what exactly is drawing so many talented actors to the show? Per The Hollywood Reporter, some of the cast members are essentially playing more than one character in a single season, as the robot characters can be killed off and then return later with entirely different personas. The concept has reportedly intrigued the actors enough that they're not only on board for the first season, but also signing multi-season deals. "The promise of the show, in terms of where it's going, is exciting to actors, and they want to be a part of this," HBO programming president Michael Lombardo said, per THR.
Currently, the show is filming its pilot in Los Angeles and awaiting news of its official pick-up, which seems likely, given the stellar cast. But while we don't know too many specific details, the combination of these talented group of actors with a script from Jonathan Nolan (who created CBS's Person of Interest and co-wrote four of his brother Christopher's films, including the upcoming Matthew McConaughey flick Interstellar), seems like it has the potential to become the network's next hit series.
More from Entertainment Cheat Sheet:
Want more great content like this? Sign up here to receive the best of Cheat Sheet delivered daily. No spam; just tailored content straight to your inbox.