Will J.K. Rowling Outdo 'Harry Potter' With 'Cormoran Strike' Books?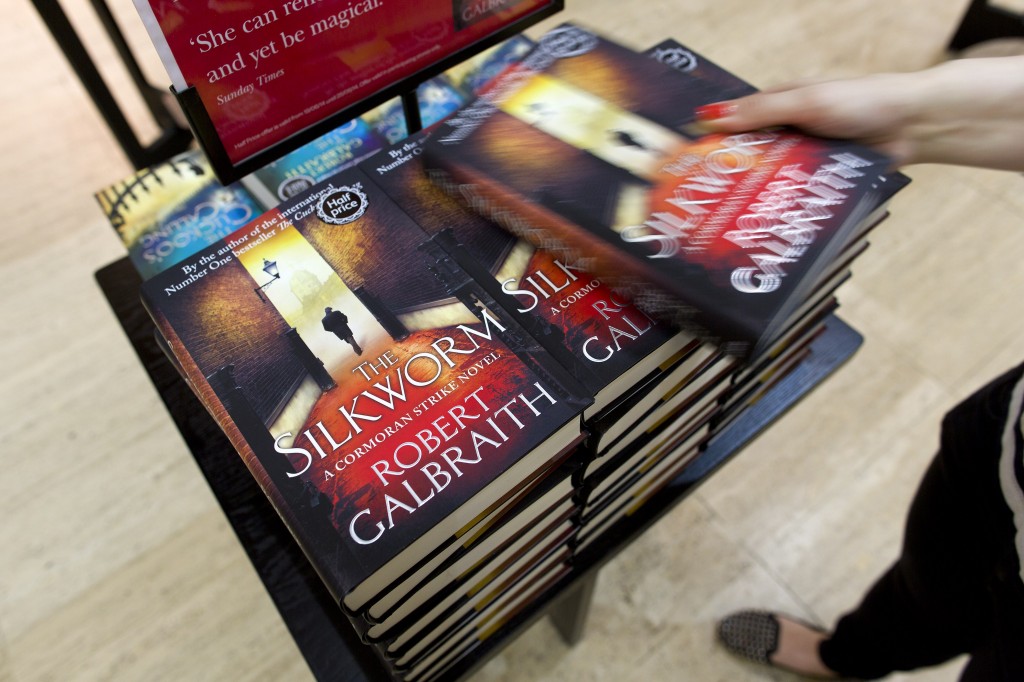 The Silkworm, J.K. Rowling's follow-up to her first Cormoran Strike novel, The Cuckoo's Calling, was only recently released, but the author is already revealing her plans to continue the story of the private investigator in an extended series that will eventually outnumber her famed Harry Potter books.
According to BBC News, the author confirmed that the story of Cormoran Strike and his sidekick, Robin, will go on for more than seven novels (the length of her Harry Potter series, not counting the spinoff books Fantastic Beasts and Where to Find Them, Quidditch Through the Ages, and The Tales of Beedle the Bard) under the pseudonym Robert Galbraith. "I really love writing these books, so I don't know that I've got an end point in mind," Rowling said during a public talk at Harrogate's Crime Writing Festival. "One of the things I absolutely love about this genre is that, unlike Harry, where there was an overarching story, a beginning and an end, you're talking about discrete stories. So while a detective lives, you can keep giving him cases."
The Cormoran Strike novels follow the story of the illegitimate son of a rock star turned war vet who has a prosthetic right leg and uses his ex-military sleuthing skills to make a living as a detective. In the first novel, Strike hires Robin, first as a temp and then as a permanent assistant, and the two solve the high-profile case of the death of famous model Lula Landry. In The Silkworm sequel, Strike's business is on the rise, giving him the flexibility to take on the bizarre case of an eccentric author gone missing.
Those worrying that the format of the books could get old quickly, especially after the mythical wizarding world of Harry Potter, shouldn't fret too much. According to the BBC, Rowling also revealed details of what fans can expect in the third novel (which she said she's already about halfway through), and it seems as if it's already shaping up to be dissimilar from the first two. "The next book is quite different," she said. "You find out quite a bit more about what happens to people after they leave the military."
Those who read the first two novels may not be surprised that Rowling has decided to continue the series for quite some time, especially given Robin's growing importance to Strike in solving cases in The Silkworm. While both Cuckoo's Calling and The Silkworm centered mostly on Strike's perspective, the follow-up books will likely shift a little more focus to his assistant as she moves from performing mostly clerical duties to becoming increasingly involved in more integral aspects of private investigation.
Rowling's cover as Galibrath was blown last year, only three months after Cuckoo's Calling was published. The book immediately surged from No. 4, 709 to the top-selling novel on Amazon. Its follow-up, The Silkworm, was released in mid-June and sold 21,000 copies in its first partial week on sale, according to Publisher's Weekly.
Of course, the series still has a ways to go to catch up to the success of the Harry Potter franchise, which has gone on to spur billion-dollar grossing film adaptations and a theme park. Rowling is also currently working screenplays for a movie trilogy based on Fantastic Beasts and Where to Find Them. But with Rowling's name attached to the books and the critical appraisal the first two novels have received, it's possible that the author will eventually have another smash series to add to her already jam-packed resume.
More From Wall St. Cheat Sheet:
Want more great content like this? Sign up here to receive the best of Cheat Sheet delivered daily. No spam; just tailored content straight to your inbox.