Will Jamie Foxx and Katie Holmes Get Back Together?
Since Jamie Foxx and Katie Holmes ended their six-year relationship, fans have wondered whether there's a chance that the actors will reunite (and, of course, they've cried a little, too).
While neither star has addressed the subject, a source recently opened up to Entertainment Tonight, telling the publication whether fans should hold out on hope or pack up and move on.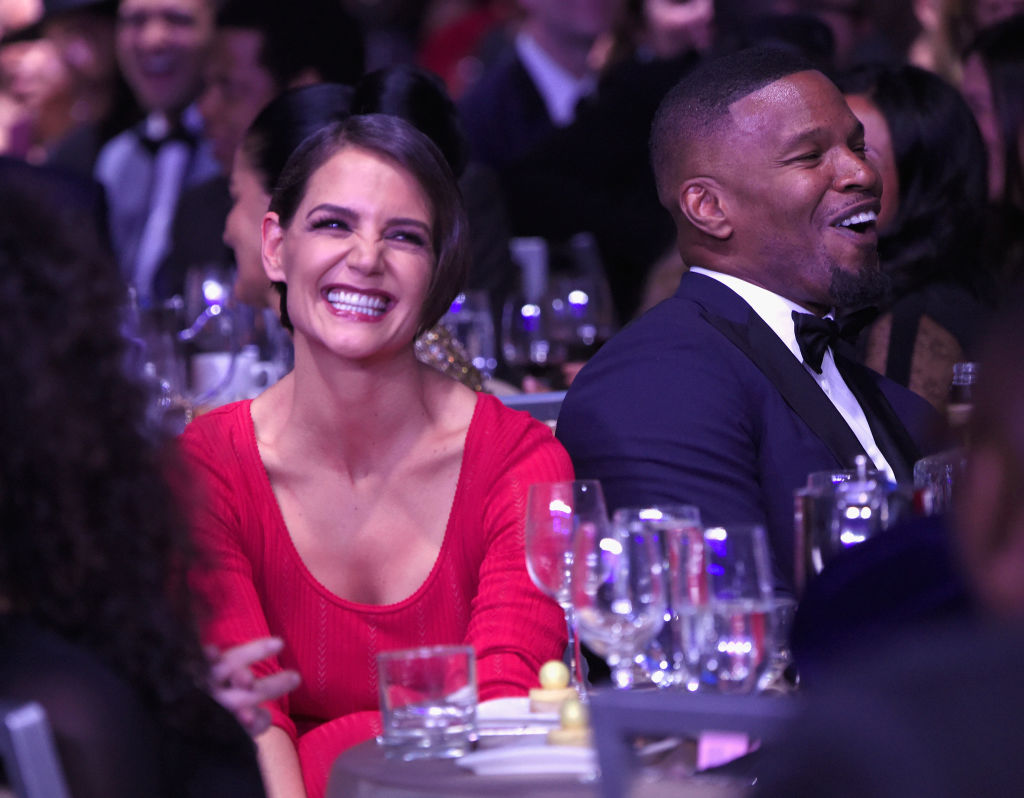 So, will Foxx and Holmes get back together?
According to the insider, a reconciliation could happen. 
The source said that Foxx and Holmes "never had a typical relationship" anyways, so you never really know what could happen with them.
"They have always been incredibly independent and their lives didn't revolve around each other," the insider continued. "They lived separately and in different cities and saw each other occasionally."
The source added that "despite their great chemistry, neither of the actors wanted to uproot or totally merge their lives."
"They are just both caught up with their own families, careers and obligations that their relationship had to take a back seat," the insider continued.
So, maybe when their lives are a little less busy, they'll find their way back to each other.
But has Foxx already moved on?
Foxx was recently spotted out with two different women, fueling rumors that he's totally moving on from Holmes. Us Weekly reports that he first went out with a "blonde mystery woman." On Aug. 15, they reportedly visited a restaurant and lounge in Hollywood, California. As of writing, it is still unclear who the woman is and what her connection to Foxx is.
Days later, he reportedly hit a nightclub with a brunette. They left the venue holding hands before driving away in Foxx's car. Multiple outlets later identified the woman as singer, songwriter, and model, Sela Vave. But, according to People, she's just an associate.
"She's just a girl he's helping out, a young singer," a source told People magazine on Aug. 17. 
A source told E! News that Foxx and Vave had been out celebrating rapper Lil Pump's 19th birthday, which might sound more like a networking opportunity than a date.
How they're handling the split
On the outside looking in, it seems like the actors are just fine. While neither star has commented on the breakup directly, reports say that they're super chill about it.
A source told Page Six on Aug. 19 that they overheard Holmes telling her girlfriends at a restaurant that she was fine and didn't care about Foxx's alleged dates. "What Jamie does is his business — we haven't been together for months," the actress said, according to the insider. 
The exact date of the breakup is unclear. However, Holmes and Foxx made their first and last public appearance together back in May at the Met Gala, where they were seen holding hands and dancing.
Meanwhile, Foxx has been hitting the town, as well as spending time with his daughters: Corinne, 25, and Annalise, 10. Shortly after the news of his split from Holmes broke, he shared this adorable photo with his kids:
While fans would love to see them back together, it seems like these two are in a good space right now. And you can't beat that.