Will Jana Duggar's Parents Ever Let Her Move Out?
Jana Duggar is the oldest of the Duggar daughters. However, unlike her younger sisters, she is not yet married. Traditionally, the Duggars are only allowed to leave the house once they're married. However, Jana will be 30 in less than a year, and she still isn't in a courtship. What happens if she never marries? Will her parents ever let her move out?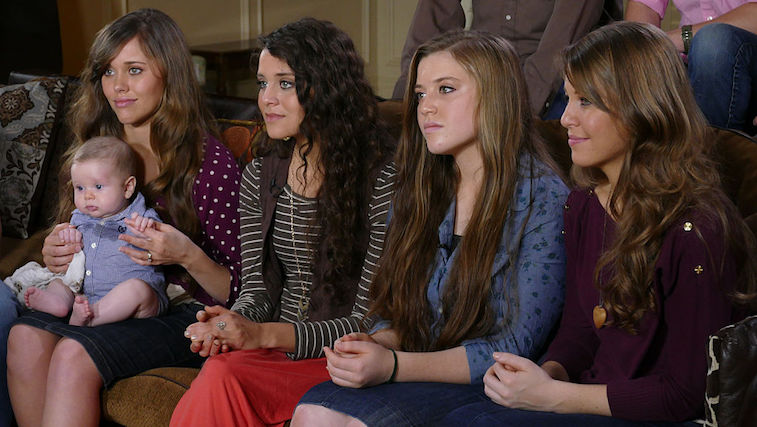 The Duggar family was raised with very strict rules
The Duggars are no ordinary family. This Arkansas crew consists of 21 people — two parents and nineteen children. Their beliefs are deeply rooted in God, and they were all raised to dedicate their lives to the Lord. As a result, they play by a very strict set of rules that essentially all work together to prevent temptation (since the family believes temptation is evil). The children are not allowed to have sex before marriage, nor can they dance (because it promotes sensuality), go to the beach (too much skin and too many wandering eyes), or listen to modern music (because it promotes sex and drugs). The clothes they wear must always be unflattering so as not to show any curves.
Michelle and Jim Bob Duggar don't let their kids move out before marriage
When courtships begin, the Duggars and their dates are always chaperoned. Duggars also aren't allowed to have any private conversations with their partner, including text messages (Jim Bob and Michelle are in chats with the courting couples). In an additional effort to prevent sex before marriage, Jim Bob and Michelle Duggar's kids must remain under their roof. The children can't move out and be on their own, because being alone might cause them to make immoral decisions, since they know they aren't being watched.
Jana Duggar still shares a room with her younger sisters
Jana Duggar turned 29 earlier this year, but she is still living at home with her younger siblings. Since Jana has never been in a serious courtship (though she admits she has courted a few people) and is not yet married, her parents have not allowed her to leave home. Jana has said that she enjoys spending time with her younger sisters because it helps her keep a strong relationship with them. Jana has become another head of the household; she spends time cooking, cleaning, and helping the younger ones with homeschooling. But can she really live at home forever?
Eventually, Jana's parents may give her a space on their property — but likely won't let her move out
In the Duggar family, rules are rules. Several of the older Duggars have gotten married, but it hasn't led Jim Bob and Michelle to soften up on their rules for any of the younger kids the way most parents do. This leads us to believe that Jana will never be allowed to fully live on her own if she doesn't marry. However, it's possible that Michelle and Jim Bob will give her a space of her own, either adjacent to the family home or in a separate area of the home, where she can get away from the chaos of so many young kids around her. The Duggars don't want any of their children to be tempted to do anything immoral, so they likely won't let Jana fully out of their sight unless she's married.
Check out The Cheat Sheet on Facebook!