'Teen Mom 2:' Will Jenelle Evans Ever Get Her Kids Back?
Things have not come easy for Jenelle Evans over these past several weeks. The Teen Mom 2 star has been choosing sides between her producers and her husband, David Eason, for a while, but things got even worse when Eason allegedly shot and killed the family's dog in early May. Now, Evans has lost her kids due to the incident. Where do things stand with her children, and will she get them back?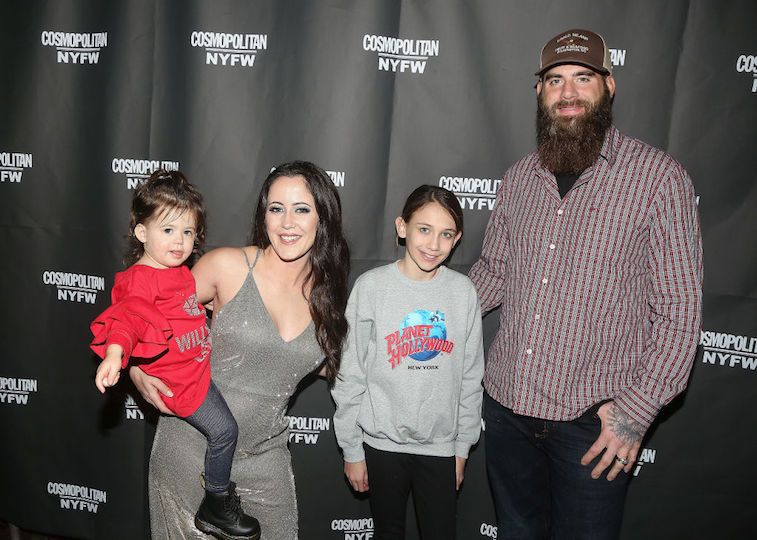 Evans' husband was fired from 'Teen Mom 2' over comments he made last year
Over Teen Mom 2's eight-year run (and counting), we've seen several of Evans' relationships. But none of them have been more volatile to watch than her relationship with her current husband, David Eason. Eason and Evans argued a lot throughout the show, but they always made sure to patch things up. In the beginning of 2018, Eason sent out some hateful tweets regarding gay and transgender people, and the fans of the show did not respond well. Eventually, MTV fired Eason and continued filming with Evans. Eason was not allowed to be filmed at all and could not be present while filming was taking place. (He later threatened that he would show up to the set and jump in front of the camera to force the producers to put him on television.)
Evans' husband allegedly shot killed the family's dog in early May
Tensions between Eason and the producers continued to rise, and it had started making filming difficult. But things took a different turn when Eason allegedly shot and killed the couple's small dog in early May. The couple's French bulldog, Nugget, was reportedly acting up around Eason's daughter, Ensley, and scratched her on the face. That's when Eason allegedly shot and killed the dog in front of his children; he backed his claim by saying that it is his life's mission to protect his family.  "I don't give a damn what animal bites my baby on the face… whether it be your dog or mine, a dog is a dog and I dont put up with that s*** at all," Eason wrote in a photo caption he posted about the event. It was also the final straw for MTV producers; Evans was fired from Teen Mom 2.
As a result of the dog incident, Evans' children were removed from her home
When Evans' ex, Nathan Griffith, heard that a dog had been shot in front of his child (Evans and Griffith share a son together), he called the police and asked them to do a wellness check on his son. His son was safe, but the police did not investigate the shooting because they were not asked to do so. Evans eventually posted a photo of the dog on social media, expressing how heartbroken she was. The story soon broke, and child protective services eventually decided the house was a potentially dangerous place for the kids. Evans' children were all removed from their home.
Legal experts suggest it could be at least a year before Evans gets her kids back
Acccording to RadarOnline, Evans might get her kids back, but it won't be any time soon. The website spoke with Beverly Hills family law attorney Adam Michael Sacks, who said the process for children returning to a home unsupervised can take a very long time. He said it could be at least a year, but possibly longer, depending on whether the parents take action to get their children back (i.e. go to anger management, take parenting classes, etc.). Right now, the investigation into Evans' and Eason's parenting is still ongoing. The kids are currently living with other guardians.
Legal expert Monica Lindstrom said that children aren't removed from their home easily. There usually has to be extreme suspicion that the child is in physical or emotional danger; having the kids removed from Evans' home so quickly shows the intensity of the case. Child Protective Services is currently looking into anything that might suggest neglect, physical danger, or emotional harm.
Check out The Cheat Sheet on Facebook!