Will Julia Louis-Dreyfus Win Her 7th Straight Emmy For The Final Season Of 'Veep'?
In the eyes of the Television Academy – the organization that hands out the Emmy Awards every year – Julia Louis-Dreyfus is just on another level when it comes to comedy. For three decades, just about every television role the actress has touched has turned to award-winning comedy gold, and experts say that's not going to change this year, as Louis-Dreyfus received a seventh nomination for Outstanding Lead Actress in a Comedy Series for her role as Selina Meyer in the HBO comedy series Veep. And, the odds are she is going to win – again.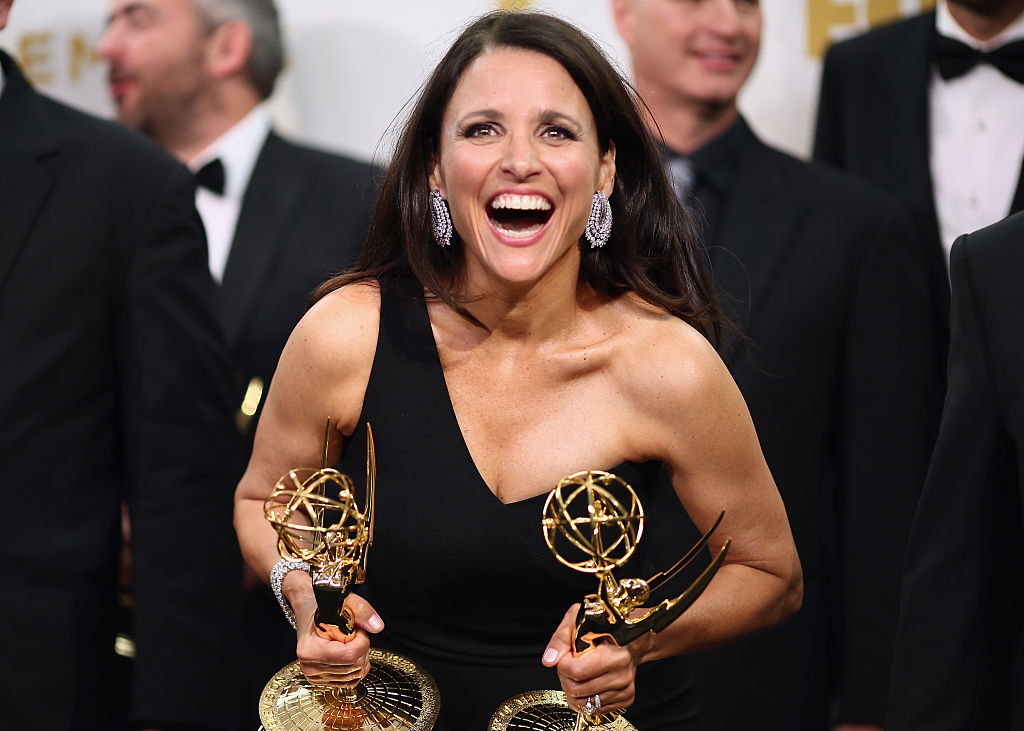 A seven-season sweep
Julia Louis-Dreyfus received seven nominations for Outstanding Supporting Actress in a Comedy Series in the 1990s when she starred on Seinfeld (she won in 1996) and five nominations for Outstanding Lead Actress in a Comedy Series for her role in The New Adventures of Old Christine in the 2000s (she won in 2006).
But, since she moved on to Veep, Louis-Dreyfus has been unbeatable in the Lead Actress category. During the first six seasons of the show, she has won the Emmy every year. And, this year – for the show's seventh and final season – the prediction from Emmy experts is that her seventh nomination will turn into her seventh straight win.
Louis-Dreyfus is the only woman in the history of television to win an acting Emmy for three separate comedy series, but she doesn't have just acting awards. Louis-Dreyfus is also the producer of Veep, and she took home three more Emmys for Veep when it won Best Comedy Series between 2015 and 2017.
This year Louis-Dreyfus has some serious competition in the lead actress category, but the overwhelming majority of experts believe she will come out on top. The other contenders are Phoebe Waller-Bridge (Fleabag), Rachel Brosnahan (The Marvelous Mrs. Maisel), Catherine O'Hara (Schitt's Creek), Natasha Lyonne (Russian Doll), and Christina Applegate (Dead To Me).
Julia Louis-Dreyfus says 'Veep' was her salvation after cancer battle
At the 69th Emmys in 2017, Louis-Dreyfus won the lead actress award and the show won best comedy series. But, the next morning, her doctor told her she had breast cancer.
"I howled with laughter, which turned into hysterical crying. I mean, it's a blow. And an absurd one at that, given the timing," she told The Los Angeles Times.
Louis-Dreyfus immediately put Veep on hold – the show took a 10-month hiatus – and she went through six rounds of chemotherapy before returning to what she called "the best job" and "hardest job" she's ever had.
The 58-year-old says that going back to Veep after battling cancer was her salvation, and there was nothing better.
"To work together as a team to create something and try to be as funny and as authentic and as unusual as possible … that just restored my spirit. It was the absolute best," said Louis-Dreyfus.
She added that she was anxious about the series finale because she is very protective of the show and loves it so profoundly. Louis-Dreyfus says she had a "ferocious feeling" that they had to "stick the landing," and she thinks they succeeded.
"It was excruciating," says the actress. But, it might just be her favorite episode of the entire series because they wrapped up all of the characters in a satisfying way.
Saying goodbye to 'Veep' was "crushing"
After seven seasons, Louis-Dreyfus says that saying goodbye to Veep was the right thing to do, but it was "crushing" and a "heartbreaker through and through." However, the show was "incredibly life-affirming" and it felt good to get down in the dirt and get it done.
If she does win the Emmy this year, Louis-Dreyfus will have a total of 12 Emmys for her career – including 9 acting Emmys – which means she will move past Cloris Leachman and hold the record all by herself for the performer with the most individual wins in Emmy history.
Her six straight wins for Veep have already broken Candice Bergen's record – which she set for consecutive awards with her role in Murphy Brown.
Since the show took a hiatus so Louis-Dreyfus could get treatment for breast cancer, it was not eligible for awards last year. But, the timing is just right this time around for their final season, since they went back to work in August 2018 and aired the series finale in May of this year.
In total, Veep has scored 68 Emmy nominations over seven seasons – including nine this year – and has won 17 awards so far. Chances are, that win total will be at least 18 when Louis-Dreyfus wins her seventh straight Emmy for the show's final season.
The 71st Primetime Emmy Awards air Sunday, September 22nd on Fox.