Will Kevin Spacey Ever Work in Hollywood Again?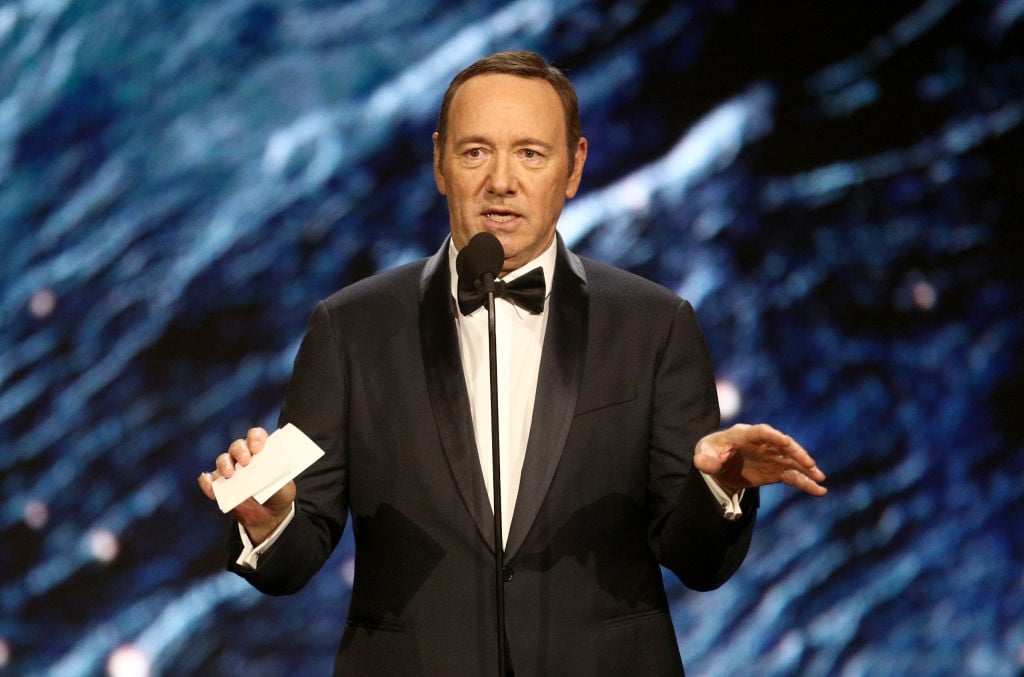 It's still challenging when we all find out a brilliant actor ends up not being the kind of person we hoped they'd be. We're living in a time when we have to deal with this reality on a near monthly basis.
Nowhere is that more prevalent than now in seeing Kevin Spacey face sexual abuse accusations. While Spacey has stayed quiet for a year, we're only now seeing him face a trial for a 2016 sexual assault charge involving a teenage busboy in a Nantucket bar.
Recently, Spacey gave bizarre hints he wants to make a comeback. Is this even possible now, or is he living in the wrong time?
Kevin Spacey gets a traffic warning
Despite a year of being quiet, it seems Spacey is finding himself in further unexpected situations. On January 7, while driving back from his court appearance for the above case, he was pulled over for speeding. In the passenger seat was his lawyer who everyone saw standing by Spacey's side in the Nantucket courtroom.
While it makes sense that driving long-distance to go back home is a pain, it almost seems beyond coincidence Spacey would receive a traffic stop. Did the police recognize him and pull him over just because he looked guilty?
This might not be true since he didn't look very recognizable based on the hat he was wearing. Despite the police interrogation, he didn't receive a traffic ticket and just a warning.
Other sexual assault accusations
Spacey has more than a dozen other people around the globe claiming he sexually assaulted them. This horrific news makes you wonder what lies ahead and whether he'll end up incarcerated eventually like another disgraced icon, Bill Cosby.
We can't say it won't ever happen since many thought Cosby would never get prison time until the #MeToo movement moved things forward. America rightfully has zero tolerance now for those who sexually assault women or children.
What's most frustrating is many famous people who do this usually end up leaving society with a major fortune. Reports are that Spacey is worth $100 million, making him set for life if he ultimately never acts again.
Yes, he was frank
My favorite selfie from the Emmys: Look at these legends behind me. No way to feel like a loser with this Triple Crown! pic.twitter.com/P8DBdIFpEY

— Kevin Spacey (@KevinSpacey) September 22, 2017
Let Me Be Frank https://t.co/OzVGsX6Xbz

— Kevin Spacey (@KevinSpacey) December 24, 2018
A year and a half ago, Spacey tweeted a pic of himself sitting in front of Dolly Parton, Lily Tomlin, and Jane Fonda at the Emmy Awards. He didn't tweet anything for a year after disappearing from public view.
Cut to Christmas Eve of 2018 and his posting of a very odd video of himself in character as Frank Underwood from House of Cards. Rather than talk transparently as himself about his allegations, he seemed to be hiding behind the mask of the Underwood character to express his apparent fight-back.
No doubt Spacey thought this would help impress his fans and colleagues enough to help him land more acting jobs. Instead, it went over very badly with most of the public, including questioning his sanity.
In the chance Spacey manages to prove he's innocent of all charges, can he really make a comeback in today's scrutinizing society?
Spacey's acting career was reaching a peak
Witness the events that shaped the writings of J.D. Salinger in my new
movie #RebelintheRye, opening TODAY pic.twitter.com/bPaYCo3EDv

— Kevin Spacey (@KevinSpacey) September 8, 2017
If you look back to the summer of 2017, Spacey was on an acting roll with numerous high-profile and independent parts in movies like Baby Driver to Rebel in the Rye (playing J.D. Salinger). He even filmed a biopic about Gore Vidal for Netflix that the online service shelved due to the scandals. It subsequently cost Netflix a fortune in losses.
We're finding it harder nowadays to overlook a person's dark side in favor of the art. Whether Kevin Spacey can make a comeback will adhere directly to how the public battles with this in coming years.
Unfortunately, we'll probably hear more unpleasant truths about our favorite pop icons in the age where information unravels in an instant. Our forgiveness levels may have to settle someday, even if it may be too late for Spacey to take advantage of that.