Will Khloé Kardashian and Jordyn Woods Ever Put Their Feud To Rest?
It's almost been a year since the whole Tristan Thompson cheating scandal and there's still drama going on between the Jordyn Woods and Khloé Kardashian.
While the reality star tried to put forth a peace offering and finally move past the negativity, it seems she and the model are no where close to making amends.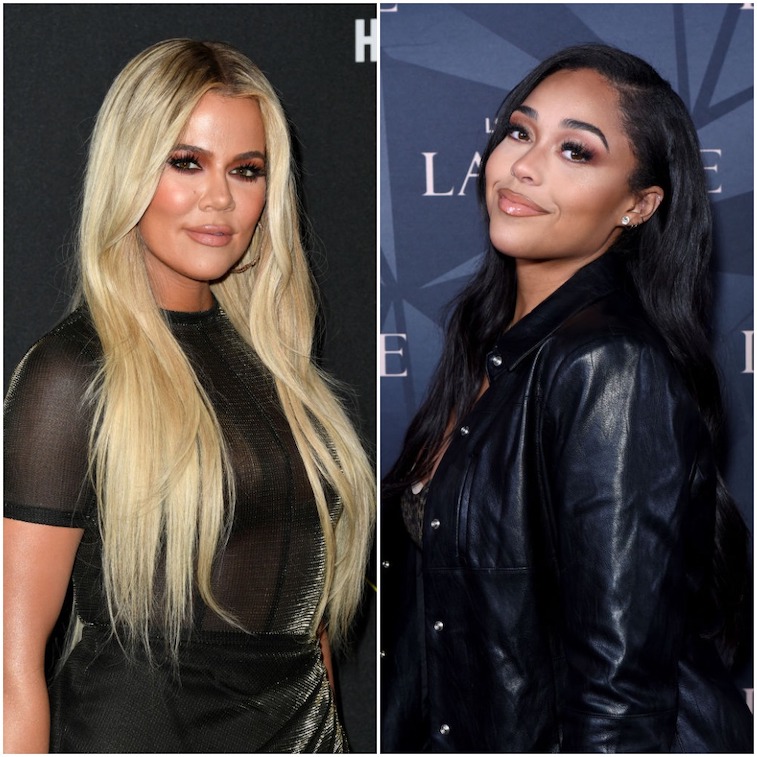 Kardashian posted about "liars" after Woods' polygraph results were revealed
Just when we thought Kardashian and Woods finally put an end to their feud, the reality star goes ahead and shades the model on Instagram.
The latest installment in this ongoing drama started when Facebook's Red Table Talk aired unseen footage from Woods' March appearance.
During that episode, the model agreed to take a lie detector test to prove that everything she shared about that night with Thompson was, in fact, true.
While hooked up to the polygraph machine, Woods was asked if she had sex with the NBA player, which she responded "no." It was soon revealed by the polygraphist that she was being truthful and Jada Pinkett-Smith said the 22-year-old model had passed the test "with flying colors."
After the episode aired, Kardashian took to her Instagram Story to share a quote about liars, which many believed was geared toward Woods.
"Liars are always ready to take oaths," the post read.
Once the Keeping Up with the Kardashians star's musings about liars was shared, Woods seemingly responded to the shade by taking to her Instagram Story and posting a selfie of herself eating an apple with the caption, "An apple a day keeps the haters away..or sum like that."
This in turn had the internet certain that Woods was talking about the Good American founder, which of course, caused fans to look more into this than they should have.
Kardashian and Woods made it clear that they've moved on from the drama
A little while after her post went up, Woods hopped back on her Instagram Story to let fans know that she was not talking about Kardashian and made it clear— once again—that she's done with the drama.
"I just got home from doing press and I realize, y'all arms must be really, really tired from reaching," she said. "Like, I can't even eat an apple in peace. And let me tell you something, I don't do subliminals, I do general statements and if I have something to say about someone or to someone, Imma say it to them or not at all. If y'all are tired of this, I'm exhausted. Let's move on. It's all love. It's all good."
This new Kardashian and Woods revelation comes a week after the reality star extended an olive branch to model as a way to finally put their beef with one another to rest.
On December 5, Kardashian took to her Instagram Story share her message of forgiveness for Woods and Thompson.
In the lengthy post, the star shared that she had "moved on, found forgiveness," and only wished those who've hurt her in the past "happiness and joy!"
After Kardashian shared her post, Woods took to Instagram to seemingly respond to the reality star's peace offering by sharing a quote that read, "Someone somewhere is still discussing the old you because they don't have access to the new you."
Woods later clarified that the post was not her way of throwing shade at Kardashian. "Not every quote that is posted is a sub or a 'clap back' and not everything posted is directed towards one person in general. I deal with a lot of different s**t daily. It's all love. Only positive vibrations."
They're completely done with the negativity
Although their past drama keeps being brought up, it really seems like this could be the last time Kardashian and Woods speak on this matter.
While we thought there was only going to be positive vibes between these two moving forward, it is now clear that they are taking the "out of sight, out of mind" mantra to heart.
Both Kardashian and Woods are ready to move on with their lives and keep their drama with one another in the past.
Though it'll probably take a lot more than an Instagram peace offering for them to be on good terms again, it's clear that the reality and the model are done with people trying to make drama out of nothing.
With 2019 nearing a close, let's hope that there will be nothing but positive vibes going into the new year.