Will Kylie Jenner Have Baby No. 2 Before She Marries Travis Scott?
Many fans of Kylie Jenner are wondering when she will marry her longtime boyfriend – and father of her child – Travis Scott. A few months ago, the rumor mills went crazy when Kylie posted a picture of Travis' birthday cake that had a message written on it that read, "Happy Birthday, Husband!"
Fans immediately started to speculate the picture was Kylie's way of confirming to the public that she and Travis had gone off to some secret location and got married without anyone knowing. However, it doesn't look like that is actually what happened.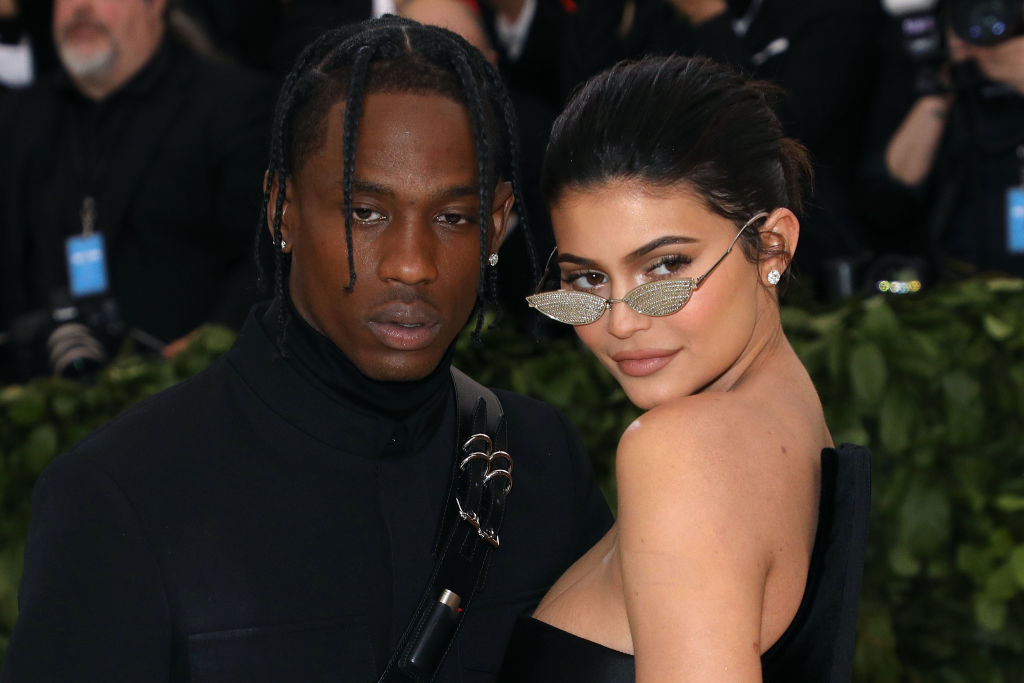 While Travis and Kylie are still very much together, it doesn't look like they will be getting married anytime soon. Recently, Kylie said she was waiting on something very special to happen before she and Travis tie the knot. So, what is it that Kylie and Travis are waiting on? Keep reading to find out.
How long have Kylie Jenner and Travis Scott been together?
While the exact date is unclear, it is speculated that Travis Scott and Kylie Jenner started dating around April of 2017. At that time, Kylie was known for her on-again, off-again romance with rapper Tyga, so fans were ecstatic when they found out Kylie may be finally looking elsewhere for a more serious relationship.
However, according to People, a source close to Kylie at the time said the young Jenner sister and Travis were only friends and she only hangs out with him whenever she wants to make Tyga jealous. But fans were quick to question the accuracy of the source's statement once Kylie and Travis were seen out together on several different occasions. And by June of 2017, fans knew that this wasn't just some fling whenever Kylie and Travis showed off their matching butterfly tattoos.
Travis and Kylie wedding rumors
Almost from the first moment Kylie started dating Travis, there had been rumors swirling around about the two having a secret wedding. After Kylie gave birth to their daughter, Stormi, the rumors started to heat back up again.
Speculations of a secret wedding had once again started circulating the media outlets when Kylie was boarding a plane to Italy for her birthday. While she was boarding the plane photographers had captured her holding a white dress with a large train and she also had a garment bag that presumably had a tuxedo in it for Travis. After seeing those pictures, many fans believed that Kylie and Travis would be getting married in Italy.
Although the couple did not get married for Kylie's birthday, she still had a 22nd birthday celebration to remember. First, Travis Scott completely covered the floor of Kylie's home in rose petals, along with a card that read: "Happy Birthday! We're just getting started! Love you!" A few days later, Kylie and her close friends and family members were cruising the Mediterranean on a $250 million luxury yacht that was reportedly the size of a football field.
When will Travis Scott and Kylie Jenner get married?
While it is unclear when (or if) Kylie and Travis will get married, but according to Hollywood Life, a source has said that Kylie would like to have another baby before she even thinks about tying the knot with Travis.
"They both made it a point, of course, to be together to celebrate Kylie's birthday. She's really enjoying this trip with her family and not thinking about a wedding. She knows she's young and still would like to have another baby and doesn't need to be married to do that. The baby will still absolutely come first," the source had said.
So, while we are not sure when the couple will officially get married, they look really happy together, so we don't see a need to rush anything.