Will 'Law & Order: True Crime' Be NBC's 'American Crime Story'?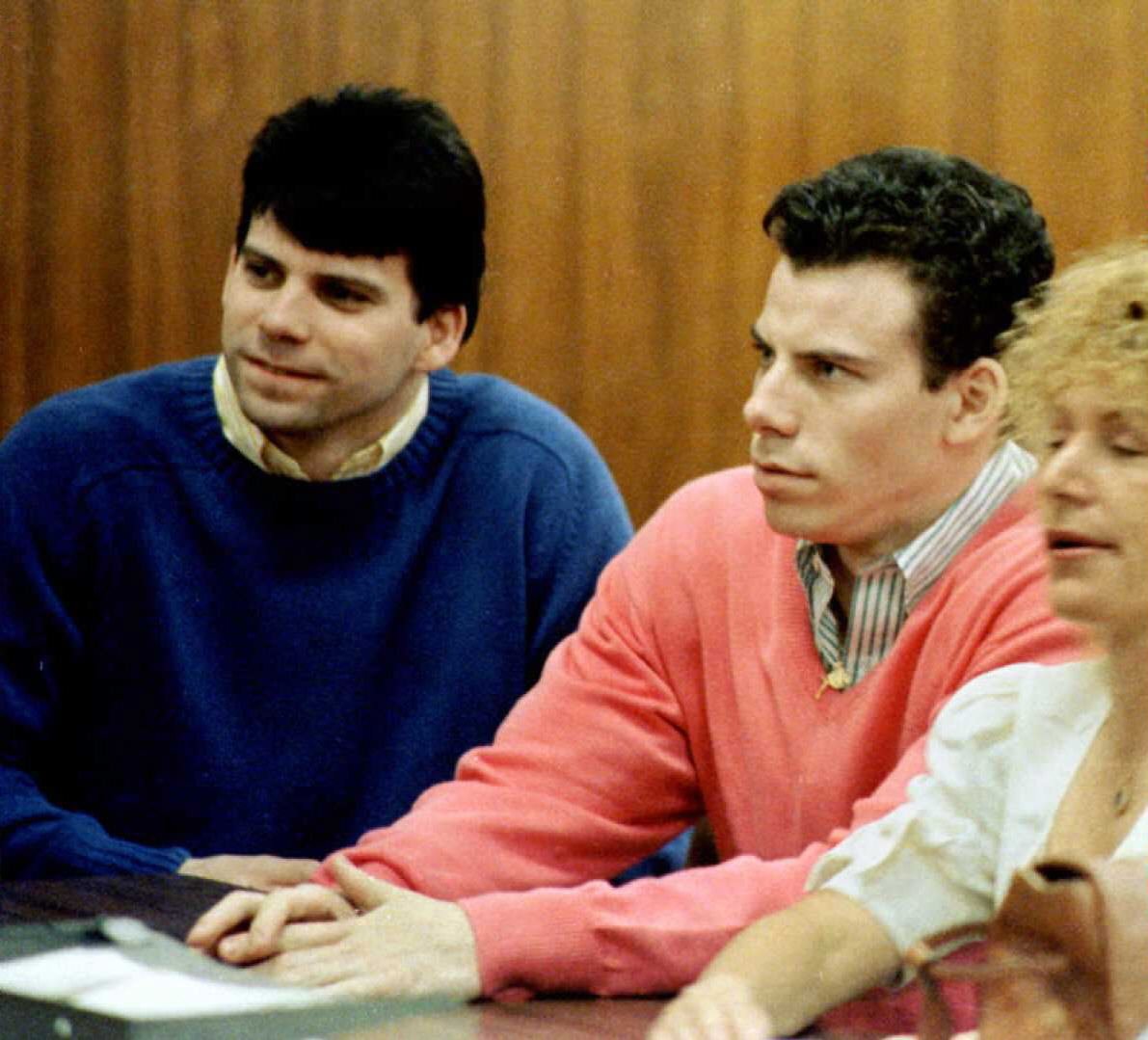 NBC is getting its own American Crime Story. Following the huge success of FX's The People v. OJ Simpson, the broadcaster is launching Law & Order: True Crime, another anthology series tackling a real-life, widely publicized murder case.
According to EW, the new miniseries will take on a different true crime story each season. For its first season, the show will chronicle the sensational case of Lyle and Erik Menendez (above), two brothers who were convicted of the murder of their parents in Beverly Hills in 1989 and are currently serving life sentences in prison. Though casting for the eight-episode freshman season hasn't been announced yet, it will reportedly be called Law & Order: True Crime — The Menendez Brothers Murders.
"[NBC] and I have been focused on the natural evolution of the Law & Order brand for the last several years and are excited to extend the franchise with a scripted limited anthology series that focuses on a high-profile trial," Law & Order creator Dick Wolf said in a statement. "There is no shortage of compelling real-life criminal cases, and the Menendez trial was more scintillating than most crime fiction."
Jennifer Salke, president of NBC Entertainment, added, "This case captured the public's attention like nothing before it as it examined taboo issues such as patricide and matricide in gruesome detail, all against a backdrop of privilege and wealth. We will recreate the cultural and societal surroundings of both the murders and trials when people were not only obsessed with the case but examining how and why these brothers committed these heinous crimes."
While the Law & Order franchise is known for taking inspiration from the latest headlines, this is the first time that any of its spin-offs have focused on dramatizing one true crime case over the course of an entire season.
FX recently saw huge success with this formula in American Crime Story: The People vs. O.J. Simpson, which wrapped up its 10-episode run to critical acclaim and impressive ratings. However, the show will reportedly move away from the courtroom next season, instead focusing on the aftermath of Hurricane Katrina.
Aside from American Crime Story, the true crime genre has also seen a major spike in popularity in recent days, thanks to the success of the Serial podcast, HBO's The Jinx, and Netflix's Making a Murderer. Whether Law & Order: True Crime will prove to be the next sensation remains to be seen, but it will certainly fit right in with today's crime-driven anthology landscape.
NBC isn't the only one jumping on the true crime bandwagon. The genre will only continue to see more entries in the coming months. Serial is getting its own TV adaptation from Phil Lord and Chris Miller. Meanwhile, Netflix is reportedly contemplating a second season of Making a Murderer, pending any legal updates.
There's no word yet on a projected timetable for Law & Order: True Crime. With the networks heading into upfronts soon, viewers should stay tuned for more details on casting and a premiere date in the coming weeks.
More from Entertainment Cheat Sheet: