Will Meghan Markle's Father Meet Baby Sussex When He Or She is Born?
Meghan Markle and Prince Harry are less than two months away from the arrival of their first child. But with a new baby comes plenty of life changes. Meghan and Harry have recently moved into a new house, and they're excited to start the next chapter. However, Meghan's strained relationship with her father still remains up in the air. Will Thomas Markle get to meet Baby Sussex when he or she finally arrives?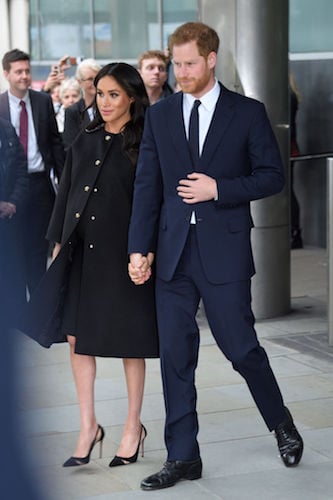 Meghan and her father had a great relationship when she was growing up
Meghan's parents divorced when she was only six years old, but she has never had a bad thing to say about their co-parenting. She said her father helped her to become her own person, and he's the one who got her into acting in the first place. Plus, when Thomas won $750,000 in the California lottery, he used some of those winnings to enroll Meghan in a private school to give her the best education possible. Meghan has often discussed the solid relationship she had with her father growing up.
The two reportedly had a falling out after Meghan went to college
As Meghan grew up, things began to take a different turn with her father. E! News reported that in a video released from when Meghan was 18, she pointed toward her father's house and said, "From Dad's house, you can see the Hollywood sign. But we aren't going to go there because my dad and I aren't on the best of terms." Since Meghan left to attend school at Northwestern, her relationship with her father has been a bit of a rollercoaster. But according to E! News, by the time she got her role on Suits, the two were back on the up and up. However, it was a series of ups and downs from that point forward.
Thomas did not attend Meghan's wedding and has reportedly plead for her attention
When Meghan got engaged to Harry, her father was set to walk her down the aisle on her big day. However, just a few days before the wedding, her father supposedly had health problems that prevented him from flying all the way from Mexico to London. He didn't attend the wedding. Thomas also said some not-so-friendly things about his daughter, for which he later apologized. But he has since begged for her attention, apparently to no avail.
A new baby may help Meghan and her dad start fresh, so there is a chance he will meet Baby Sussex — but nothing is definite
As of right now, Meghan and her father don't appear to be on great terms. However, major life events, such as welcoming a new baby, sometimes bring out the best in people. While there don't seem to be any plans for Thomas to fly over to meet the baby when he or she arrives, the public probably wouldn't be surprised if the two made an effort to patch things up once Meghan becomes a mother. Meghan's mom, Doria Ragland, is reportedly flying in for a while when the baby is born, and it's possible that Meghan will decide she wants her baby to have as many grandparents in his or her life as possible. Time will tell if she patches things up with her dad.
Check out The Cheat Sheet on Facebook!