Will Mike 'The Situation' Sorrentino And Lauren Pesce Announce a Pregnancy Soon?
Jersey Shore star Mike "The Situation" Sorrentino was recently released from prison following an eight-month sentence for tax evasion. Prior to leaving for his sentence, Sorrentino married his longtime girlfriend, Lauren Pesce. The two didn't try to have kids before Sorrentino left, possibly because Pesce didn't want to be pregnant while he was gone. Will the two announce a pregnancy soon, now that Sorrentino is home? They gave fans a hint earlier this week.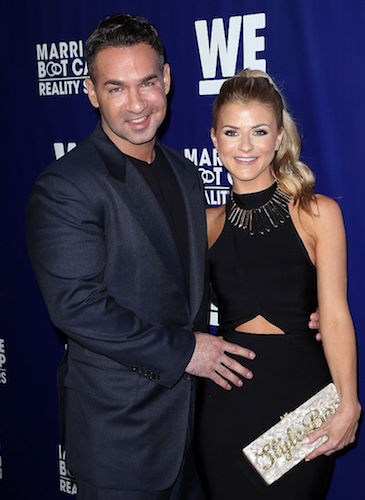 Sorrentino and Pesce tied the knot before he went to prison
Sorrentino's life hasn't been a walk in the park. During his time on the original Jersey Shore, he was fighting the demons of addiction, which nobody knew at the time. But Pesce, who had dated Sorrentino when they were younger, ended up being the main reason why he was able to win his battle. She helped him through his problems and stuck by him while he worked hard to become sober. Although he overcame addiction, he still had to deal with the repercussions of his decisions; last year, he pled guilty to one count of tax evasion and was sentenced to eight months in prison. Sorrentino and Pesce put a quick (albeit magnificent) wedding together before he left, and the couple tied the knot on November 1, 2018.
The couple has said they want to start a family
Even before Sorrentino left for prison, the two had talked about starting a family. Pesce is 34 and Sorrentino is 37, and on the show, they joked about having kids while the crew was spending some time up at a ranch in upstate New York. However, they never gave a definitive timeline on the show about when they wanted to start a family. It makes sense that Pesce didn't get pregnant before Sorrentino started his sentence, though, since he wouldn't have been there for her during her pregnancy and might have even missed the baby's birth if the child came early.
The two will probably announce a pregnancy soon
Sorrentino was released from prison on September 12, and his wife was right there to greet him. Later, they each posted a photo about how excited they are to finally start their lives together without interruption. Since they had talked about children before Sorrentino left, it wouldn't surprise anyone if the two announced a pregnancy at the start of the new year. The couple will probably start trying very soon now that Sorrentino is home. The two told People back in May 2018 that they want to have kids within the next year. Yesterday, they released a statement through People, with Pesce saying, "We look forward to continuing our life as husband and wife and working on baby situations!"
Sorrentino might need some time to readjust to normal life
Though Sorrentino is extremely happy to be home, he will need some time to readjust to a normal life. While they're probably eager to welcome their first baby, it's possible the couple will wait a few months before trying to have kids in order to give Sorrentino a chance to reintegrate himself into the normal world. He spent eight months behind bars, and though this year has flown by, time probably didn't move so quickly for him. It's possible he needs a few months to get his life in order and figure out what his next steps are before the two start a family. Either way, we're already patiently waiting for Baby Situation to arrive.