Will Miley Cyrus and Liam Hemsworth's Marriage Survive?
If you think the wild side of Miley Cyrus has been completely tamed, you might think otherwise when seeing some of her recent interviews. While we can all admit the pop star side of her is far more polished and focused on real artistry now rather than shock value, Cyrus has revealed she's a complex person her public might not completely understand.
Part of this was revealed in a recent Newsweek interview that had her talking about her marriage to Liam Hemsworth. Based on her comments, it sounds like their marriage is far more open than anyone might think for those who value monogamy.
What might this mean for the survival of Cyrus and Hemsworth's marriage? Acceptance is still up in the air.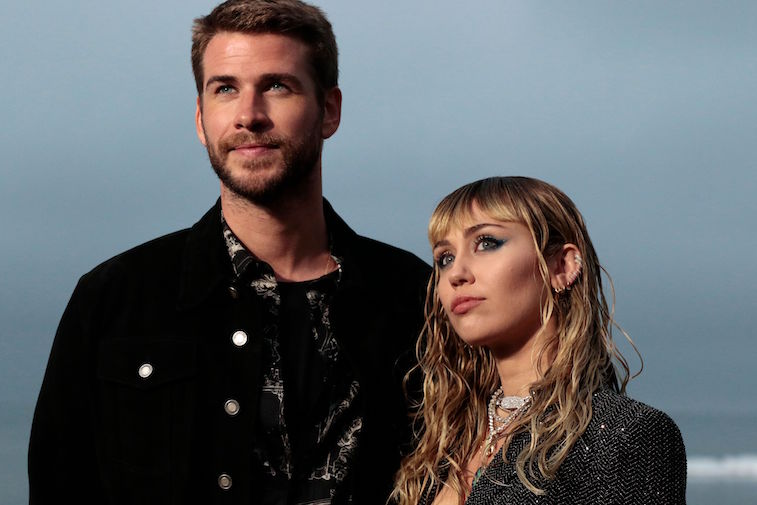 Cyrus decimated her former Disney image even more
Those of you who happened to grow up with Cyrus on Disney Channel's Hannah Montana might feel like part of your childhood has been eroded due to Miley chastising the character. As adults, perhaps we can all agree to the notion the world the show created was an innocent fantasy with no basis in reality.
We can say that about all kid shows, but not many cast members on shows similar were like Cyrus. She's said recently playing the character feels so ridiculous in hindsight. Further, she points out she was the complete opposite of Hannah Montana when doing the show. 
According to Cyrus, she once witnessed an actor playing Peter Pan at Disneyland smoking a cigarette behind the scenes, leading her to realize her Disney persona was a lie.
At least you can say she didn't deny herself on being her true self. What that self is for marriage is one vulnerable to polarization.
Is Cyrus saying her marriage is open to other relationships?
She didn't come right out and say so, but Cyrus's Newsweek interview suggests she's made it clear her marriage is possibly more open than anybody would have thought.
Her reveal of her marriage being "unique" and too complex for the general public to understand opened a lot of eyes after everyone assumed she and Hemsworth were 100% devoted.
One thing we do know is Cyrus and Hemsworth grew closer when the Malibu fires last year decimated Cyrus's home. Emotion always brings people together in a closer way. However, Cyrus is also making it clear she still has a strong attraction to women, something she isn't tucking away despite marriage.
Does this mean she's made it clear to Hemsworth she might have open affairs with women when they're not together? We've all heard rumors about other couples having "open" marriages in Hollywood lately, with Will Smith/Jada Pinkett being the product of this rumor.
Should we argue a real successful marriage in Hollywood means going beyond the traditions of being monogamous?
Cyrus didn't provide details, no doubt out of fear of alienating some fans
Outside of Cyrus's revelation about her being bisexual and not being a "stereotypical" wife, she didn't provide any more details about how open her marriage is.
Her fans might be split down the middle on this, especially since she does have a lot of conservative fans as well as liberal ones. Many people still champion monogamy in marriage, something still important to pursue when you're completely committed to someone.
Let's also wonder if Hemsworth really goes along with the notion of an open marriage. He must have, or he wouldn't have agreed to marry Cyrus. Then again, this could become problematic over time, particularly if you're apart much of the time due to work commitments.
Whether their marriage survives all goes by what the public accepts and whether Hemsworth can shift his life to Cyrus's non-typical personality. Anyone looking for stability or sanity might not find it in this scenario.