Will Prince Harry and Meghan Markle's Baby Have a Close Relationship With George, Charlotte, and Louis?
With only about six weeks left until Baby Sussex arrives (maybe less!), Prince Harry and Meghan Markle are truly getting ready to be brand new parents. But one major part of raising a child is helping him or her develop necessary social skills. While Baby Sussex will eventually attend another school and be surrounded by children, family relationships also matter. The new baby will already have three young cousins: Prince George, Princess Charlotte, and Prince Louis. But will Meghan and Harry's new baby be close with Prince William and Kate Middleton's children?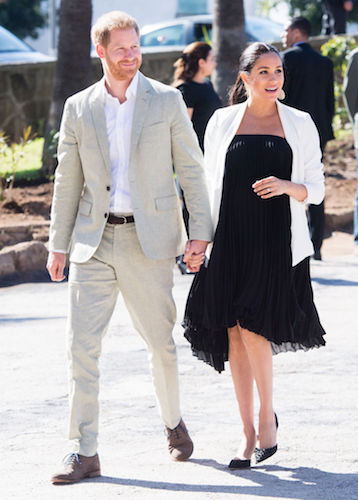 Will and Harry were always close growing up
Will and Harry went through a lot during their childhood and teen years. They were constantly in the spotlight as being prominent members of the royal family, and when Princess Diana died, their publicity only escalated. As a result, they often leaned on each other to get through the difficulties that can come along with being royals. The two had a very close relationship growing up, and when Harry began to lash out as a young adult, Will helped reel him back in and become the respectful young man Harry is today. Now that both men are grown and will soon both have families, it wouldn't surprise anyone if they wanted their own children to spend plenty of time together.
Harry reportedly has a very close relationship with his own cousins, Princesses Eugenie and Beatrice
Harry had cousins close to his age growing up, and he always had a strong bond with both Beatrice and Eugenie. But Harry and Eugenie grew extremely close, possibly because they were the younger siblings and had more in common. Eugenie and Harry were often spotted out on the town together, sharing a close cousin bond that Harry didn't have with any of his other relatives. Beatrice joined the party occasionally, but even after both Harry and Eugenie settled down, they still spent time together. According to E! News, Harry, Meghan, Eugenie, and her now-husband Jack Brooksbank have all double dated several times. Harry knows what it's like to have a close bond with cousins, and he likely wants that for his own children.
Since Baby Sussex won't have any close family on Meghan's side, he or she will likely spend a lot of time with Will and Kate's kids
Baby Sussex will be the first child for both Harry and Meghan, but living in the U.K., Meghan doesn't have much family around. With that said, the new baby will be spending more time with Harry's extended family. And since Harry, Meghan, Will, and Kate often attend big events together, the children will likely become very close as they age. George will be about five years older than the new baby, and Charlotte just under four years older. But Louis will only be one year older than his new cousin, so it's possible those two will have a similar bond to Harry and Eugenie.
The royal life can be a difficult one — and nobody will understand it the way family members will
When it comes to the royal life, nobody understands it quite like royals. While Baby Sussex will likely make plenty of friends when he or she starts school, nobody will understand the trials and tribulations of being a royal child the same way Will and Kate's kids will. With that said, the cousins will probably lean on one another quite a bit. Despite living in two separate places, the cousins will surely grow to develop a bond like no other; they'll always have royalty in common.
Check out The Cheat Sheet on Facebook!