Will Prince William and Kate Middleton Offer to Babysit Baby Sussex?
Prince Harry and Meghan Markle are just days away from welcoming their first child. The couple is going to have a lot on their plates while they navigate parenthood, and according to those close to the royals, Meghan and Harry don't want to hire a nanny. But what about for those times when the couple needs a few hours' break for themselves? Would Prince William and Kate Middleton offer to babysit?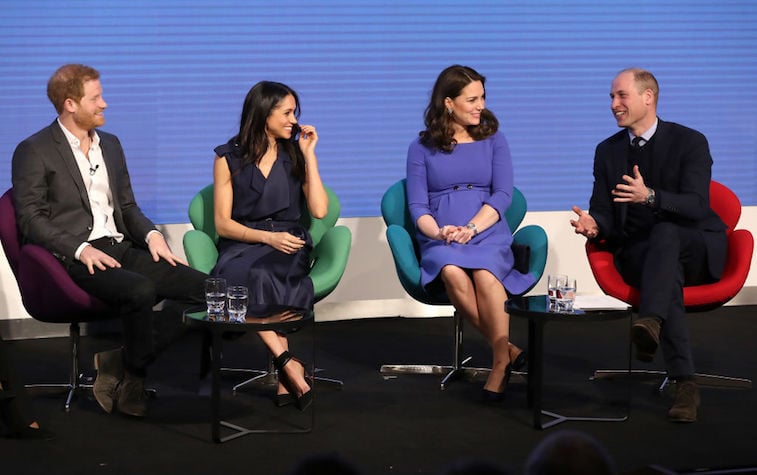 Meghan and Harry reportedly don't want to hire a nanny for their new baby
Meghan and Harry want to do things a bit differently than other royal family members. While Will and Kate do spend as much time with their kids as they can, Will is the future king, which means he and Kate always have a lot to learn and even more to do. They can't be everywhere at once, so they have a nanny to help with their three kids. Meghan and Harry likely will never rule, so their royal roles aren't quite as important as Will and Kate's. This gives them more of an opportunity to be hands-on with their kids. Harry and Meghan have reportedly decided they don't want to hire a nanny when their baby comes along.
Will and Kate have three kids, so a newborn at this point would be fairly easy to handle
For Will and Kate, who welcomed their third child last year, taking care of a newborn is practically the easiest part of their royal lives. Last year, the couple welcomed Prince Louis, and by the time he was born, Will and Kate were pretty confident in how to handle a brand new baby. At this point, George and Charlotte are old enough to entertain themselves for the most part, and they can walk, talk, and are potty-trained. This gives Will and Kate some more time to focus on raising Louis. And at the very least, the Cambridge couple can give Meghan and Harry some advice on how to best handle an infant.
Meghan and Harry are undoubtedly going to be busy, and it wouldn't surprise anyone if Will and Kate helped out
It's unlikely that Will and Kate will be there for Meghan and Harry seven days a week, since the future King and Queen Consort definitely have busy lives, but it wouldn't surprise anyone if they offered to set up a playdate with Baby Sussex and their own children every once in a while to give Meghan and Harry a break. Charlotte and George would probably love to spend time with another baby. Since Kate and Will have a nanny to help, and they're all well-versed in caring for young kids, it's possible Kate and Will would want to spend some time with their nephew while Meghan and Harry recuperated a bit.
Meghan's mother is supposedly spending time in the U.K. once the baby arrives, too  
Doria Ragland is reportedly flying in to spend an extended period of time with Meghan and Harry once the baby arrives. Doria will be a great help to the new parents, and Meghan will probably love having her mother around to help show her the ropes. But once Doria leaves, Meghan may want another mother's expertise, and she will likely consult Kate. It also wouldn't surprise anyone if Meghan and Kate developed a closer relationship once Meghan's baby is born.
Check out The Cheat Sheet on Facebook!