Will Quentin Tarantino Really Retire Soon?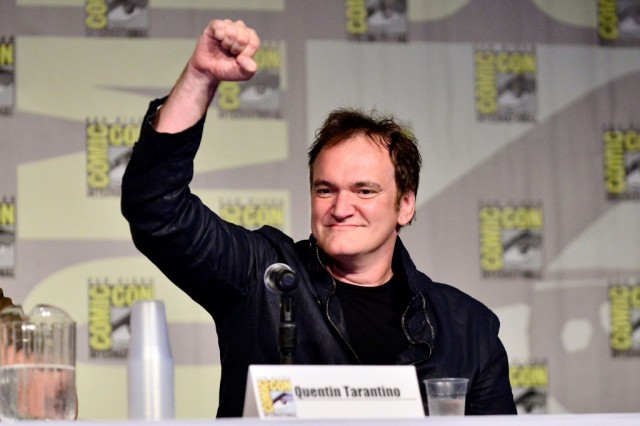 Iconoclastic director Quentin Tarantino has said that he'll hang up his camera after making his 10th film, making fans of his idiosyncratic movies depressed and Samuel L. Jackson skeptical that he could even pull off stepping out from behind the camera. Tarantino made the comments in a presentation at the American Film Market for foreign distributors looking to get their hands on the upcoming Western The Hateful Eight, per Deadline.
"I don't believe you should stay onstage until people are begging you to get off," he said. "I like the idea of leaving them wanting a bit more. I do think directing is a young man's game, and I like the idea of an umbilical cord connection from my first to my last movie. I'm not trying to ridicule anyone who thinks differently, but I want to go out while I'm still hard. … I like that I will leave a 10-film filmography, and so I've got two more to go after this. It's not etched in stone, but that is the plan. If I get to the 10th, do a good job and don't screw it up, well that sounds like a good way to end the old career. If, later on, I come across a good movie, I won't not do it just because I said I wouldn't. But 10 and done, leaving them wanting more — that sounds right."
Tarantino discussed a variety of topics in his presentation to foreign distributors, who he said have helped his films (aside from his two most recent) do even better overseas than they do in America. The director was particularly excited for The Hateful Eight to be released on 70mm film to remind people "why this is something you can't see on television and how this is an experience you can't have when you watch movies in your apartment, your man cave or your iPhone or iPad," Tarantino said.
"You'll see 24 frames per second play out, all these wonderfully painted pictures create the illusion of movement. I'm hoping it's going to stop the momentum of the digital stuff, and that people will hopefully go, 'Man, that is going to the movies, and that is worth saving, and we need to see more of that,' " Tarantino said.
The Hateful Eight has had a rocky history, as last year someone leaked the unfinished script, which resulted in it being posted online and Tarantino vowing to both sue the website that posted it (Gawker) and shelve the movie. The lawsuit is moving forward, but Tarantino decided to go ahead and make the movie even though people online had seen the early script.
The cast of The Hateful Eight was announced recently after months of rumors, with Kurt Russell, Samuel L. Jackson, Channing Tatum, Bruce Dern, Tim Roth, and Jennifer Jason Leigh playing a group of outlaws who get holed up in a cabin in the Rocky Mountains during a snowstorm six years after the Civil War. Many of the actors are Tarantino favorites, but it's Tatum and Jason Leigh's first times being in one of the director's movies.
Some of the actors were a bit skeptical about the director's retirement plans. Jason Leigh expressed disappointment that she had only just started working with Tarantino and now he's announcing plans to retire. "You don't actually believe that shit, do you?" Russell asked the crowd. "What's Quentin going to do with himself if he's not doing this?" Jackson added.
If Tarantino only has two movies left to direct after The Hateful Eight, the question now is what those films will be. Tarantino has never been one to make sequels, but a Part 3 to Kill Bill has been rumored to be in the works for a while. Parts 1 and 2 weren't really a first film and then a sequel, more like a really long movie cut in half. Part 3 would be more like a traditional sequel, but it seems like it's not going to happen.
Back when Kill Bill Vol. 2 came out, Tarantino said he wanted to do a Vol. 3 but wait 10 years to shoot it. More recently while promoting Django Unchained a couple of years ago, the director said: "I don't know if there's ever going to be a Kill Bill Vol. 3. We'll see, probably not though."
The fact that we don't know what's coming could be even more exciting for fans as they await what could be the director's final three movies. Of course, many successful artists attempt to retire only to be called back by their artistic passion and their adoring fans, something that could quite possibly happen to Tarantino.
Follow Jacqueline on Twitter @Jacqui_WSCS
More from Entertainment Cheat Sheet:
Want more great content like this? Sign up here to receive the best of Cheat Sheet delivered daily. No spam; just tailored content straight to your inbox.