Will Robert Pattinson's Batman Battle Joaquin Phoenix's Joker in 'The Batman'?
Todd Phillips' psychological thriller Joker has absolutely taken the world by storm, breaking box office records for the month of October by grossing an estimated $93.5 million from domestic ticket sales. The standalone film is an intense, gritty character study and origin story of one of the most infamous comic book villains of all time, The Joker.
As cinematic fate would have it, Matt Reeves, the mind behind Cloverfield and Dawn of the Planet of the Apes, is writing and directing the upcoming reboot of the superhero franchise of The Joker's arch-nemesis, Batman. The Batman will be the first standalone film for the caped crusader since Christopher Nolan's trilogy concluded in 2012. The Dark Knight will be played by actor Robert Pattinson and is projected to premiere in June 2021.
With both standalone films being released within relatively close proximity to one another, Batman fans are wondering if the two films will be connected in the near or distant future, and if Robert Pattinson's Batman will battle it out with Joaquin Phoenix's Joker. Here's what we know so far:
*This article will contain spoilers for Joker.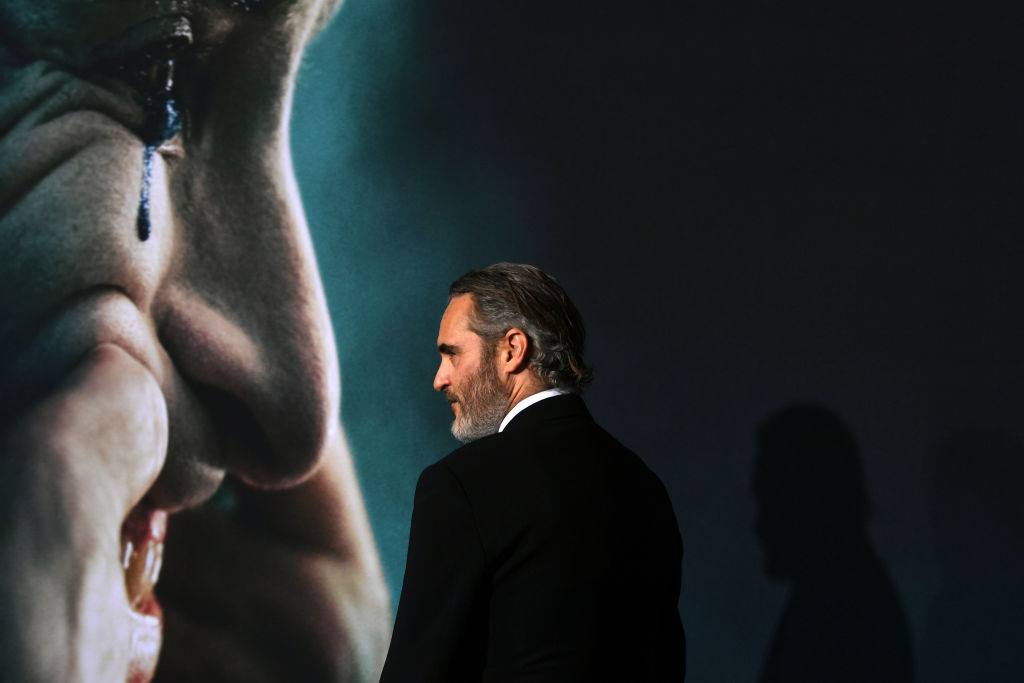 Young Bruce Wayne has already made an appearance in 'Joker'
A subplot in Todd Phillips' Joker revolves around Arthur Fleck, portrayed by Joaquin Phoenix, investigating whether or not the wealthy mayoral candidate, Thomas Wayne could actually be his biological father. When Fleck arrives at Wayne Manor to meet the billionaire but instead meets his young son, Bruce for the very first time.
The film is set during a turbulent time period, full of public riots and acts of violence against the poor and rich alike. Later in the film, one of Arthur's followers murders Bruce Wayne's parents right in front of him as the family leaves a crowded theater.
This subplot, along with the possibility of the famous superhero and supervillain duo being related by blood, could open up a world of potential to be explored in The Batman. The fact that Joker takes place during the 1980s and The Batman is reportedly set in the 1990s would line the two films up perfectly, making Bruce Wayne the right age to face off against The Joker. A cinematic connection between the two films seems like a perfect marriage made in heaven.
Todd Phillips confirmed that Phoenix's Joker and Pattinson's Batman will not appear in the same movie
Unfortunately for fans of Joaquin Phoenix's performance in Joker, the actor will not be reprising his role as the demented killer clown in The Batman. In an interview with IGN, Phillips explained that Joker is set during an alternate time period where Batman doesn't exist yet.
However, Phillips did seem to be interested in what Bruce Wayne's masked vigilantism would look like in the universe of Joker, where the majority of Gotham's citizens have a scathing hatred for the rich and powerful. Bruce Wayne's status as a billionaire would have a very different impact on his public image in the Joker universe as opposed to the world created in The Batman.
"It'd be interesting to see somebody do a Batman movie in this vein that follows that guy 10 years later or whatever," Phillips explained to IGN, intrigued by the idea of Batman in an alternate universe. "If he's 12 or 11 there and okay, 15 years later becoming Batman in that world. Yeah, I think that'd be really interesting."
Even though he was interested in who Bruce Wayne would have grown up to be in the Joker universe, Todd Phillps gave a very clear, direct response when Variety asked if both actors would appear in a Batman movie together: "No, definitely not."
Phillips mentioned that there would inevitably be another future reimagining of The Joker for Pattinson's Batman to feud with, but Joaquin Phoenix's Joker was solely meant to be a single standalone film, not a new addition to the DC universe.
Pattinson's Batman could still encounter The Joker in future films
As Todd Phillips mentioned, there are still plenty of opportunities for Robert Pattinson's Batman to confront his infamous nemesis The Joker in future installments of the new up and coming Batman franchise. By the looks of The Batman as it stands today, it has been rumored that the caped crusader will have enough crime to worry about stopping without the addition of a psychotic clown's antics. The young Batman is reportedly facing a plethora of famous DC supervillains, like Catwoman, The Riddler, and more in the upcoming movie.
While fans might be disappointed to miss out on the possibility of an all-out feud between Joaquin Phoenix's terrifying portrayal of The Joker and Robert Pattinson's new, fresh performance as Batman, it's safe to say that the DC cinematic universe has a bright future ahead with its upcoming films of superheroes and crime-fighting.
So, don't worry, Batman fans. Robert Pattinson's Batman will have to face his number one clownish adversary in one of the upcoming Batman installments, even if the devious Joker is portrayed by someone other than Joaquin Phoenix.
Todd Phillips' Joker danced its way into theaters this past weekend, while Matt Reeves' The Batman is set to make its debut on June 25, 2021.