Will Rock and Roll Be 2015's TV Trend?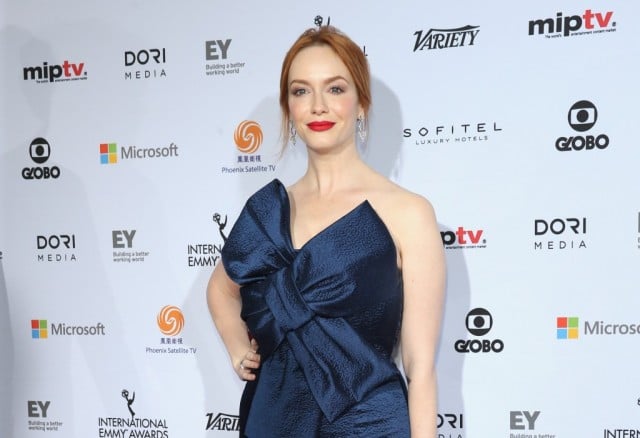 Former rock music journalist-turned-filmmaker Cameron Crowe is prepping a rock and roll television show for Showtime called Roadies just as Martin Scorsese's own as-yet-untitled rock music drama for HBO films in New York City. Scorsese already has an all-star cast lined up for his effort, including Ray Romano, Olivia Wilde, and Juno Temple, and Crowe has also nabbed some big names for his pilot. According to The Hollywood Reporter, Mad Men star Christina Hendricks will co-star alongside Luke Wilson.
In 2014, the big fad among new shows seemed to be crime and detective stories. Anthology series centered around detectives, like Fargo and True Detective, were lauded by critics. Next year, it looks like the new trend could be rock and roll.
Scorsese's show is planned to be a period piece centering on New York City in the 1970s, just as punk and disco music were simultaneously exploding. While Scorsese's show looks like it's going to be more dramatic — some early paparazzi photos from the set showed Ato Essandoh's character being beaten with a baseball bat — Crowe is going the comedic route.
The show will be about the day-to-day happenings on the road with a big rock tour, focusing on the crew that works behind the scenes to make everything happen — it sounds like it could be like a TV version of Spinal Tap. Hendricks's character is the band's production manager, who's described as a tough workaholic: someone who's extremely good at what she does. She will be the work partner of Wilson's character. It's uncertain what time period Crowe's show will take place in.
Crowe has nabbed Imogen Poots, Keisha Castle-Hughes, Peter Cambor, and Rafe Spall to round out the cast. Crowe is writing and directing the comedy pilot, which, with that kind of A-list pedigree, seems highly unlikely not to get picked up to series even if HBO is prepping its own rock and roll show.
Much of Crowe's work in film has been focused on rock and roll music. He famously began his career as a teenage journalist for Rolling Stone magazine during the 1970s, a story he tells in his Oscar-winning movie Almost Famous.  He also directed a recent documentary about the grunge band Pearl Jam to mark its 20th anniversary as a group, Pearl Jam: Twenty.
Some of his other famous movies include Say Anything, Singles, Jerry Maguire, and Vanilla Sky. While the writer-director's pedigree in rock and roll is certainly there, what's uncertain is his ability to pull off a comedy television series. In his film work, he's basically only done romances and dramas, and Crowe has never done a television show before.
Scorsese has already worked with HBO on the recently ended mobster period drama Boardwalk Empire and is in talks with the network to do a series that will be a prequel to his thriller Shutter Island. The untitled rock and roll show is one of the most anticipated new shows of next year, but as news about Crowe's project picks up, surely people will get excited about the funny details he'll include from his own experiences touring with the Allman Brothers and Led Zeppelin, among other iconic '70s rock bands.
Crowe is just the latest filmmaker to be seduced to the small screen by the current "golden era" of television. With his inside knowledge about rock music and the cast that's been lined up, Roadies looks like it's going to be an interesting and funny look into the music business.
Follow Jacqueline on Twitter @Jacqui_WSCS
More from Entertainment Cheat Sheet:
Want more great content like this? Sign up here to receive the best of Cheat Sheet delivered daily. No spam; just tailored content straight to your inbox.