Will Samantha Bee Fill the 'Daily Show'-Sized Hole in Our Hearts?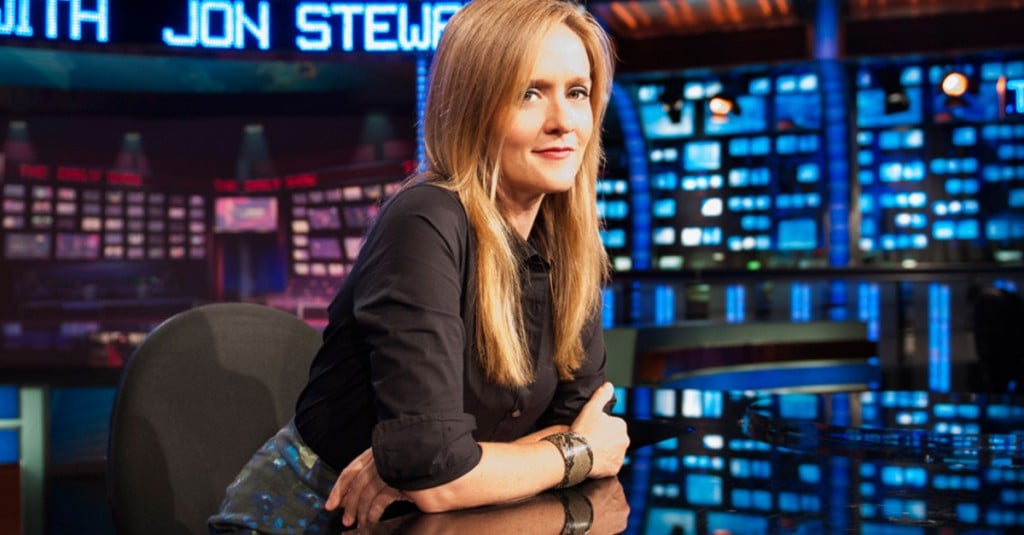 The world of late night television is one that's been in flux over the last year. Stephen Colbert left political satire behind for David Letterman's seat on CBS. John Oliver took over as the king of investigative journalism over on HBO. Jon Stewart left the realm of TV entirely, after 16 years behind the desk as the host of The Daily Show. All the while, his replacement, Trevor Noah, has been met by mixed reviews. While many agree that Noah is charismatic, charming, and generally affable, it's been hard not to notice the lack of biting commentary that his predecessor perfected.
This is important to point out now more than ever, with the presidential election slowly closing in. Whereas in the past, the Stewart/Colbert combination would provide us with a welcomed taste of honesty, sanity, and truth amid the din of political commentary, it's become clear that Noah may not be providing us with the same service. As Slate so astutely put it:
This crazy campaign should be (Noah's) coming-out party. Instead, it's our first election since 2000 where The Daily Show might as well not exist … As we head into a presidential election all but tailored for The Daily Show, there is a Daily Show–shaped hole in the culture.
So that's the problem; what about the solution? Our saving grace this election cycle can be found in former Daily Show correspondent, Samantha Bee. Bee left Comedy Central just five months before Jon Stewart, and she's been hard at work in the interim priming her own late night show on TBS, Full Frontal. Notwithstanding the fact that she will be the first female late night host in a decidedly male field of competitors, her unique brand of comedy and commentary couldn't be arriving at a better time.
Over Bee's run on The Daily Show, she was by far the most talented and incisive of Jon Stewart's various correspondents. It came as no surprise that she eventually outgrew her supporting role, proving her mettle with every segment. She's a master interviewer and comedic talent, and with Trevor Noah sputtering on The Daily Show, Samantha Bee has officially become the heir-apparent for the role of "Go-To Political Satirist" for this coming election cycle.
All the pieces are in place for Bee's ascension too: Full Frontal debuts February 8, just 24 hours before the New Hampshire presidential caucus (and one week after the Iowa caucus). She'll be entering the playing field right in the middle of a political mine field, with showrunner (and former Daily Show writer) Jo Miller in tow. To top it all off, Bee is an avowed feminist entering into an election where issues like reproductive rights, pay equity for women, and the glass ceiling are key talking points for every candidate. Incidentally, Bee is a Canadian-born American citizen, and will be voting in her first presidential election this year.
The stage is set, and already there's been significant buzz surrounding Full Frontal's upcoming premiere. NY Mag recently published a lengthy feature on Bee, appropriately titled "Smirking in the Boy's Room." Meanwhile, TBS has been ramping up the promo, emphasizing Bee's singular brand of scathing comedy that smiles while it joyously slaps you across the face. Trevor Noah may be the man behind the desk at The Daily Show now, but it's Samantha Bee who's poised to take the throne as our chosen spokesperson for sanity this election.
Follow Nick on Twitter @NickNorthwest
More from Entertainment Cheat Sheet: