Will Samuel L. Jackson Be in 'Avengers: Endgame'?
After the way that Avengers: Infinity War ended, it's easy to wonder if anyone is really safe in the Marvel Comics Universe. The end of Infinity War had many of our characters quite literally lying in a pile of dust.
With the release of Marvel's Captain Marvel coming up, fans will get a look at how Samuel L. Jackson's character came to be. But will we see him this spring in Avengers: Endgame? We can't imagine him not being in it. Here's why.
Who does Samuel L. Jackson play in the Marvel Comics Universe?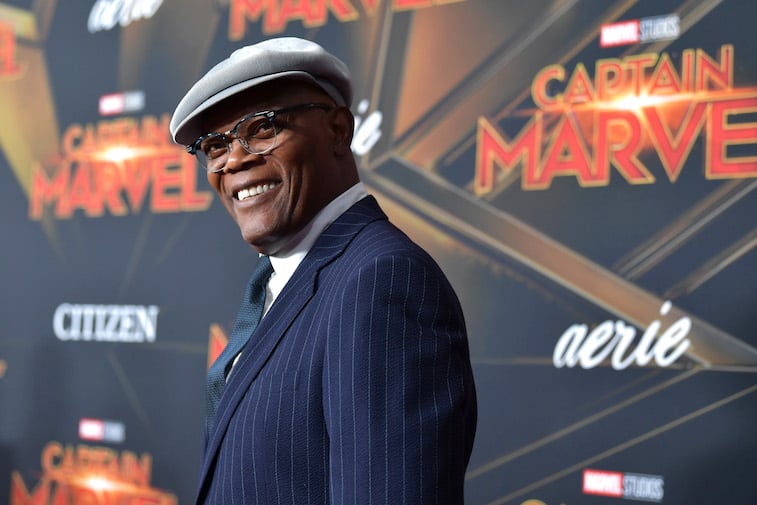 Samuel L. Jackson plays Colonel Nick Fury. Fury served in the United States Army before working to assemble the Avengers. As the Director of the S.H.I.E.L.D, the colonel organized the Avengers Initiative and ultimately recruited Captain America and Iron Man.
Jackson's character has been an important part of the Avenger's universe. Nick Fury has appeared in multiple MCU movies including Iron Man, Captain America, Thor, and Avengers. The actor even made an appearance as Nick Fury on the ABC television show, Agents of the S.H.I.E.L.D.
When it comes to playing bigger than life characters, Samuel L. Jackson ranks among the best
Jackson is arguably one of the most talented and respected actors in Hollywood. The D.C. native got his start in acting in 1973 in the movie, Together for Days. He went on to appear in many hit films including Pulp Fiction, Die Hard, and Shaft. His role in Pulp Fiction earned him an Oscar nomination.
Jackson has never had a problem landing standout roles in major blockbuster movies. Outside of the Avenger's universe, Jackson has most recently appeared in Glass, Miss Peregrine's Home for Peculiar Children, and The Hitman's Bodyguard. The actor currently has seven films in the works, with fours slated to come out later this year.
Samuel L. Jackson and Brie Larson have worked together before
Marvel's Captain Marvel isn't the first time Jackson and Larson have worked together. In fact, it's not the second time either. Captain Marvel will mark the fourth movie the pair have starred in together.
In 2007, Jackson and Larson worked together in the animated film, Farce of the Penguins. Ten years later, they came together again for two movies, Kong: Skull Island, and Unicorn Store. In an interview with Extra TV, Jackson said that he has been following her career. Of her upcoming movie, Jackson said, "She's capable of so many things, that to be able to step into this particular universe and create a character that is this kind of important…It's everything that she represents in terms of who she was before she became Captain Marvel." The actor added, "I think there's going to be a bunch of blue, red, and gold costumes running around the streets on Halloween this year."
Jackson and Larson may enjoy working on movies together, but their workout routines are a different story. Jackson said that the actress sent her videos of her hard-core workout routine, to which he said, "Good for you. I'm going to pilates." He said, "I'm not lifting anything other than my body weight."
Will Jackson and Larson come together again for 'Avengers: Endgame'?
Avengers: Endgame is an important chapter of the Avengers story, so you have to wonder whether the man that put the crew together will be in the story. Jackson was asked that during his Extra interview and his response didn't really give fans any answers. Extra host Renee Bargh pushed Jackson, "In a few months from now, you'll be doing this again for Endgame.." To which the actor responded, "Yeah, somebody will." He joked, "I have no idea what's going on."
Will we see Samuel L. Jackson in Avengers: Endgame? We'll just have to wait until April to find out.
Avengers: Endgame will be in theaters April 26.