Will Sandra Bullock Appear in More Netflix Original Movies?
Bird Box has only been available for streaming on Netflix for less than a month, but the thriller has already accomplished a lot in its short time on the streaming service. Since December 13, the film has managed to break a Netflix record, inspire a dangerous internet challenge, and scare viewers out of their wits with its hard-to-watch imagery. Netflix tapped major talents like John Malkovich, Sarah Paulson, and Sandra Bullock to star in the original film.
Bullock not only starred in the film, but was its executive producer as well. In the last few years, Netflix has been attracting bigger and bigger talent to its platform, even signing multi-picture deals with some of them. Bullock has been a reliable force at the box office for decades and loyal fans seem to have followed the Oscar-winning actress to Netflix, considering the film's massive success so far. Could Bullock be the next star to develop more content for Netflix? Here's why we think she will.
'Bird Box' has already broken Netflix records
Took off my blindfold this morning to discover that 45,037,125 Netflix accounts have already watched Bird Box — best first 7 days ever for a Netflix film! pic.twitter.com/uorU3cSzHR

— NetflixFilm (@NetflixFilm) December 28, 2018
Netflix only released Bird Box on December 13, but the film has already broken records for the streaming service. Bird Box achieved more viewers in its first seven days than any other Netflix film, attracting 45 million viewers in its first week. The announcement came from Netflix itself, who doesn't typically release its viewing numbers. The streaming platform announced the broken record via a Tweet on New Year's Day, stating "Took off my blindfold this morning to discover that 45,037,125 Netflix accounts have already watched Bird Box — best first 7 days ever for a Netflix film!"
It's unclear who previously held the record, due to Netflix's tight-lipped practices regarding its viewer metrics.
Netflix produces multiple projects for many of its stars
As Adam Sandler began to produce more and more flops at the box office, his prospects at the box office began to dwindle. In hopes of another shot of success, the comedic actor turned to the small screen. Sandler signed a four-picture deal with Netflix in 2014. Although Netflix doesn't release official streaming numbers, they claimed that Sandler's first film, The Ridiculous 6, was a record-breaking success. He followed this success with spy comedy The Do-Over and is co-starred with Jennifer Hudson in Sandy Wexler in 2017. Sandler's deal was extended in 2017 to include four more films.
Netflix isn't simply picking low-hanging fruit, however. Actor Paul Rudd is a fan-favorite, bringing in consistent big numbers at the box office with hits like Role Models, Ant-Man, and it's sequel, Ant-Man and the Wasp. His success has carried over to the streaming giant as well, with The Fundamentals of Caring in 2016 and Mute in 2017 both being well-received among viewers.
Founder of the Sundance Festival, Robert Redford, is a Hollywood legend. The Oscar nominee co-starred with Rooney Mara in 2017's sci-fi flick The Discovery. Later that year, Redford teamed up once again with his Barefoot in the Park and The Electric Horseman co-star, Jane Fonda, after nearly 40 years to star in Our Souls at Night.
While Will Smith has only appeared in one Netflix original so far, he made a reported $20 million for Bright in 2017. Bright wasn't a critical success by any means. The film racked up a measly 25% rating on Rotten Tomatoes. Nielson reported 11 million viewers for the film, however, enough to warrant a sequel, however. Smith is returning to star in the sequel.
Other stars of Sandra Bullock's caliber are turning to streaming services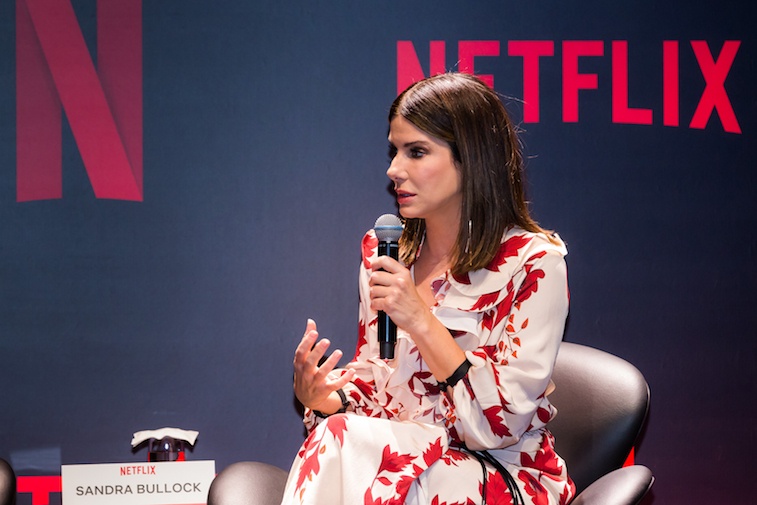 Streaming services have come along way in the last few years. From simply streaming our favorite TV shows and movies, the streaming platforms are now creating some of our favorite content. Platforms like Hulu, Netflix, and Amazon Prime have also acquired the kind of clout it takes to sign some of the biggest names in showbusiness to star in their projects these days.
Should Bullock return for more Netflix original content, the move would not be unprecedented. Other leading ladies are turning to streaming services recently, too. Actress Julia Roberts has found success with the Amazon Prime series Homecoming, which is currently streaming. Friends alum Jennifer Aniston starred in and directed the Netflix original Dumplin. Actress Anna Kendrick is taking a slightly different route, with Noelle debuting on Disney's streaming service later this year. Netflix has also recruited the talents of major movie stars like Emma Stone, Jonah Hill, Liam Neeson, and Diane Lane to star in projects.