Will Seth Rogen's 'Sausage Party' Become a Surprise Hit?
In just over a decade, Seth Rogen's career has seen the funnyman skyrocket from memorable supporting player in films like The 40-Year-Old Virgin into a bonafide comedic leading man and creative powerhouse, with several writing, directing and producing credits to his name. The actor scored his biggest live-action hit to date with 2014 release Neighbors, and this year's sequel could prove to be just as big. However, his upcoming animated comedy Sausage Party could prove to be among his riskiest projects to date. That's saying a lot, considering Rogen is the co-writer, co-director, and star of the hugely controversial comedy The Interview.
In Sausage Party, Rogen voices Frank, a sausage on a quest to discover the shocking truth about what happens when food is "chosen" by shoppers and liberated from the grocery store. It's worth mentioning that the film — which Rogen also co-wrote and produced — is set in a world wherein all food items are sentient, and its story takes a darkly comedic approach to the fate that awaits them once they arrive in someone's kitchen. Moreover, Sausage Party (as the above red band trailer makes abundantly clear) is brimming with foul language, crude humor, and sexual innuendos galore. So while Rogen has lent his unmistakable voice to animated films like the Kung Fu Panda films and Monsters vs. Aliens in the past, this is one instance where parents would be wise to leave their children at home.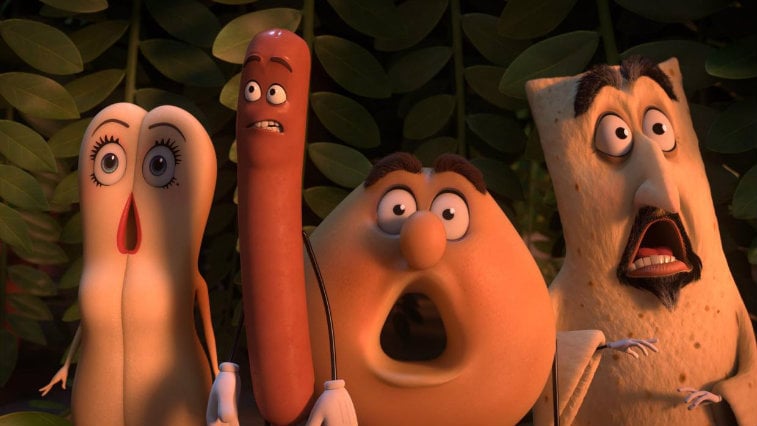 Nowadays, R-rated animated comedies are exceedingly rare, with 1999 release South Park: Bigger, Longer and Uncut among the only highlights in the past 20 years. So the big question surrounding Sausage Party is whether the film overcome the stigma, at least domestically, that animated films are almost exclusively aimed towards younger moviegoers. Rogen's track record and loyal fanbase — as well as that of co-stars like Kristen Wiig, Jonah Hill, James Franco, Paul Rudd, Edward Norton, and Salma Hayek — could certainly boost the film's popularity among teens and fans of similarly crass comedies.
Like the South Park film, Sausage Party aims to serve as a parody of Disney films in its bizarre decision to give self-awareness to food, in much the same way Pixar films have humanized everything from toys and cars to robots and human emotions. There's certainly potential for laughs in a darker application of this storytelling conceit, and directors Greg Tiernan (Thomas & Friends) and Conrad Vernon (Shrek 2) have plenty of hands-on experience in the world of animation to wring a visually impressive cinematic experience out of the twisted world of Sausage Party.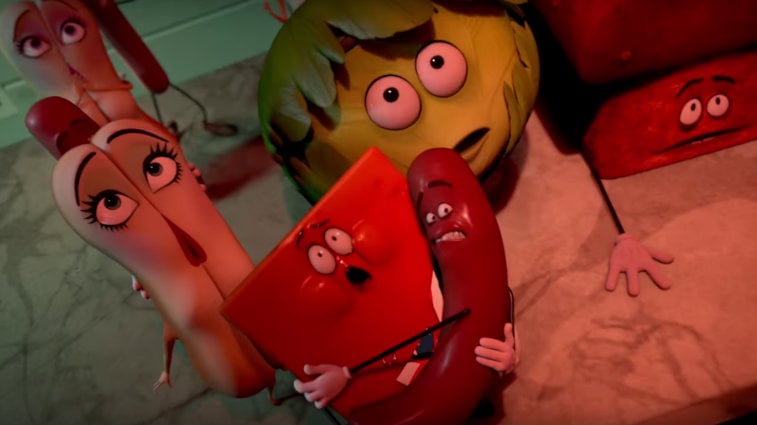 What will likely decide the film's box office fate is how well that premise is developed. A certain segment of the audience may check out the film because of the big names attached, but if the humor really soars, it could sustain significant business over multiple weeks and develop into a sleeper hit. Since only the one trailer has been released thus far, it's difficult to get a close read on how it may turn out, and Sausage Party doesn't arrive in theaters until August 12, 2016. However, we'll find out then if the film's distinctive style and stellar ensemble cast are enough to help it serve as solid counter-programming against that week's other new release, including remakes of Ben-Hur and Disney's Pete's Dragon. If Rogen's unpredictable career has taught us one thing, it's not to underestimate his broad appeal.
Follow Robert Yaniz Jr. on Twitter @CrookedTable
Check out Entertainment Cheat Sheet on Facebook!       
More from Entertainment Cheat Sheet: