Will Smith's 1991 Bald Joke Target Says He 'Sympathizes' With the Actor
An old clip of Will Smith on 'The Arsenio Hall Show' resurfaces showing Smith making fun of Hall's band member with alopecia.
The Oscars 2022 was supposed to be a night of celebration. However, the event was quickly overshadowed when Will Smith walked on stage and comedian Chris Rock for making a joke about his wife, Jada Pinkett Smith. Even though Smith apologized for his behavior to the Academy and Rock, the awards ceremony remains tainted. Now, an old clip of Smith as a guest on The Arsenio Hall Show has resurfaced, showing Smith making fun of a member of Hall's band with alopecia.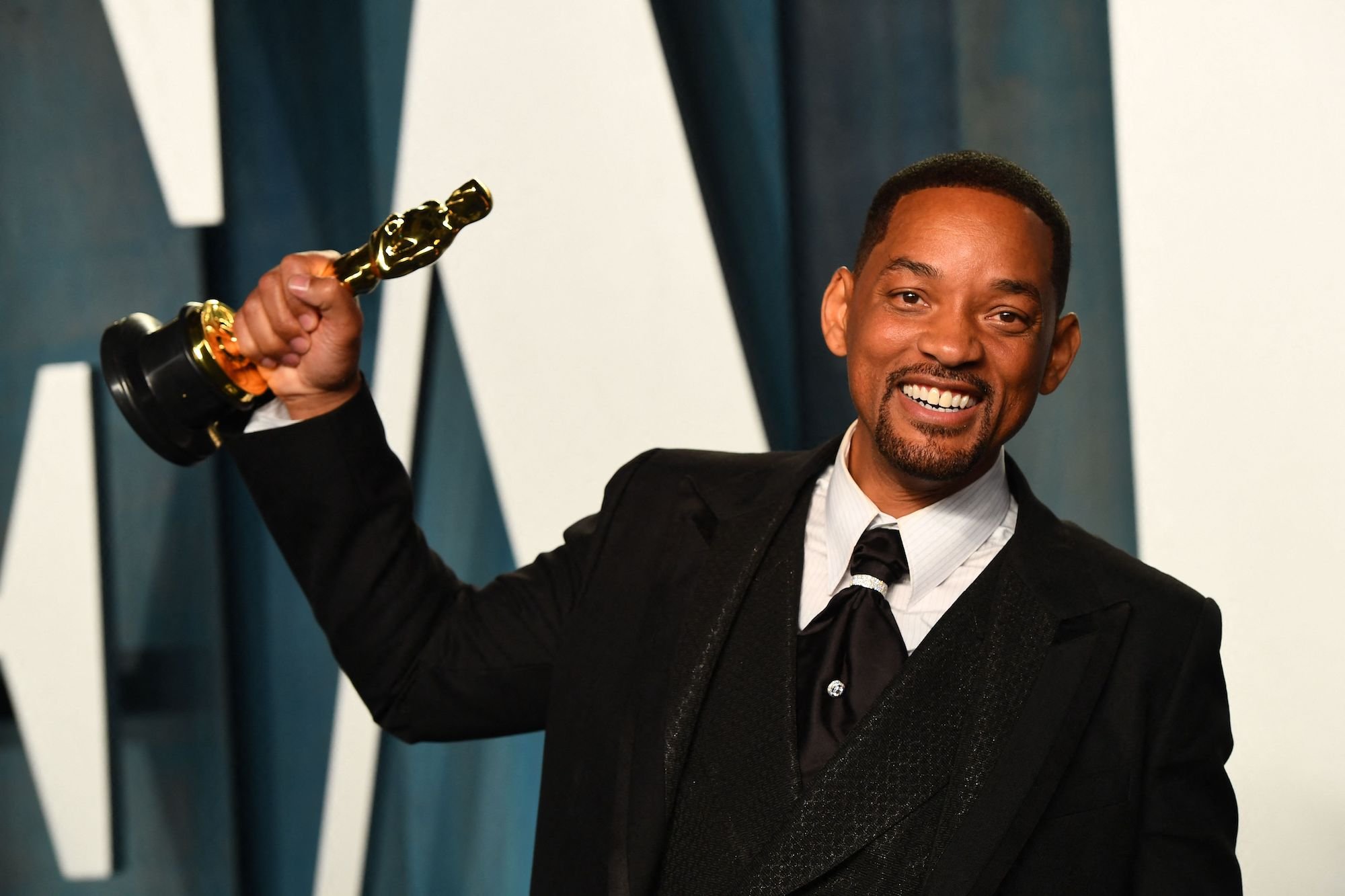 Reddit discovered an old clip of Smith joking about alopecia on 'The Arsenio Hall Show'
As the saying goes, the internet never forgets, and a clip of Smith joking about a member of Hall's band with alopecia is making the rounds on Reddit. Although, it's unclear what started the conversation between the two men.
Smith quips to Hall, "You can't do that in this world, man. You can't do that. Arsenio, they got rules. They got rules, like, he has a rule. The bass player? He got a rule. He's got to wax his head every morning. That's a rule."
The camera pans to the man in Hall's band with a bald head as he chuckles along with Smith's joke.
Smith continues, "He follows the rules!" However, the actor quickly catches on to the audience's reaction and says, "Oh it's a joke, man! It's a joke! Come on!"
Hall takes the pressure off the young actor and holds a finger up to the audience, "See? You got too into the character and got hurt."
The man Will Smith made fun of has spoken out about the moment
John B. Williams played bass in the band on The Arsenio Hall Show. According to Rolling Stone, he remembers the moment Smith joked about his medical diagnosis of alopecia even though it occurred more than 30 years ago.
"I didn't take it seriously. He was a comedian. He was the Fresh Prince of Bel-Air. He was a rapper. I took it as a joke. I laughed it off," Williams said.
He also insisted Smith and Rock's incident at the Oscars was different. Williams told Rolling Stone he "sympathized" with Smith.
"Chris Rock is a comedian. I like Chris Rock. When Chris first made the comment, Will was laughing. It wasn't until it became obvious Jada didn't think it was funny that Will went to her defense. Love makes you do all kinds of things. That's his wife, who he loves. He just reacted from outrage. I have sometimes reacted from outrage," Williams says.
Both Smith and Rock released statements after the incident at the Oscars 2022
Smith's assault on Rock has dominated the news since it occurred. However, Smith released a statement apologizing to Rock via his Instagram.
The part mentioning Rock read, "I would like to publicly apologize to you, Chris. I was out of line and I was wrong. I am embarrassed and my actions were not indicative of the man I want to be. There is no place for violence in a world of love and kindness."  
Rock slightly addressed the incident at a comedy show in Boston. According to Variety, Rock said, "How was your weekend? I don't have a bunch of s*** about what happened, so if you came to hear that, I have a whole show I wrote before this weekend. I'm still kind of processing what happened. So, at some point I'll talk about that s***. And it will be serious and funny."