Will Tarek El Moussa Meet Christina Anstead's New Baby?
Tarek El Moussa and Christina Anstead have made their best effort to have a healthy relationship — not just for their two kids, but for their hit home renovation show, Flip or Flop. 
And while the HGTV stars seem to have a close bond, they obviously have boundaries in place now that they're in new relationships. So, what are the odds of El Moussa meeting Anstead's new baby?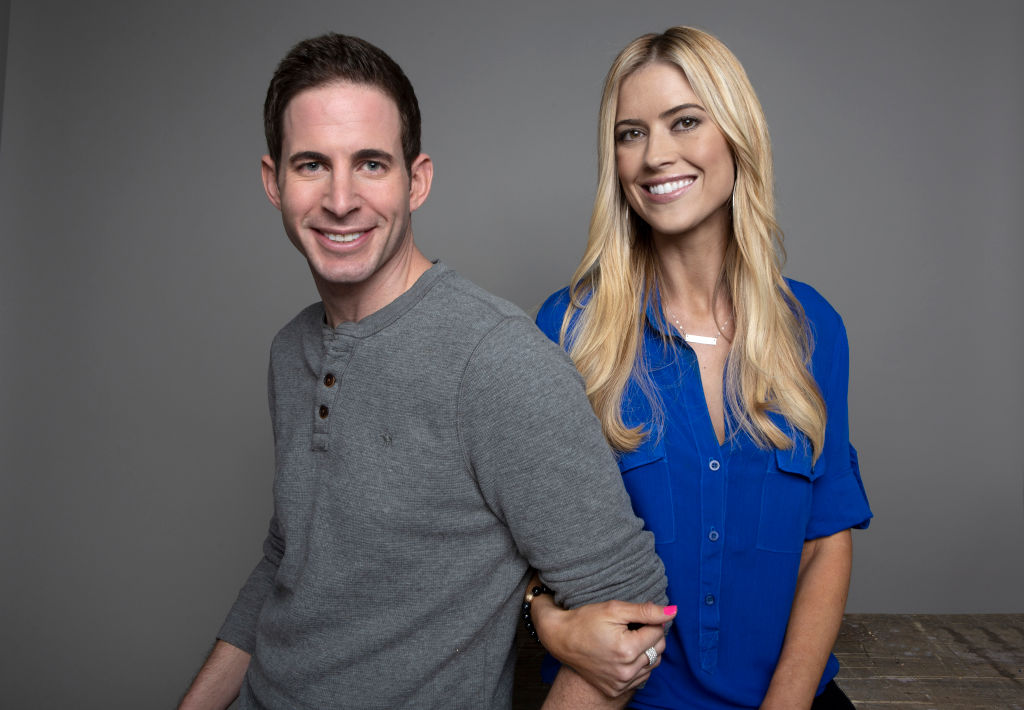 Anstead recently welcomed a son
On Sept. 6, the television star gave birth to her first child with her husband, Ant Anstead.
"Ant and I are so excited to welcome Hudson London Anstead into the world," she announced on Instagram. "Our hearts are SO full of love and joy! Our healthy baby boy was born this morning – 9/6/19 – 7 lbs 7 oz 19.5 inches long."
The moment came nearly nine months after Anstead and Ant got married in a secret "winter wonderland" ceremony back in December of 2018. People reports that about 70 people attended the wedding, including their children. (Anstead shares two kids, Taylor and Brayden, with El Moussa, and Ant has two children, Amelie and Archie, from a previous marriage.)
"We wanted to make it about the kids," Ant told the publication. "It's the six of us. We're a blended family so it was really important for them to be a part of it."
El Moussa's reaction to Hudson's arrival
El Moussa opened up about Anstead's new baby in an Instagram post shared on Sept. 8. He said that their daughter, Taylor, had already met her new brother and that he couldn't "wait to meet the little guy also."
"If Christina and Ant pay well, I may babysit," he added.
El Moussa did not say when he plans to meet Hudson, but it seems like Anstead is OK with it. After all, she did keep him in the loop with details surrounding her pregnancy, including her due date.
El Moussa told Us Weekly that he was "so excited for her" one day before she gave birth.
"Tomorrow my children are going to have a new brother. It's all one big family!" he continued.
He just introduced Anstead to someone himself
On Sept. 3, El Moussa told GMA3 that he'd recently introduced his ex-wife to his new girlfriend, Heather Rae Young (who looks an awful lot like Anstead, TBH).
"I was like, 'Oh, I'm coming over to see the kids. By the way, my girlfriend is coming. See you in five!'" El Moussa recalled telling Anstead on a phone call before arriving at her home (via People).
"That's literally how it went down," El Moussa continued. "I looked at Heather, and I was like, 'Are you ready?' And she was like, 'Ready for what?' I was like, 'Well, we're going to go see the kids, and my ex-wife is there.'"
"And she goes, 'What do you mean?' And I'm like, 'No. We're going right now.' She's like, 'Right now. Right now?' I was like, 'Right now. Right now.' So that's how they met," he added.
But El Moussa noted that they "got along great."
"They both eat that healthy, hippie food. That weird juice. They do that weird hiking stuff," he joked.
El Moussa had previously told Entertainment Tonight on Aug. 8 that he wanted Anstead to meet Young.
"I must say, she's brilliant, she's loving, she's caring, she's supportive and I just adore her," he said of the real estate agent. "I'm having a great time and I'm saying words I never thought I would say again. She's my girlfriend, and I'm very excited about what the future holds for us."
"I introduced her to my kids [on Aug. 7] for the first time," he continued. "My mom, my dad, my mom's husband, my sister. So, we're doing it! Very excited."
But he noted that he hadn't talked to Anstead about Young "yet."
"So, that's probably a talk I should probably have pretty soon," he added. "Like, probably today, considering I'm talking about her on TV now. She'll probably find out I think? Yeah, I think I'll give her a call."
Clearly, he meant those comments about their "one big family."