Will There Be a Season 3 of 'Floribama Shore'?
Season 2 isn't even over yet, but fans of Floribama Shore are ready to go back to the beach. With only three episodes of the show left, will this be the last we see of these hard-partying Southerners, or will they be back again to stir up trouble?
MTV hasn't renewed Floribama Shore for Season 3
? ONLY THREE EPISODES LEFT ?

Tune into @MTV TONIGHT at 9/8c to watch #MTVFloribamaShore! pic.twitter.com/yaBRMPS4tr

— MTV Floribama Shore (@FloribamaShore) January 24, 2019
MTV hasn't yet announced if Floribama Shore is coming back for Season 3. But fans shouldn't panic. The network didn't announce a Season 2 renewal until the day the last episode of Season 1 aired. That could mean that we'll hear about whether Season 3 is happening in a few weeks.
If the Jersey Shore successor is renewed, it might air in the summer. Season 2 premiered in July 2019. However, the first season debuted in November 2017, so it's possible we wouldn't see the show return before the fall.
Will all the cast members return?
So far, the Floribama Shore cast has been pretty stable. Aside from a couple of one- or two-episode absences, the same eight people have been starring in the show since it premiered: Jeremiah, Codi, Kortni, Aimee, Kirk, Nilsa, Candace, and Gus.
One cast member whose future on the show could be doubtful is Aimee Hall. As seen in tonight's episode, the 25-year-old cast member was arrested after grabbing and then punching a woman in a Panama City Beach bar. The incident led to the victim filing a lawsuit against Hall as well as the show's production company. Hall eventually entered a no contest plea and was sentenced to six months of probation and ordered to pay $4,307.08 in restitution as well as a $400 fine or complete 35 hours of community service, Starcasm reported.
It's possible that Hall's antics could cause her to get booted from the show. But given that similar shenanigans – like Snooki's arrest for public intoxication — helped propel the Jersey Shore cast to fame, we doubt it.
Floribama Shore has done well in the ratings since it debuted in 2017. Nearly 1 million people watched the Season 2 premiere, according to Deadline. More than 600,000 people watched the January 17 episode, making it the sixth-most-watched cable show of the night. That could increase the chances that MTV will bring it back for a third season.
Where is Floribama Shore filmed?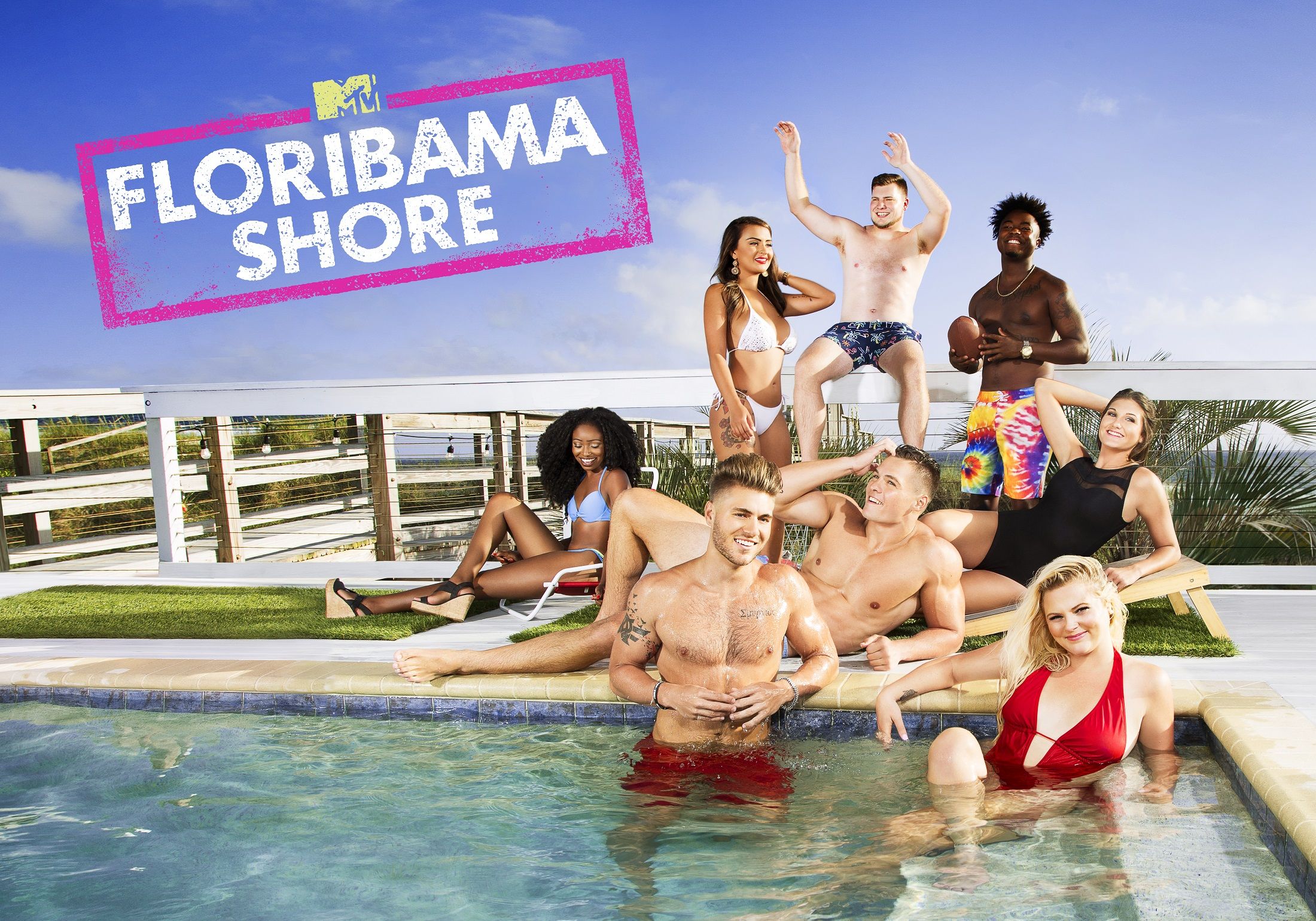 Most of Floribama Shore takes place in Panama City Beach, Florida, though the cast sometimes visits other hot spots, like Cabo San Lucas in Mexico. Panama City Beach is a vacation destination on the Florida panhandle that's especially popular with the spring break crowd.
While the show makes it seems like life in Panama City is a non-stop party, that's not the case, say residents. The town has tried to shed its image as a place for college kids to get drunk while on break into more of family-friendly destination.
"It makes the city seem wild, and Panama City isn't like that anymore," resident Harry Green told Vice. "It's not a terrible show — it just shows Panama City in a terrible way."
New episodes of Floribama Shore air Wednesdays at 9/8c on MTV.