Will There Be Another 'Downton Abbey' Movie? A Sequel Could Be in the Works
After four years of waiting, fans marched into theaters to watch the Downton Abbey movie during opening weekend. The film reigned over other titles at the box office and made fans fall head-over-heels for the ITV classic once again. Without giving away spoilers on what happens, the period drama ended in a way that sets up the franchise for a sequel. So will there be another Downton Abbey movie? An additional installment — or perhaps even a spinoff — may very well be in our future.
The movie's creator and producer discuss the 'Downton Abbey' sequel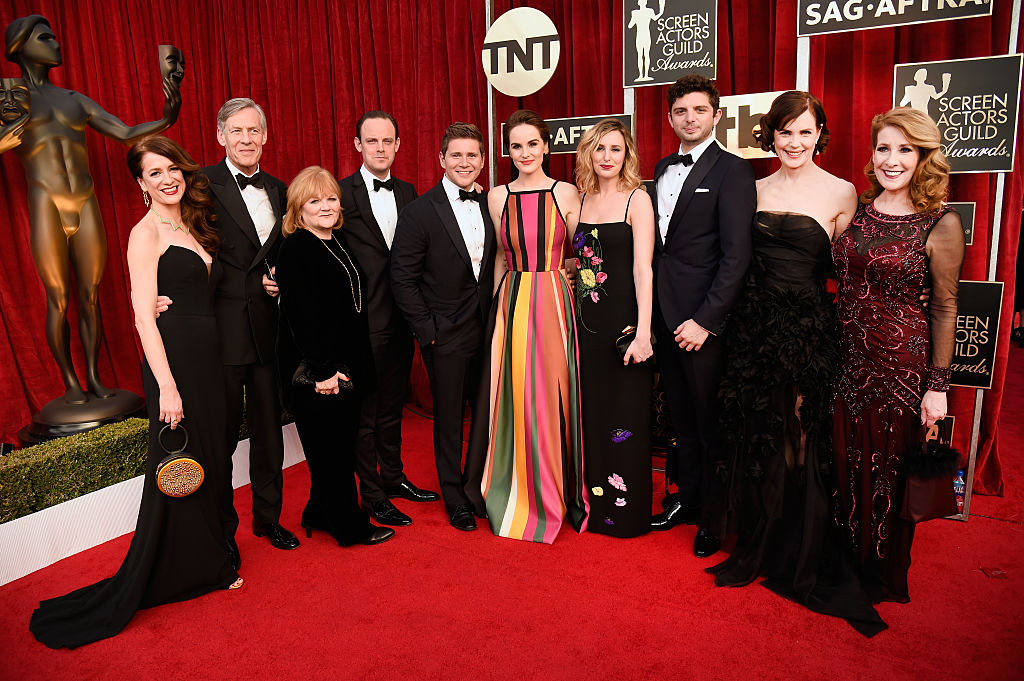 When the Downton Abbey movie premiered, creator Julian Fellowes thought the new film would be the end of the franchise. "To be perfectly honest, having thought the final episode of the sixth series was the end of the whole thing, which I completely did, I then thought the movie was definitely the end of the whole thing," Fellowes told Entertainment Tonight.
However, the creator then admitted the film didn't tie up every loose end. "So now we all have to put our thinking caps on again," he said.
Meanwhile, producer Gareth Neame revealed the team already has an idea for a Downton Abbey sequel. "We've got the beginnings of ideas of what we might do next," he shared with The Hollywood Reporter. "If that would happen."
What does the cast think about another movie?
It seems Fellowes and Neame aren't the only ones pulling for another Downton Abbey movie. The cast seems onboard to reprise their roles for a second time — for the most part.
When speaking with Harper's Bazaar, Michelle Dockery, who plays Lady Mary in the original series and film, revealed she would love to have another chance to reunite with the cast. "Because we loved doing it so much, [when we wrapped] it was definitely that feeling like, 'Oh, we could do this again, and it would be wonderful to all get back together,'" Dockery told the publication.
Joanne Froggard, who plays Anna Bates, also teased Downton Abbey could return a second time. But it all depends on what the fans think. "If it's popular and people love it, and, of course, there's scope to do something else," she explained.
The woman behind Daisy in Downton Abbey, Sophie McShera, then echoed the statements of her costars. "Definitely we'd all be up for always revisiting these characters," she said. "We love them."
When speaking with THR, Allen Leech, who plays Tom Branson, also shared his interest in a sequel. "What I love about what Julian always does is when it looks like he's finishing a storyline, he's actually starting one," he said. "It would be very interesting to see what would happen. I think we would all be up for it. It all comes down to how this one does. If people really love it and there really is an appetite, then why wouldn't we do it?"
Would Maggie Smith return for another 'Downton Abbey' film?
That being said, it might take some convincing to get Maggie Smith, who plays Violet Crawley, back on board. "You just have to talk to the notorious Maggie," Leech tole ET when asked about a sequel.
However, in an interview with THR, director Michael Engler explained why Smith might decide to come back for the potential sequel. "The thing about Maggie is that she always says she's done and she'll never do it again. And then she does," Engler said.
The director then added Smith enjoyed being part of the Downton Abbey film. "I think she enjoyed being back with all those people and, not that she needed to creatively, but just that she felt such a kinship with so many of them," he said. "Some people she had known for years and then all these young people who were all new in their careers where she got to be a part of their early growth, and it meant a lot to her."
What needs to happen for a 'Downton Abbey' sequel to happen?
Although it seems everyone is dying for another round of Downton Abbey, fans need to head to the theaters if they want to see it happen. In the ET interview above, Engler explained how a Downton Abbey sequel can happen.
"It's wonderful to have fans wanting it, [but] that can't be the only reason," Engler said. "Certainly it wouldn't happen if there wasn't a success at the box office."
Neame also echoed Engler's statement. "The fans have to get out and see it in the theaters," Naeme said. "If people come out in big numbers and come see us in theaters then there's no reason we couldn't do another."
Do you hear that, Downton Abbey? The future of the franchise lies in your hands. If you want another installment to come, then go see the movie in the theaters. If not, you may never find out what happens next.
Check out Showbiz Cheat Sheet on Facebook!