Will Tori Spelling be on the 'RHOBH?'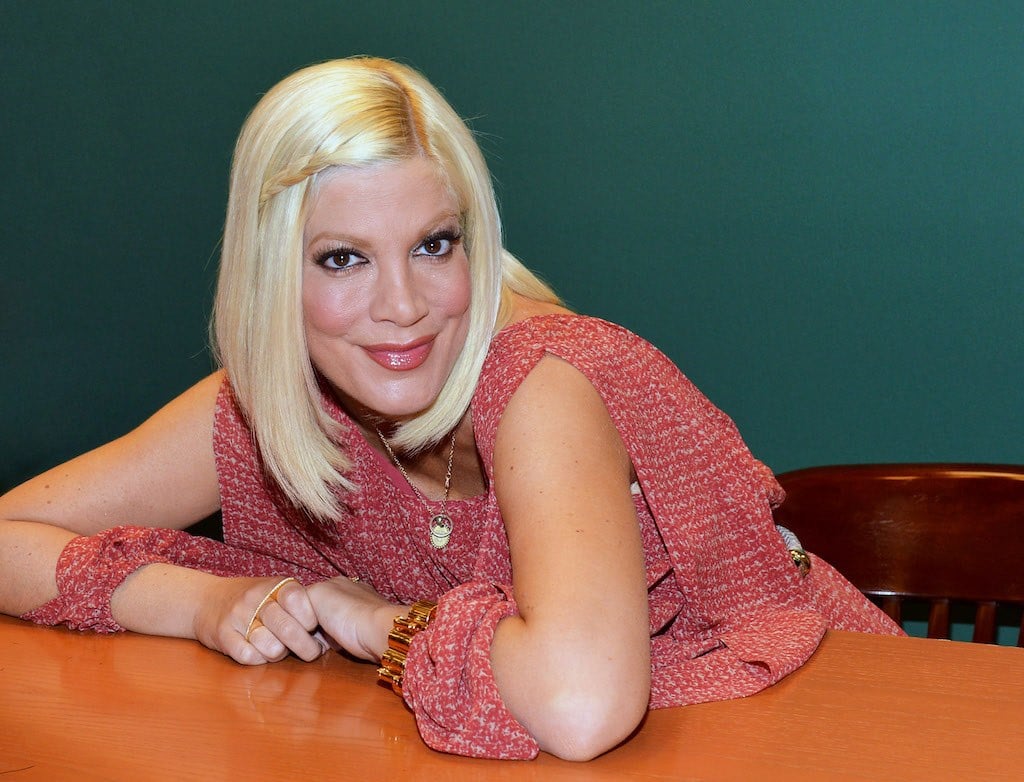 Lisa Rinna from The Real Housewives of Beverly Hills "stirred the pot" when she posted a fun pic with new cast member Denise Richards and Tori Spelling on Instagram.
The image, posted in "Throwback Thursday" was Rinna welcoming Richards to the franchise. "#Tbt @deniserichards and I go WAY BACK," Rinna wrote. "Welcome to the #RHOBHDenise!"  While Rinna made no mention of Spelling, fans expressed they wanted Spelling to join the show.
One person wrote, "I think Tori should come aboard too!" Another person wrote, "My dream board actually had @deniserichards and @torispelling both joining RHOBH, so this image is VERY compelling to my interests." Does that mean Spelling could be joining?
Spelling already has an "in" with these ladies
New Real Housewives are typically introduced to the show through friends. Which means Spelling's introduction should be seamless. She's been friends with both Rinna and Richards for years.
Rinna and Richards attended one of Spelling's baby showers in 2011, Daily Mail reports. Rinna also worked on Melrose Place, one of Spelling's father's productions in the late 1990s.
Spelling reportedly was anticipating an offer from Bravo to join the show. But an offer did not seem to materialize.
She connected with this 'Real Housewife'
While Spelling is not on the season 9 roster, she did connect with cast member Teddi Mellencamp, E News reports. Spelling hired Mellencamp to be her accountability coach after hearing a number of rave reviews.
Spelling said she felt stuck at a certain weight after the birth of her son Beau.  "I started working with Teddi and it's been life changing," she said. "My confidence is like through the roof. "
"I talked to Teddi Mellencamp and her team of accountability coaches at All In by Teddi and realized that what they offered was the missing piece to the puzzle," Spelling told People. "Since I've been working with All In by Teddi I've been so happy with the progress I've made and proud of my accomplishments while safely hitting my goals!"
Does that mean she'll be on the show?
According to Spelling, she won't be the next Real Housewife, according to E News. "I mean, I am the O.G. Beverly Hills girl. No for real, I grew up in Beverly Hills," Tori joked. "They've never asked me."
She said she's more focused on her business, "Beauty with Tori" and a possible Beverly Hills 90210 reboot. "There's definitely been talk about it. We're definitely all still friends. We love each other and would love to work together," she said in September. "At this point, we feel like we were the O.G. and there's been a lot of reboots of other shows and we want to take our time and really do it right and not just give you the plain ole, 'Hey it's the reboot. Now we're in our 40s. Here's life.' We want to do a different version of a reboot and it's definitely going to be something that's going to wow people and we're all talking about it right now. "
Follow The Cheat Sheet on Facebook!