Will Travis Scott Propose to Kylie Jenner on Her Birthday? Here's Why Fans Think He Will
There are still days left before Kylie Jenner turns 22 on Aug. 10, but that hasn't stopped Travis Scott from kicking off the birthday celebrations. 
On Aug. 5, the ASTROWORLD rapper covered his girlfriend's entire house with thousands of red roses in honor of her big day. Jenner shared a video of the scene on Instagram, which featured a card Scott gave her saying that more celebrations are on the way. While he did not elaborate, that comment has fans convinced that he has a surprise proposal up his sleeve.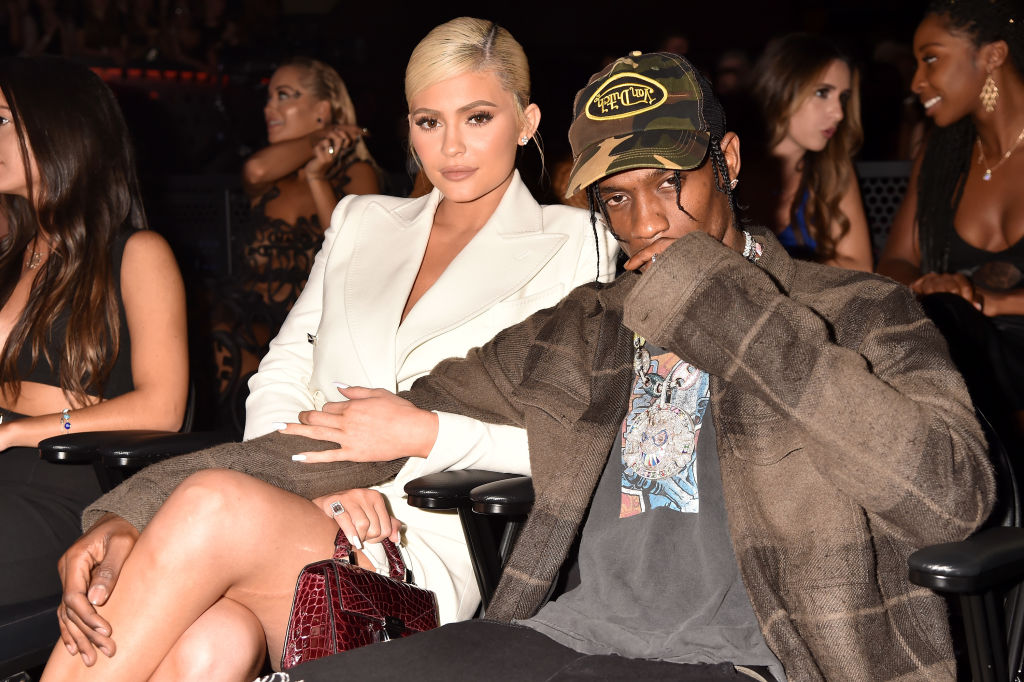 A closer look at Scott's birthday surprise for Jenner
On Monday, Aug. 5, Jenner posted an Instagram video showing the flowers Scott gifted her. "My house is covered in ROSES! @travisscott And it's not even my birthday yet!!!!! Omg," Jenner wrote in the caption, which ended with a series of heart and crying emojis.
The video shows the makeup mogul walking through a sea of red roses while her and Scott's daughter, Stormi, plays in the background. It also features a card from the "Antidote" rapper, which says, "Happy Birthday!!!! We just getting started. Love you!!!!"
Be honest: Can it get any sweeter than that? Fans don't think so — unless Scott tops it all off with a proposal.
"This man travis finna propose to kylie on her actual b day," one Twitter user wrote. "It only makes sense. Either that or it's the biggest flex gift ever."
"I think Travis is going to propose to Kylie," another person wrote. 
Someone else added, "travis is gonna propose to kylie on her bday i'm calling it now."
For what it's worth, Scott did tell Rolling Stone in December 2018 that he planned on proposing to Jenner "soon" in a "fire" way. So it's easy to believe that he's about to pop the question. However, new reports claim that they aren't getting engaged soon. 
Sources say Jenner isn't ready for that right now
On July 23, a Us Weekly source said that while Jenner and Scott have discussed marriage, it's not a priority for the reality star.
"Kylie and Travis have discussed getting married before, but it is not happening tomorrow," the insider explained. "Kylie's business career is booming like crazy with Kylie Skin and right now she honestly can't add that life chapter into her book at this moment in time."
It's true: Jenner is a busy woman. When she's not balancing her TV career or beauty lines, she's reportedly working on new business ventures, including a wine line and a baby brand. So it makes sense that she reportedly wants to wait to make such a serious move.
But that's not the only reported reason engagement is off the table
The source also noted that Jenner and Scott are satisfied with the current state of their relationship.
"Her and Travis are very happy with where they're at in their lives and relationship and with Stormi," the source added. "They aren't trying to rush into a marriage."
The comments echo remarks made by another Us Weekly source on July 18. That insider also said that Jenner and Scott had discussed marriage, but noted that the makeup star hadn't expressed as much interest as her boyfriend.
"Marriage isn't important to Kylie but it's increasingly important to Travis," a source told the publication of the 28-year-old. "Travis is definitely into it. Kylie hasn't expressed huge interest in getting married but they've talked about it a lot."
That said, it seems like these two don't plan on taking the next step in their relationship any time soon. But then again, you never know what can happen. Keep your eyes open to see what happens on Aug. 10.