Will We See Blake Stadnik In Future 'This Is Us' Episodes?
With This Is Us looking into the future this season, we see a time when things look both hopeful and bleak. While the show never looks beyond the scope of the world and what the Pearsons are doing, their preview of the future showed Kate and Toby's son, Jack, living a good life.
Played by Blake Stadnik, an adult Jack Damon may be blind, yet it doesn't take away from him becoming a major pop star presumably 20 to 25 years from now.
Stadnik's appearance as Jack immediately became a hit, though fans want to know when he'll be seen again on TiU this season. As a real blind actor, Stadnik just set a new bar for actors with disabilities in what they can accomplish in TV and film.
What his character says about the future is also more than a bit interesting.
Stadnik was basically an unknown before gaining the role of Jack Damon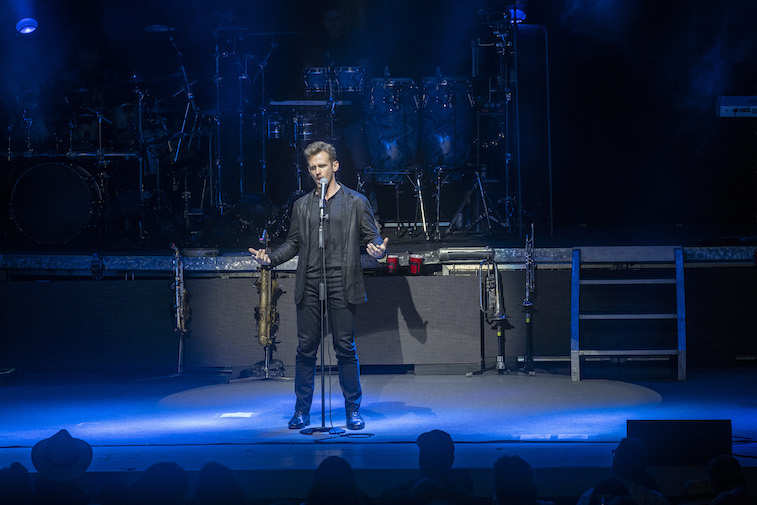 Although Stadnik had some significant musical stage credits, he hadn't acted on TV before winning the role of Jack. The actor posted a pic on Instagram recently showing him posing with producers Dan Fogelman and Ken Olin as a way of saying thanks for winning the role.
If not for their push in bringing more inclusive actors to This Is Us, Stadnik might not have found many breaks on TV immediately.
Viewers found out how great of a voice he has when he sang a song his Jack Damon character wrote that's subsequently a hit in the future timeline of the show. To add further meta irony to things, the song became a hit in our own reality of 2019.
Yes, it's probably the first time a hit song depicted in the indefinite future became a hit in our own timeline. The song ("Memorized") was added to the Season Four This Is Us soundtrack album and co-written, ironically, by Mandy Moore's husband, Taylor Goldsmith.
Since this probably made a star out of Stadnik, one has to assume TiU is going to utilize him as much as possible. According to the latest news, it won't be for a little while.
When will everyone see Stadnik as Jack Damon again?
Dan Fogelman is mostly staying mum on when Jack Damon will be seen again, but it's obvious the present is going to be the focus in the first half of this season. Part of it shows us the subtle signs of Rebecca's (Mandy Moore) early dementia.
As tragic as that plot point is, everyone at least knows there's some hope in the future for the Pearsons. Apparently Jack Damon will return in later episodes this season, despite Fogelman recently saying going into the future is a bit of a risk.
Considering the time period is probably the early 2040s, there's some admittance to worrying about how the future should be depicted. After all, the technologies we're using then will likely be quite different from what we're using now. The smart thing was to set Jack's early scenes in a traditional cafe and other settings unlikely to change by then.
How everyone will see Jack in a more expansive future world will be worth seeing.
Maybe the future looks traditional after all
Perhaps the 2040s don't look like something out of a sci-fi world if we ever happen to hit a time when tech fatigue sets in. Generation Z and beyond have maybe decided tradition is the best thing for the world, leading to the retention of the old cafe we saw Jack meet his future wife in.
Outside of the happy moment of Jack singing Memorized in L.A.'s Greek Theater, everyone will probably see him at age 12 experiencing his grandmother (Rebecca) losing her life to dementia.
Knowing he's blind from birth, it makes his future scenes all the more powerful knowing he had to experience losing his grandmother at such a young age.
Seeing an offspring of the Pearsons thriving, though, will make the remaining seasons of This Is Us the perfect way to help give meaning to the past, present, and future in our own lives.