William "Willbilly" Hathaway Isn't The Only Star From 'Wicked Tuna' To Die
Wicked Tuna is a popular reality fishing show featured on the National Geographic Channel. The show follows several different ships as they hit the seas during fishing season, "competing" to bring in the best haul. While the show is entertaining to watch, it's also hazardous to all those on board. Surprisingly the show hasn't seen any fatal accidents, but it has had close calls just like its counterpart Below Deck. Although Wicked Tuna hasn't lost anyone on set, some stars have left their loved ones behind due to other unfortunate circumstances.
William "Willbilly" Hathaway
#WickedTuna's William "Willbilly" Hathaway was involved in a fatal car accident and has passed away at the age of 36. https://t.co/Lx9iAbvWSN

— E! News (@enews) December 17, 2018
A fatal car crash claimed Hathaway on Saturday, December 15th. The 36-year-old Wicked Tuna: Outer Banks star called his wife after getting into an accident in Salisbury, Maryland. He told her he was cut off by another driver and had accidentally driven into a ditch. Despite him being okay during the call, Hathaway wasn't breathing by the time emergency responders arrived. He was sadly pronounced dead at a local hospital. Hathway is now one of many celebrities who passed away far too soon.
After news of his death went public, a local fishing community started a Facebook page to raise funds for his wife, Mary Hathaway, and young daughter, Molly Jean Hathaway. The fundraiser raised more than $63,000 over the first two days.
Dixon McGlohon
We're saddened to hear that Gloucester-resident Dixon McGlohon fatally overdosed earlier this week. His death fits a sad pattern – he was found in his room alone. With dangerous drugs like fentanyl, if you are going to use, please don't use alone.https://t.co/EvwlY6lR3N

— PAARI (@PaariUSA) August 17, 2018
Dixon McGlohon, known for his appearance as a tuna buyer on the show, was Gloucester's 11th suspected overdose of the year. The 27-year-old was pronounced dead shortly after 6:30 PM on August 18th. He had just had an encouraging talk with Luis Pina, the general manager at his place of work North Atlantic Traders, hours before. Police notes report that drug paraphernalia and suboxone strips were discovered in McGlohon's Sadler Street apartment. His memorial service was held three days later on Tuesday, Aug 21st at St. Mary's Episcopal Church in Rockport, Massachusetts.
Nicholas "Duffy" Fudge
Nicholas S. "Duffy" Fudge, a cast member on National Geographic Channel's reality series about commercial tuna fisherman called "Wicked Tuna," died last week at age 28 https://t.co/9o3M23Ewp7 pic.twitter.com/CO5ZdWVgkC

— CNN (@CNN) July 24, 2018
Willbilly and Dixon weren't the only Wicked Tuna cast members to pass away this year. Nicholas "Duffy" Fudge, the 28-year-old first mate, passed away on July 19th, just weeks before his birthday. Duffy worked alongside Captain Tyler McLaughlin on his fishing vessel, the Pinwheel. Greenland emergency respondents visited his home after a 911 call came in describing Duffy as unresponsive. At the time of his death, the cause wasn't announced. Eventually, his colleagues shed some light on his untimely passing, saying he may have succumbed to decompression sickness.
Fudge's hobby began when he was just a child, fishing alongside his father and grandfather. After years in the industry, he eventually became one of the sport's top fisherman, landing him a spot on the show. Fudge leaves behind his parents Ronald Fudge Jr, and Judy Judge as well as his sister, Cody Fudge.
Adam Moser
Parents of late Wicked Tuna star Adam Moser speak out on the dangers of opioids. https://t.co/TZc7IIT8NN

— RCFY (@RCFY) May 12, 2017
Adam Moser, another member of the Pinwheel crew, died of a fentanyl overdose in 2015. He was one of at least four to be claimed by the dangerous drug over that weekend alone. According to his family, there was nothing in the 27-year-old's history that alluded to him turning to drugs. Those closest to Moser believe that his unfortunate case was one of ignorance and nothing more. Moser is now one of many celebrities lost due to drug usage.
His parents spoke out against drug use in his obituary stating, 'Please, please stop before you or a loved one thinks that no drug is too powerful – there is no turning back, no 'do-overs."
Jarrett Przybyszewski's near-death experience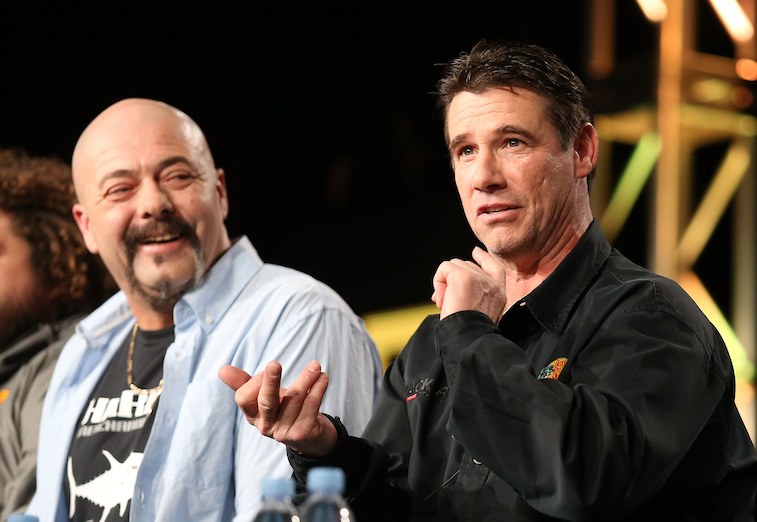 Hollywood isn't unfamiliar with near-death experiences. While anything can happen anywhere, working as a fisherman is extremely so dangerous, so it isn't surprising that a member or two have seen their lives flash before their eyes while filming the show.
During the season four premiere of Wicked Tuna: Outer Banks, Hot Tuna's first mate, Jarrett Przybyszewski was almost knocked overboard. A 15-foot rogue wave slammed into the ship, completely submerging Przybyszewski underwater. Thankfully he held on for dear life and managed to stay on board despite the massive wave.