What Will Happen to Windsor Castle When Queen Elizabeth Dies?
Windsor Castle holds a special place in many royal family members' hearts — including Queen Elizabeth II herself. For most of her life, the countryside abode has served as a weekend getaway, where she and her husband, Prince Philip and other members of her royal family have escaped the hustle and bustle of city life. It's also where many royal couples have married (Prince Charles and Camilla Parker Bowles, Prince Harry and Meghan Markle, and Princess Eugenie and Jack Brooksbank, to name a few) and live full-time. But, what will happen to Windsor Castle once Queen Elizabeth dies?

Up ahead, we explore the future of Windsor Castle.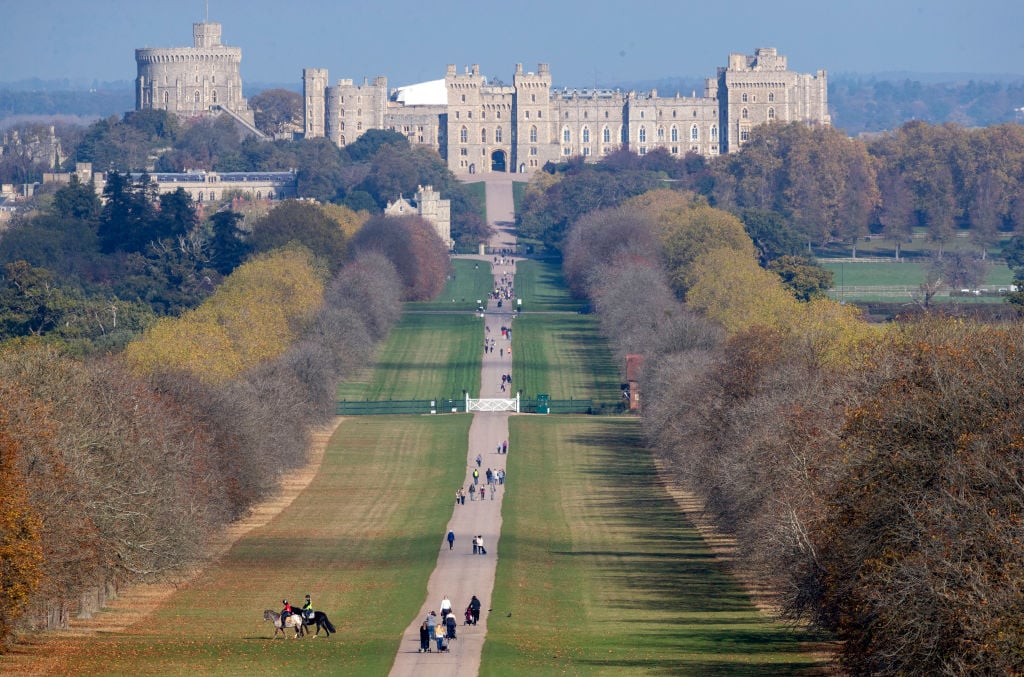 Will Prince Charles move to Windsor Castle?

Prince Charles has made it clear: He has zero interest in moving to Buckingham Palace after he ascends the throne. In fact, even if he wanted to move there, the current renovations (which won't end until the late 2020s) would prevent him from doing so. The future king instead wishes to stay at his current London abode, Clarence House, which is located just down the road from the royal family headquarters.

The main reason Prince Charles doesn't want to move to Buckingham Palace has to do with its size and upkeep. "He doesn't see it as a viable future home or a house that's fit for purpose in the modern world," a royal insider told Hello Magazine. "He feels its upkeep, both from a cost and environmental perspective, is not sustainable." Windsor Castle is not much different in comparison. Will Prince Charles continue his mother's tradition and use it as a weekend home. It's possible.

The difference between the two is that Windsor Castle is not the royal headquarters and open to the public for seven months at a time (Buckingham Palace is only open for three months in the summer). And, it would serve as the future king's weekend abode, not full-time London residence. On top of that, there is much more allure to Windsor Castle, as it is located just down the road from Prince Harry and Meghan Markle's new family home, Frogmore Cottage. Prince Charles likely plans to make regular trips to Windsor to spend time with his son, daughter-in-law, and newest grandbaby.

What will happen to Buckingham Palace?

As for Buckingham Palace, Prince Charles has big plans for the royal headquarters. And, although he might not want to live there, he certainly plans to spend a lot of time and conduct business behind its historic walls. Here's what the future king has in store for Buckingham Palace.

Open it to the public

Right now, Buckingham Palace is open to the public for only a few months in summer, when the royal family heads to Balmoral Castle for holiday. However, since Prince Charles won't live there, he wants to open the royal headquarters to the public for longer periods of time (perhaps even as long as Windsor Castle).

A Queen Elizabeth II memorial exhibit

In addition to opening the palace to the public for longer periods of time, Prince Charles also wants to curate a special memorial exhibit so that visitors can learn about Her Majesty's historic reign.

Business as usual

Despite allowing more public access, Prince Charles plans to conduct business as usual inside Buckingham Palace. He will continue to host state dinners, knightings, and other ceremonies, as well as keep his office inside the palace.

Check out The Cheat Sheet on Facebook!