Women Want Action: Scarlett Johannson's 'Lucy' Beats the Rock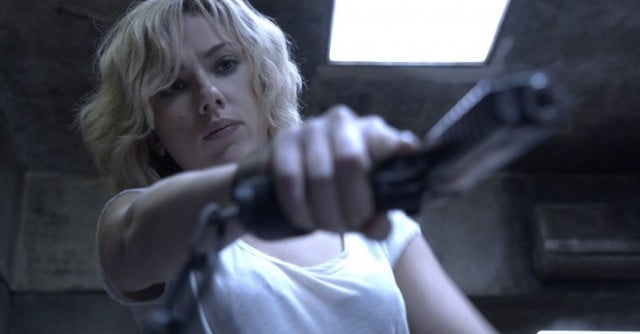 Over yet another lackluster weekend at the box office this summer, Scarlett Johansson roundly kicked the Rock's ass despite all of the incredibly intense workouts he performed and tweeted about for his role as Hercules, giving us yet more proof that female moviegoers not only exist but also have money to spend at movie theaters to see films that have not been chosen by their boyfriends.
French director Luc Besson's female-centered action film Lucy made an estimated $44 million at the box office over the weekend, while Hercules limped into second place with $29 million, according to figures from Box Office Mojo. Unusual for an action film, Lucy's audience was an even split between men and women, Box Office Mojo reports. Hercules' audience was 58 percent male.
Lucy didn't do amazingly among critics, with a 57 percent fresh rating on Rotten Tomatoes and criticism that some of the plot devices are just too crazy for Besson to pull off, not to mention that a lot of the "science" in the movie is just wrong. Aside from that, Johansson was praised for her convincing performance, transforming from a victimized drug mule for the Taiwanese mob into a superhuman who puts the ability to use all of her brain power to use getting revenge.
In a landscape dominated by blockbusters that are often male-centered sequels and rehashes, Hercules proved that even someone like former professional wrestler-turned-movie star Dwayne "the Rock" Johnson and a familiar action-packed story doesn't guarantee that formula will bring success. Lucy built on Johansson's new role as action star from her turn as Black Widow in the Marvel Avengers films and offered an interesting premise: What if we could use more than 10 percent of our brains? Its success at the box office showed that audiences still have the capacity to consume an original idea on occasion.
While that $44 million is by no means the $100 million the fourth Transformers reeled in several weeks ago, it is a sizable take for an action movie by a foreign director made on a modest budget. Comparable films starring the woman who's possibly the biggest female action star (though she seems to have retired from that business), Angelina Jolie, have made a similar amount. Lucy did much better than 2010′s Soviet themed thriller Salt, which made $36 million on opening, but not as well as 2008′s comic book inspired Wanted ($50.9 million) or the first Tomb Raider film ($47.7 million), which placed Jolie on the map as a profitable action star.
Johansson was formerly known for her roles in indie films like Lost in Translation and in particular for her work as Woody Allen's latest muse, appearing in several of his recent films, including Match Point and Vicky Cristina Barcelona, before she joined the Marvel universe. She has seen great success with her role as Black Widow, helping make Captain America: The Winter Soldier one of the highest-grossing movies of the year. That movie took in $95 million during its opening weekend and $258 million total during its time in theaters.
The notoriously masculine Marvel has looked at those numbers and realized that with Johansson — and maybe even female heroes in general — that the studio has some untapped earning potential on its hands. Marvel recently responded to this pressure by introducing Thor as a female character in the latest issues of the comics, something that received a highly mixed reaction from fans as the brand seeks to diversify its characters and appeal to a wider group of people than just white males.
"The inscription on Thor's hammer reads 'Whosoever holds this hammer, if he be worthy, shall possess the power of Thor.' Well it's time to update that inscription!" Marvel editor Will Moss said in a statement. "The new Thor continues Marvel's proud tradition of strong female characters like Captain Marvel, Storm, Black Widow and more. And this new Thor isn't a temporary female substitute — she's now the one and only Thor, and she is worthy!"
A standalone film about Black Widow is in the works, and Joss Whedon recently said at the U.K. premiere of Guardians of the Galaxy that the next Avengers movie, Avengers: The Age of Ultron, will have four prominent female roles. Fanboys will go crazy trying to figure out exactly what those parts will be, while Marvel hopes to pack more women into the movie theaters. Lucy is yet another example proving that women are willing to pay to see an action movie focused on a character that they can identify with, and that Marvel has chosen an appealing and capable star to carry one of its most important female heroes.
More from Entertainment Cheat Sheet:
Follow Jacqueline on Twitter @Jacqui_WSCS
Want more great content like this? Sign up here to receive the best of Cheat Sheet delivered daily. No spam; just tailored content straight to your inbox.