Wonder Woman and Other Celebrity Cosplay Photos That Went Viral
Even though it's literally their job to dress up, some celebrities get into the spirit outside of work too. Some celebrities actually nerd out in cosplay at Comic Conventions, others just take their costumes to the next level during Halloween. We took a deep dive into some famous people's Instagram and Reddit presence to find some of our (and their!) favorites that went viral!
First: This celeb looks almost as great as the original! 
1. Brigitte Goudz as Wonder Woman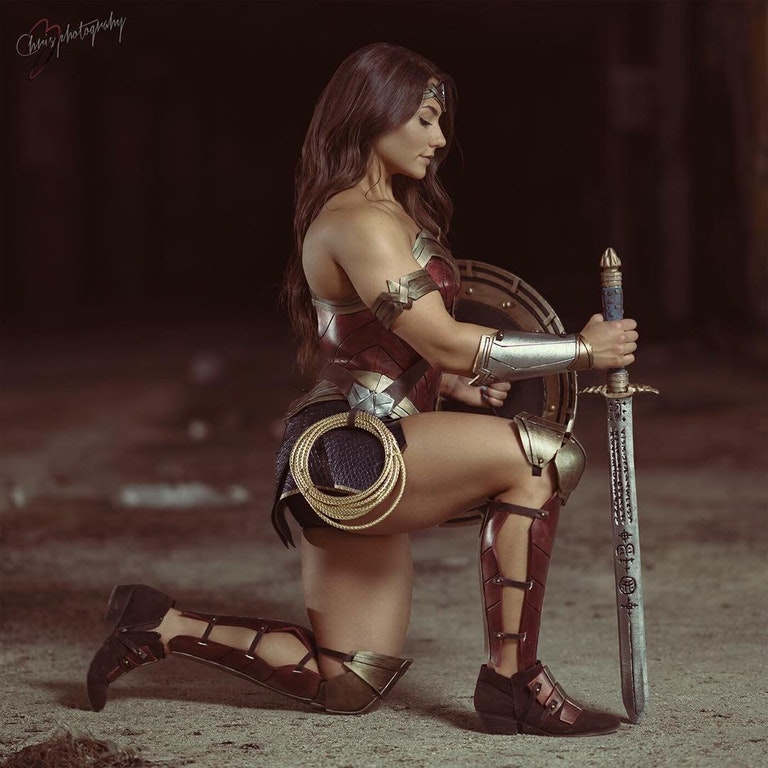 Fitness model Goudz showed off her hard work in a Wonder Woman costume that pays amazing tribute to the original. The outfit landed her on the front page of Reddit. That's what we call some serious nerd cred!
Next: We'd love this celeb to "tell us more" about how she chose her costume. 
2. This iconic costume took off like greased lightning
Model Gigi Hadid got the Sandy look down from the iconic Grease movie. Pictured on her Instagram feed. The end-of-movie "bad Sandy" look makes a regular appearance on the Halloween and cosplay circuit, but we think Hadid's sleek pants, kicky heels, and curled 'do really rocks it.
Next: These stars dressed up as other icons. 
3. The Kardashians channeled late stars
Kim Kardashian went all out with a series of costumes this year, paying tribute to some late greats. Her Madonna smoldered alongside Kourtney Kardashian's Michael Jackson tribute. While pregnancy rumors continue swirling around the family, they all flaunted one thing this year: Their love for dressing up.
Next: Check out this next spot-on tribute. 
4. This costume throws back to an 'underground' sensation
The first rule of Zoe Kravitz's costume is we can't talk about Zoe Kravitz's costume. The Mad Max actress and daughter of Lenny Kravitz paid tribute to "Fight Club," a 1996 book by Chuck Palaniuk and 1999 movie. Her Marla, originally played by Helena Bonham Carter, looks pretty accurate to us.
Next: You won't like him when he's angry. 
5. The Rock didn't need a muscle suit for this one
Dwayne "The Rock" Johnson dresses up regularly, both for Halloween and just for fun. The former wrestler, actor, and entrepreneur frequently wins at social media. His posts can be funny, sweet, silly, or all of the above — and all are worth a follow. This costume shows he doesn't take himself too seriously, which is essential for dressing up at any time of year.
Next: This star donned his costume for an understandable reason. 
6. Daniel Radcliffe as Spiderman
Radcliffe dressed up as Spiderman, complete with a mask covering his face, to enjoy Comic Con in peace. The actor, best known for playing the title character in the Harry Potter series, told the media he just wanted to walk around the convention without getting recognized. Can't blame him for that.
Next: This star showed her politics in her outfit.
7. Katy Perry as Hillary Clinton
The pop music star made her support for Clinton clear from the beginning, and this outfit takes it to the next level. Whether we consider dressing as one of the most powerful female politicians in the world traditional "cosplay" or not, it's hard to argue that Perry makes this tribute pretty spot-on.
Next: We've seen stranger things than this tribute. 
8. Sarah Hyland's Stranger Things Tribute
The actress, best known for her turn in Modern Family, really nailed this group costume based on the popular Netflix series Stranger Things.  No spoilers, but the super-bingeable show captivated audiences with its second season released earlier this week. Hyland's costume is both trendy and shows she knows her fandoms.
Next: This athlete really went all out. 
9. LeBron James as Pennywise
If you're not freaked out by LeBron James' tribute to Stephen King's scary clown, you're made of stronger stuff than we are. The basketball star really took it to the paint with this costume, rendering himself totally unrecognizable. While a lot of people probably imitated the popular IT character this season, James deserves props for really committing to it.
Next: This actor is a superstar in more ways than one. 
10. Osric Chau as Captain America
The Supernatural star comes as no stranger to cosplay. He regularly dresses up to attend Comic Conventions, often taking to social media for suggestions from his fanbase. He even created a Facebook album with detailed descriptions of his past costumes, including his thought process and design inspirations. Hats off to Chau for not only embracing cosplay, but becoming a huge part of the culture.
Next: This group cosplay throws it back to our youth. 
11. Xavier Woods' Powerpuff Squad
Late 90's and early 00's kids probably came home from school and watched Xavier Woods' costume. He and his squad dressed up as Powerpuff Girls characters for a Comic Con, but this is not the WWE wrestlers' first rodeo. He holds a master's degree in psychology and is currently working toward his Ph.D., and in his spare time, loves video games and cosplay. Woods routinely dresses up for conventions with his friends, and really knows his stuff. Talk about a dimensional character!
Next: This actor also threw it back for a con. 
12. Adam Savage as Moonwatcher
This MythBusters host loves cosplay, and even gave a TED Talk about it. As he said in his speech, putting on a costume is not only a tribute to a favorite character, but a way to express himself. "We're connecting with something important inside of us," he said. "The costumes are how we reveal ourselves to each other." We think a lot of cosplay fans can resonate with that.
Next: Savage isn't the only myth buster who loves to dress up. 
13. Grant Imahara's Star Trek Fandom
The former MythBuster also loves to get his fair share of costumes on, as he shows off in this Star Trek get-up. The famous electrical engineer (now there's a phrase you don't hear every day) loves his costumes. As one would expect, they can get pretty ornate, but he also keeps it simple sometimes too, showing that even celebrities can pare it down.
Next: This actor didn't need a chestpiece, but donned one anyway.
14. Floyd Mayweather as Achilles from Troy
According to his Instagram, even Mayweather couldn't decide if he was dressed as a character from Gladiator or Troy. Either way, the boxing promoter and former boxer has the physique to pull off an ancient Greco-Roman character, no problem. One look at his social media shows this is not his first turn in costumes. The promoter doesn't limit his outrageous outfits to conventions and holidays, either. Now there's a guy who knows how to enjoy his job!
Next: This actor also shows off his closet cache.
15. Chris Hardwick's as a Thermian
The actor and comedian broke out his own outfit for a Galaxy Quest documentary, and we're just impressed. The Nerdist host also dressed up as a Stranger Things character for Halloween and can frequently be spotted in costume at Comic Cons and other events.
These outfits show that celebrities, for all their fame and fortune, have a lot of the same nerdy hobbies as the rest of us. We love seeing our favorite stars have fun in their costumes — especially if they look silly while doing it.
Follow The Cheat Sheet on Facebook!