Worst Musicians Who Are Ruining Country Music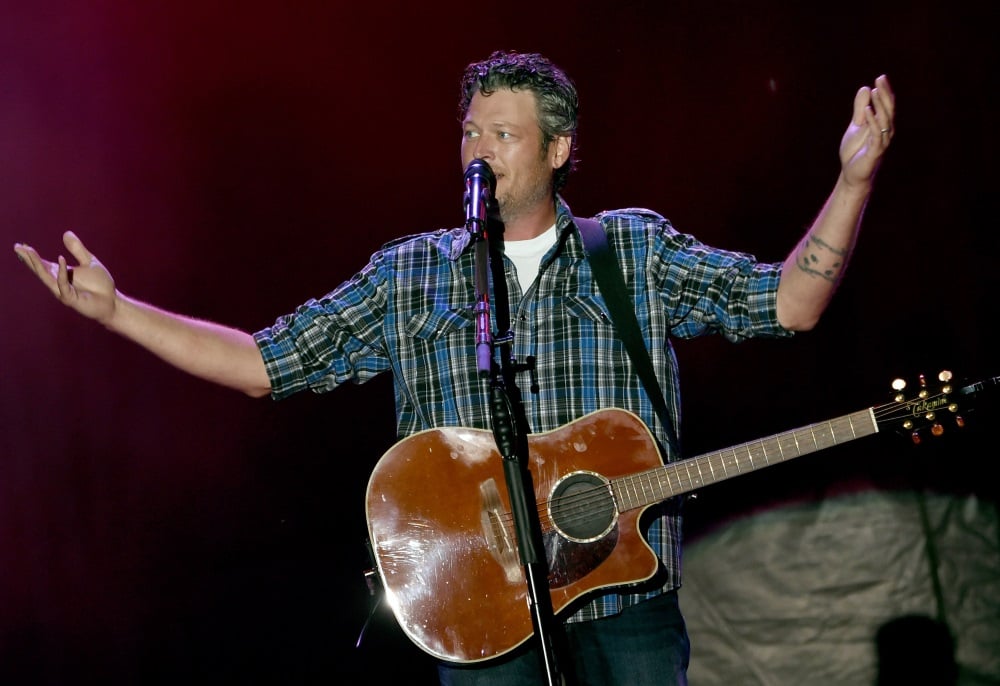 Turn your FM radio to any station specializing in modern country, and you won't hear country music — not as it's traditionally defined at least — instead, you'll hear twangy overproduced pop that invokes the names of genre legends like Johnny Cash and Waylon Jennings while completely ignoring their influence.
This unfortunate bastardization of the genre is typically referred to as bro-country, for its common, unimaginative themes of binge-drinking and attractive young women wearing cutoff jeans. This is country music from a 21st century assembly line, and its continued dominance of FM country radio only makes it more difficult for authentic modern country artists to get the recognition they deserve.
These are a few of the worst musicians who are holding the genre back with their bro-country stylings.
1. Blake Shelton
Few songs make me angrier than Blake Shelton's hit "Kiss My Country Ass," a single that embodies nearly everything that's wrong with Shelton's brand of overproduced, anti-intellectual bro-country. Pandering to middle America reaches new heights of desperation in lyrics like "Rebel flag flyin'/Coon dog in the back/Truck bed loaded down with beer/And a cold one in my lap/Earnhart sticker behind my head."
At least Shelton's songs are consistent — in that his ballads like "Doin' What She Likes" are just as obnoxious as his most upbeat tracks.
2. Florida Georgia Line
Florida Georgia Line all but defined bro-country with their breakthrough hit "Cruise," boasting vocals that would make T-Pain's autotune seem restrained by comparison. Their synthesized banjo effects and lyrics like, "Yeah, when I first saw that bikini top on her/She's poppin' right out of the South Georgia water" makes it difficult for me to sit through even one of their monster hit singles — particularly their latest one, featuring the Backstreet Boys. I never thought I'd say this, but the Backstreet Boys can do better.
3. Kenny Chesney
Kenny Chesney is actually one of several popular Nashville artists to criticize the modern trend of bro-country, and though his songs aren't as soulless and overproduced as Florida Georgia Line, it's hard to take seriously any artist who recorded a song titled, "She Thinks My Tractor's Sexy."
The song falls perfectly in line with bro-country's dual fetishes of masculine automobiles and scantily-clad young women. Whatever happened to country songs about rambling and heartbreak?
4. Luke Bryan
Music doesn't seem to matter to bro-country artists like Luke Bryan, whose songs are all characterized by the same faceless mishmash of synthesized country instrumentation that just gets louder whenever the chorus comes around.
Bryan's hits like "Crash My Party" and "Play It Again" are only about getting country fans to sing along to repetitive pop themes of "our song" and "partying all night," without offering any new insight, musical or lyrical.
5. Rascal Flatts
The most I can say about Rascal Flatts is that they have more longevity than many other modern country acts. They've been releasing hit singles since the turn-of-the-century, but those singles aren't really country, even if they're labeled as such. They're little more than an aging boy band rebranded for middle America, with a penchant for weepy, generic ballads and poor fashion choices.
6. Jason Aldean
Jason Aldean doesn't even sing — he only makes a pitiful attempt at awkward white-guy rapping until the auto-tuned chorus has time to kick in, but that doesn't matter, so long as his songs still name-check the same few country boy stereotypes. Songs like "1994" have an ugly electronic sheen that only makes lyrics like "Take a few tick-tocks off of your clock/Put a little Third Rock in your hip hop" all the more unbearable.
7. Toby Keith
Toby Keith may predate many of the most popular bro-country artists in fashion today, but he pioneered the genre's unwavering focus on alcohol. Liquor has long been a popular subject for country songs, but Keith's most popular songs usually dispense with any other subject matter, resulting in hits like "Red Solo Cup," a substanceless love letter to plastic party cups that insists anyone who prefers a glass is lacking a pair of testicles. Classy, right?
8. Maren Morris
The reigning CMA artist of the year is unique among bro-country artists simply for being a woman, a rarity in the genre. Unfortunately, Maren Morris conforms to just about every other bro-country trope. For example, her biggest hit to date, "My Church," is another song about how fun it is to sing along. It takes time to name drop Johnny Cash and Hank Williams even as it eschews their more authentic sound in favor of slick overproduction.
9. Dierks Bentley
Dierks Bentley has been making painfully overproduced bro-country for more than a decade now, and with great success. His choruses sound like every other artificially twangy chorus on country radio, while his verses are often unique in their uninspired laziness. Just listen to his 2016 hit "Somewhere On A Beach," and try telling me it doesn't sound as though the Arizona-born singer is making the country-fried lyrics up as he goes along.
10. Thomas Rhett
Thomas Rhett writes singles for the likes of Florida Georgia Line and Luke Bryan when he isn't working on his own bro-country hits. Admittedly, the production on Rhett's ballads is noticeably less slick than many of his contemporaries, but his songwriting is still bogged down by a trend common among modern country — name-dropping in the apparent hope that listeners will like a song because it references other things they like, be it places, people, or things.
In the space of his four-minute song, "Die A Happy Man," Rhett mentions Georgia, California, the Eiffel Tower, and Marvin Gaye — an artist he could stand to learn a thing or two from.
Check out Entertainment Cheat Sheet on Facebook!