Would Jill Duggar Return To 'Counting On' Without Derick Dillard's Permission?
Former Counting On star Jill Duggar unexpectedly returned to her family's reality show when her sister Jessa went into labor with her third child earlier than expected. Most of the Duggars were out of town when Jessa's water broke on May 26th, which was more than a week before her due date. Jill – who has training in midwifery – rushed to be by her sister's side and helped document the arrival of Ivy Jane Seewald for her birth special on TLC. Now, fans are wondering if Jill could possibly return to Counting On without her husband, Derick Dillard.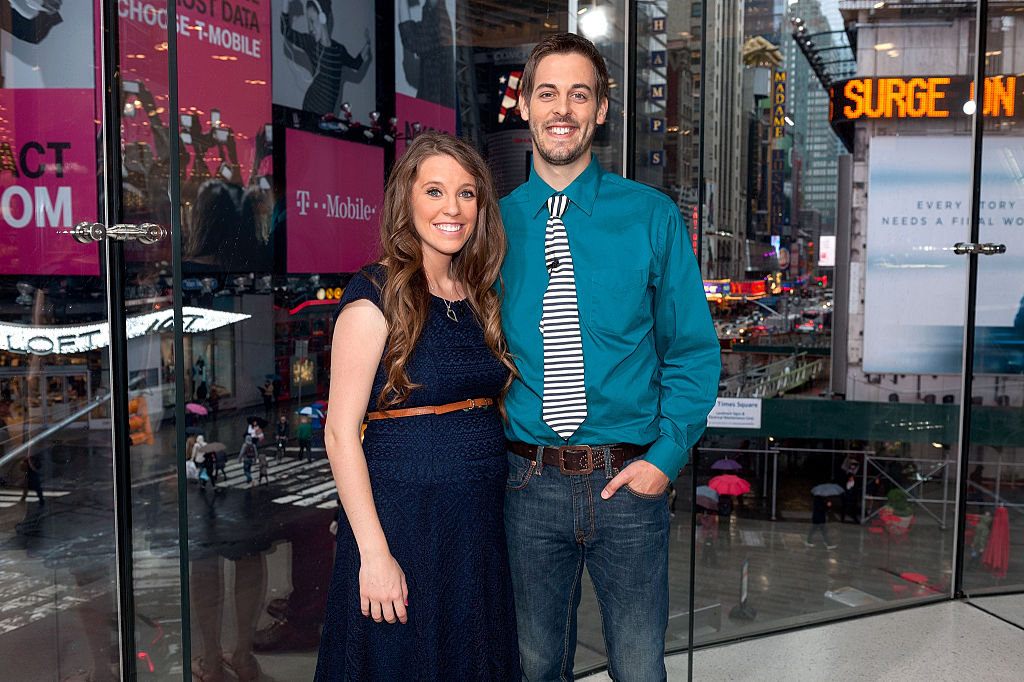 TLC fired her husband, Derick Dillard
Jill Duggar literally grew up on television. She was just a young teen when TLC started filming the Duggar family for specials like 14 Kids & Pregnant Again! and 16 Children & Moving In. And, when the family landed their series 17 Kids & Counting (which turned into 18 Kids, then 19 Kids & Counting), Jill was only 17.
For seven years, the entire Duggar clan showed fans what life was like in their uber-religious, conservative family, and during that time Jill met and married Derick Dillard. After Josh Duggar's scandal led to TLC canceling the popular series in 2015, they introduced a spinoff just a few months later titled Jill & Jessa: Counting On.
The new show focused on the only two girls in the family who were married at the time, and it featured both Jill and Jessa starting their families and living their own lives outside of Jim Bob and Michelle's family compound.
Eventually, more kids in the family got married and started families of their own, which resulted in TLC changing the spinoff's title to simply Counting On. But, in late 2017, Dillard posted a series of transphobic and homophobic tweets that caused his termination, and Jill quit the show as an act of solidarity.
Life after 'Counting On' hasn't been easy
Jill Duggar had a lot of fans when she left Counting On, and her family needed a new source of income. To capitalize on her reality show fame – and to take advantage of her 1.6 million Instagram followers – she decided to become a social media influencer.
The mom of two has partnered with various clothing companies to earn some extra cash, and she also runs the Dillard family website where she posts about everything from recipes to date nights with her husband.
However, Jill has faced a ton of backlash because of her social media activity. Fans constantly slam her for her parenting style, the food she cooks for her family, and her constant gushing over her husband. But, she always dismisses her haters and is trying to build her own brand.
Meanwhile, her husband claims that TLC didn't fire him. He says that he and his family cut ties with the show because they were moving in a different direction. Derick is now in law school, and Jill is at home raising their boys, Israel and Samuel.
Jill Duggar has changed a lot since 'Counting On'
In the 18 months since Jill left the show that made her famous, Jill has made a lot of changes. She has started to rebel with her fashion choices – wearing pants, skirts above the knee, and high heels – and she also got a nose piercing.
Fans are still curious about Jill and her family, and since she appeared in Jessa's birth special – and played such a big role – many are wondering if that means she is coming back to the show without Dillard.
It doesn't seem likely that Jill would come back without her controversial husband, but neither Jill or TLC has made a statement regarding her future on the show. Is her appearance a one-time thing? Or, could Jill Duggar be returning to Counting On? Fans will have to wait and see.