Would People Want to See McConaughey Return to Rom-Coms?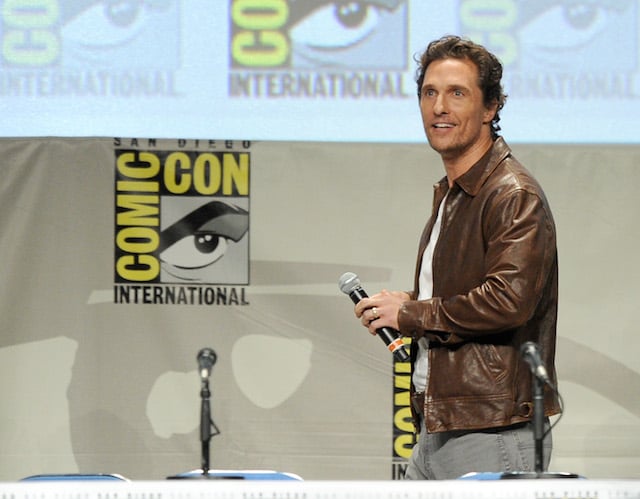 The media has cutely dubbed Matthew McConaughey's recent metamorphosis from romantic comedy-leading hunk to Oscar-winning actor landing the most sought-after serious roles in Hollywood the "McConaissance," but the actor doesn't agree with such a simplistic assessment of his career. In a couple of recent interviews, the actor has said he's proud of the work he did in the critically panned romantic comedies he was long known for before his career resurgence and would even be willing to do another rom-com.
"I love those movies," McConaughey said in an interview with Variety, defending even the less critically acclaimed of his rom-coms. "Failure to Launch got panned, but I like it!"
The actor defended the romantic comedy genre as a whole, saying that those movies are a lot harder for actors to make than they look. "It's a hard challenge to make it work, to tell a story you've seen time and time again that you know what the ending its [sic] going to be," he said. "The whole gig is — 'Stay off of my cloud!' You have to sing the song, dance between the raindrops. And you have to really mean it. You drop anchor in one of those movies, and the whole thing sinks."
He told the publication: "The narrative that people keep wanting to get at is the then and now. The then and now narrative is that rom-coms aren't critical hits and they're easy. And they're not."
McConaughey is understandably tired of the endless articles about how he used to be a pretty boy who couldn't act and is now considered to be one of the best actors in Hollywood. The change was conscious, as the actor decided to take a break for two years in order to both spend time with his family and rebrand, but is also a bit too simplistic.
"Did there come a time when I picked up a script and was like, 'God, I feel like I could do this [part] tomorrow'? Yes. That's when I made a calculation to say, 'I don't want to do those right now.' I thought, 'I love harder, I cry harder, I laugh harder in my real life than I do in my work. I've got things in my life every single day, risks that I'm taking that are scaring me. Why is my work not scaring me?'" McConaughey said of the decision to change his career in a recent interview with GQ.
Even so, he still doesn't discount the work he put into making all the romantic comedies that started his career. When asked if he was proud of any of the rom-coms he'd done, McConaughey told GQ: "Absolutely. These things aren't easy. What's hard is to make them look easy. Those kinds of movies are what they are. They get pooh-poohed by critics. They get pooh-poohed by actors themselves. And in a way I get it, but in other ways it's completely unfair. There's a buoyancy you need to make them work. I believe I gave them buoyancy. And some of the shoots were very difficult, with me trying to fight for the balls on the guy."
But would audiences accept the actor, who is now better known as the beer-can-slicing alcoholic cop Rust Cohle on True Detective or the HIV patient Ron Woodruff in Dallas Buyers Club, in another romantic comedy role? Could McConaughey switch his "All right, all right, all right" persona back on to be the romantic lead in a fluffy film?
Though he says he's open to the idea of making another rom-com, the more serious roles the actor takes on, the closer he comes to burning that bridge with his old fan base and making a new one that wouldn't want to see How to Lose a Guy in 20 Days (or something). That being said, the people who would go see such a film might not even be familiar with True Detective or Dallas Buyers Club, and so wouldn't imagine Rust Cohle deadpanning Nietzsche quotes while McConaughey's trying to be the suave leading man.
"I didn't suddenly become a snob to those movies, as some people think I did," he said to Variety. "I enjoy making them and I could do another one."
The next films coming from the actor are pretty much as far from romantic comedies as imaginable. First there's the Christopher Nolan science fiction drama Interstellar, in which McConaughey plays an astronaut who must leave Earth and his family behind in order to find another planet that the human race can inhabit. The actor recently finished filming the Gus Van Sant movie Sea of Trees, in which he plays a suicidal American who befriends a Japanese man lost in Japan's infamous Suicide Forest.
Whether McConaughey is actually serious about doing another rom-com in the future remains to be seen. His tone in these interviews seems in part to be annoyed by the fact that critics are dismissing a large body of his early work, work that he actually believes he worked at, as well as the whole McConaissance narrative. But if he's serious, we may just get to see a muscle-bound McConaughey running down the beach after a pretty woman yet again.
Follow Jacqueline on Twitter @Jacqui_WSCS
More from Entertainment Cheat Sheet:
Want more great content like this? Sign up here to receive the best of Cheat Sheet delivered daily. No spam; just tailored content straight to your inbox.